It is said some people are born great, some achieve greatness, and some have greatness thrust upon them.But this article is about an Honest Indian man trying to make a difference in the lives of 1.2 billion people. He has become an inspiration to the youth. Not because of the fame that he has got. But because of the Respect that he has earned.
Born on 6th July, 1952 Syed Nasim Ahmad Zaidi of UP was appointed as the Chief Election Commissioner of India on 19th April,2015. The Election Commission of India (EC) is an independent body that has been empowered by the CONSTITUTION OF INDIA to conduct free and fair polls at the national and state level. He is a retired I.A.S. officer of 1976 batch from the Uttar Pradesh cadre and has done his Master's degree in Public Administration from Kennedy School of Government, Harvard University and has been a Mason Fellow for Public Policy at Harvard Institute for International Development. After his Master's he pursued his Post Graduate Diploma in Business finance from Indian Institute of Finance and he holds a doctorate in Bio-Chemistry. The Chief Election Commissioner (CEC) of the Election Commission of India can only be appointed by the President of India on the recommendation from incumbent Government of India (GOI).He has a tenure of six years or up to the age of 65 years, whichever is earlier and can only be removed through impeachment by the Indian Parliament. The soon to turn 63 CEC has just 2 years left in the Office of the Chief Election Commission of India and enjoys the same official status, salary and perks as available to the Judges of the Supreme Court of India and the High Court.
---
Also Read: How is the Chief Election Commissioner of India Appointed and How is he removed? Click Here.
---
Election Commission of India appoints new Chief Election Commissioner
His Career till now has been what every young man could dream of. Here are the key highlights from the career of the present Chief Election Commissioner of India:
i. Assistant Collector, Unnao
ii. Collector, Farukhabad (September 1, 1982-August 1, 1985)
iii. Collector, Ghaziabad (August 1, 1985-July 1, 1988)
iv. Commissioner, Development Authority, Bareilly (August 1,1996-April 1, 1997)
v. Joint Secretary, Ministry of Civil Aviation (January 9, 2003-November 20, 2005)
vi. India Representative, International Civil Aviation Organization (ICAO) (From November 21, 2005-
November 17, 2008)
vii. Served as the Director General of Civil Aviation.
viii. Retired from Indian Administrative Service(IAS) as Secretary to the Government of India in Ministry of Civil
Aviation on 31 July 2012
ix. Chief Election Commissioner of the Election Commission of India (April 19, 2015-2017)
The biggest challenge for this new Chief Election Commissioner of India would be:
i. To increase the Voter turnout.
ii. Check the people standing up for the elections.
iii. Increase the use of technology in almost all fields.
iv. Maintenance and updation of the electoral rolls.
Here are some of the new steps taken by the Election Commissioner in the year 2015:
i. National Voters' Service Portal
ii. Linking Of AADHAR CARD With VOTER ID CARD
iii. India has been the only country till now to have used only ELECTRONIC VOTING MACHINES (EVMs) in the last LOK SABHA elections.And it'll be a challenge for the Election Commission of India to keep on doing this.
List of all Chief Election Commissioners of India(before Syed Nasim Ahmad Zaidi)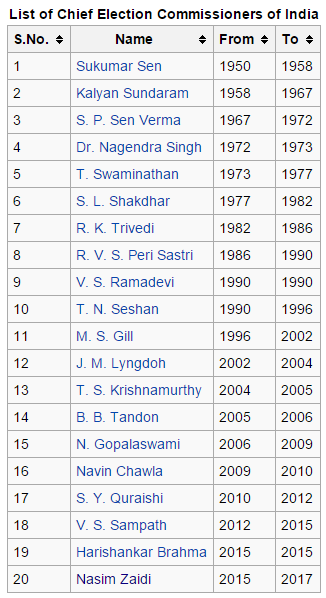 This is all that there's know about this man,Syed Nasim Ahmad Zaidi.Let's see if he leaves a legacy behind him for others to follow and get inspiration from!
For more such related articles visit this space.And don't forget to cast your vote.