The office of Andhra's Chief Electoral Officer handles all the various election related activities within the state of Andhra Pradesh. It works directly under the watchful eyes of the Election Commission of India. The CEO Andhra also looks over the conduct of bye-elections as well as general elections in the state. The state has 4 regions with huge 66,964 polling booths and 294 constituencies.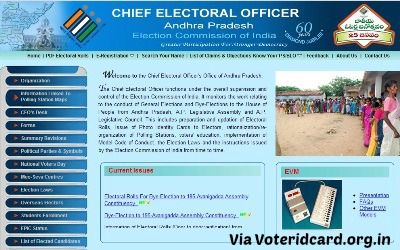 In addition to this, it is also involved in various activities like implementing election code of conduct, issuing photo ID cards, preparing and revising the electoral rolls from time to time.
The official website offers a comprehensive range of services as well as features for the voters as well as non voters. Everything related to elections and voting has been comprehensively covered by the website.
There is also a section that lists all the Booth Level Officers (BLO) as well as Electoral Roll Office (ERO) of all the areas. The CEO of Andhra Pradesh is probably one of the most popular election authorities in India. The popularity can be gauged from the fact that it has more than 1 lac searches related to it on the net.
Election Commission Of Andhra Pradesh
The main role of Andhra Pradesh Election Commission is to conduct local body elections right throughout the state. It also handles everything related to elections like notifications, circulars, orders, press releases, tenders and even selection of election personnel. All the Gram Panchayat, Zilla Parishad and municipal corporation elections are overseen by this commission.
The official website of Andhra's election commission gives you access to a wide range of latest and updated information that voters will require.  This commission was formed in 1994, and it is an autonomous election body in AP.
Voter ID Card AP
The ID card issued by election authority for voting is very valuable. The card has lots of advantages over other ID documents provided by government. Especially in a hugely populated state like AP, people will greatly benefit from having a voter ID card.
It also confirms your identity as an Indian and a qualified voter at the same time. Even those voters who are not literate can vote thanks to voter ID card. Whether you live in Hyderabad or any remote town, voter ID card AP will always be a perfect and trusted ID document for you.
Even those who do not have a fixed home address can get this card which will help them have a genuine ID proof and make them eligible to vote. For those staying in the under developed regions of Andhra Pradesh, the card offers an excellent opportunity to vote. Last but certainly not the least, to have a voter ID card in AP also means you can apply for other important government IDs like passport and aadhar card too.
To make it easy for the voters across the state of Andhra, the AP CEO has also collaborated with Mee Seva centre (an e-governance initiative by state government) which will make it easy for the voters to get a print out of their voter ID card.
E Registration by CEO AP
Whether you want to register online for voter id card in AP for the first time or want to update or change details, the official website has wide range of forms to suit your requirements. In order enable even a non English speaking person to fill in the form, the Andhra CEO e registration process is offering these forms in two languages; English and Telugu.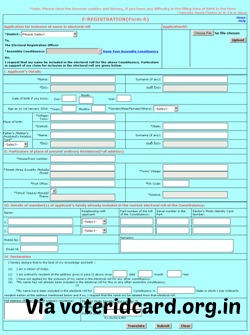 The table below shows different forms and their purpose.
| | |
| --- | --- |
| Form |                         Purpose |
| Form 6 | To include name in the voters list |
| Form 6A | Form for NRIs to enrol for voters list |
| Form 7 | To submit an objection on inclusion of name in the list |
| Form 8 | For correcting entries in the list |
| Form 8A | To transpose entry in the electoral list |
The state of Andhra Pradesh has the distinction of being the first Indian state to have successfully implemented online voter registration process. This is all thanks to the service of e registration by CEO Andhra.
Status of Voter ID in AP
If you are a resident of Andhra and want to check the status of your voter ID then all you got to do is head straight to the official website of Andhra ceo. Through its "know your status" feature on the website, the voters can know at what stage is their application. A new page will open once you click on it. Enter all the details asked and your voter id status in AP will be shown to you.
The Andhra election authorities have gone a step further and offered another amazing service on mobile. The voters living throughout Andhra Pradesh can also now find out whether their names are in the voters list of their area using mobile phones. This application can work in any mobile phone that has Android operating system. You can download this mobile phone application directly from the official website.
In addition to it, the CEO AP has also devised its very own mobile application for the voters, right across the entire state to find the status of voter ID in AP. The voters can simply send an SMS on the number 9246280027 to know details like polling station and ERO details of their own areas.
Voters List by Andhra CEO
The process of getting enrolled in the voters list in Andhra Pradesh is same as any other state. In order to be included in the list, you will have to simply register yourself for voting by filling out form 6 and submit it. You can do it directly from the official website. On successful submission your name will be included in the voters list of Chief Electoral Office Andhra.
This CEO Andhra voters list is revised and updated every year. In case you need to update or make changes with regards to your entry in the voters list you can fill in the proper form.
The website of Andhra CEO also lets you find out about your assembly constituency. Simply visit this CEO Andhra website. All you got to do is enter the relevant details and with a click on a button you will get the information.
Besides the voters list, the AP voters can also find out the location of the polling booth of their area using Google Maps. There is a separate page on the official website of CEO Andhra on which the voters can enter required details and find out the location of the polling station of their respective area.
Application Status Through CEO Andhra Website
More than one lac voter applications are being submitted everyday from across the state of AP. CEO Andhra has provided an easy and convenient way for Andhra Pradesh voters to track the status of their application on the homepage of their official website.
The prospective voters have to simply enter either their application ID or their house number (which they entered while filling the form) and they will get the current status of their application on the Andhra CEO site.
But that's not all. There is also a toll free number of its call centre on which Andhra Pradesh voters can call and know in detail about application status ceo Andhra. They can simply dial 1950. They will get the required information.
Voter List of AP
With total number of voters crossing 6.24 crores, the voters list of ap has an incredible number of voters. This list will be unveiled on 31st of January. Another amazing achievement of the state is that almost 70 percent of all the applications in the Andhra Pradesh voters list have been submitted online.
To inspire more participation of the people in voters list AP, the CEO AP has tied up with 35 various colleges and universities to attract the youth as well as women.
CEOAndhra.nic.in Voter ID card
Working under the guidance of election commission of India, the Andhra ceo has put up its own website on which people can register for voter ID card. They can visit ceoandhra.nic.in voter ID card section to know about their cards.
People from cities like Khammam, Srikakulam, Vizianagaram, Kadapa, Kurnool, Anantapur, Visakhapatnam, Nalgonda, Nizamabad, Adilabad, Rangareddy, Karimnagar, Medak, Warangal, East Godavari and rest of the state can enrol themselves for Voter ID Card on the site.
To make the process even easier, the CEO Andhra has also started a helpline number for the voters. It has also tied up with e-sewa centres. You can find the list of all these centres distributing voter ID card at ceoandhra.nic.in site. So if you are a voter living in a remote area you can easily get your voter id card by simply walking into one of these centres.
Besides offering voter id registration, the website also lists of all centres offering the e-sewa service. Those voters who already have a voter ID card and want to make changes or update the details in their cards can also do so through this website. They can fill in respective forms (as shown in table earlier).
You can also find the link to Facebook page of ceo ap on the site. The page is regularly updated, and voters will find all the latest information about everything related to elections and voting.
Chief Electoral Office AP is certainly living up to it's billing as one of the best state election authorities in India. It is setting new standards for the rest of the states to follow. And they better hurry up.