Nowadays, the Aadhar Card is being touted as the next big thing in the sphere of universal Citizen identification. For that reason, the Election Commission of India is constantly stating its endeavour to get Aadhar and Voter ID Cards linked. On the Online National Voters' Service Portal launched by the ECI, you can feed your Aadhar number to the voters' list 2015 details. The Commission says that this drive to link the two identity card would help it eliminate a huge number of duplicate voter id cards. Indeed, all the steps must be taken to ensure Free and Fair Elections in India.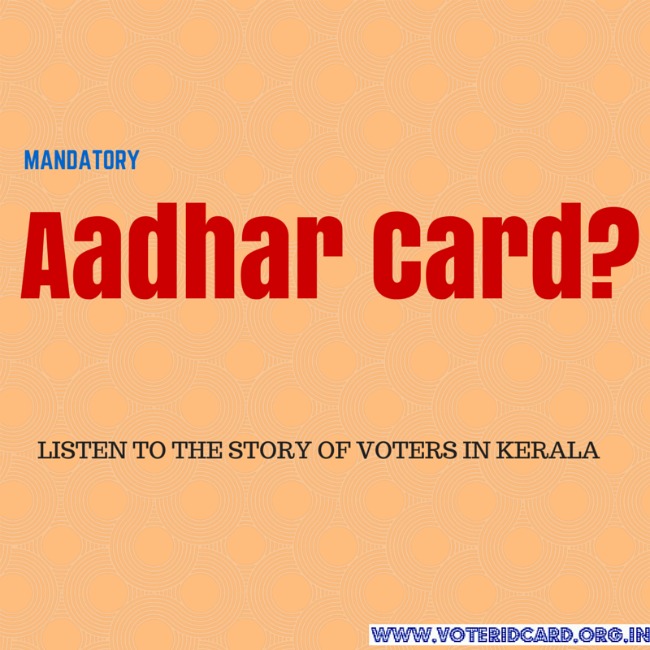 However, the Supreme Court has ruled out the possibility of a mandatory Aadhar Card. That means, no Citizen could be denied any service simply because he/she does not possess an Aadhar Card. In that case, we try and solve your query; Is it necessary to have an Aadhar Card in order to apply for a voter id card? Let us see what happened in Kerala.
Aadhar Card Mandatory for Voter ID Card?
A recent news report says that voters in Kerala are unable to apply for voter id card if they currently do not have their Aadhar Cards. According to a report by the Hindu, after the announcement for a new Plastic voter id card by the Election Commission of India, some voters headed to the CEO Kerala website to apply for the new voter id card. However, many of them were disappointed because they were unable to apply without entering the Aadhar Number. In short, voters without Aadhar Cards are currently unable to apply for new voter id cards.
So can we assume that Aadhar Card has been made mandatory to for voters who wish to apply for a voter id card? The answer is, NO! not yet. According to CEO Officials in Kerala, the present voter registration drive is being termed as National Electoral Drive Purification and Authentication Programme. The Aadhar number feeding is being insisted upon for the purification of the Electoral Rolls and weeding out of fake voter id cards.
In a statement made to the Hindu, the Additional Chief Electoral Officer  of Kerala, Sabu Paul Sebastian assured that the voters would be able to apply for a voter id card, without needing to have an Aadhar Card from the next phase onwards. Hence, it could be concluded that Aadhar Card has still not been made mandatory for the voters applying for new voter id cards. The statement came after the apprehensions of the voters without Aadhar Card, who believed that their inability to apply for a voter id card simply because they do not possess an Aadhar Card was in direct violation of the Supreme Court's order of not denying any services to the Citizens of India by the virtue of not having the Aadhar Card.
So you may stay assured that the Aadhar Card has not been made compulsory for the Voter ID Card Application Process. However, if you do have an Aadhar, it would surely be in your best interest to link it to your voters' list entry by feeding your Aadhar number on the Election Commission of India' NVSP website.