Andhra Pradesh recently witnessed some major geographical and political transformations in the face of the separation of Telangana as a different state from AP. Apart from this major change in the social landscape of the state, the democratic politics of Andhra Pradesh has always seen the active participation of the citizens. Huge voter turn-outs and election of worthy candidates have only proven this fact well. So a year-round schedule of by-elections, assembly elections, general elections, etc.(whichever nearer) there are some really important tasks relating to Voter ID Card that www.ceoandhra.nic.in would be handling and this is what the Andhra Pradesh voters should be aware of. The one we talk about, in this article, is the process of checking the status of your voter id card application on ceoandhra.nic.in which is the official website of CEO Andhra Pradesh.
Check Your Voter ID Card Application Status on www.ceoandhra.nic.in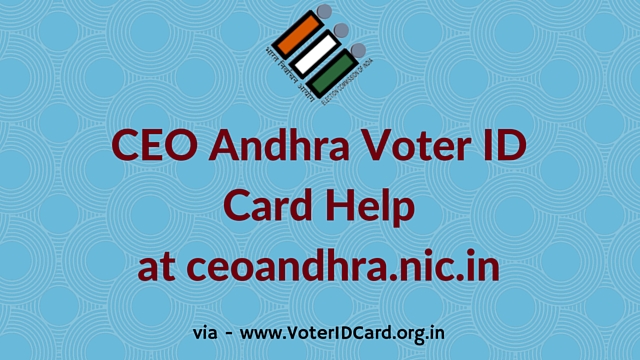 If you have recently filled the voter id card form no. 6 for the inclusion of your name to the voter list your Andhra Pradesh constituency then you must keep a constant check on your application status. This would help you give an idea of the stage at which your application is being processed or has it been rejected. It would also help you give a fair idea about the tentative date on which the BLO of your area would visit your residence in order to verify your identity and collect the identity, age, and date of birth documents required to complete your new voter application.
The status of your application id could be easily checked on www.ceoandhra.nic.in
Once you type in the given URL in the address bar of your internet browser, you would be taken to the homepage of the official CEO Andhra website. On that homepage, you would see a host of options on the top. One of the most important options for the voters is, 'E-Registration'. Once you bring your mouse cursor over this option, you would see a secondary list of options that drop down. The options are as follows: –
Click Here to Download or get all Voter ID Card Forms
Help(Step by step guide that tells you how to fill the online form 6 and how to check the application status.
Form-6(New enrollment) Click this option if you wish to apply online for your voter id card Andhra.
Form-7(Objection to the inclusion of name) Click and fill this form online if you wish to get a name other than yours, deleted from the voters' list. You should have a valid reason to object that name.
Form-8(Correct your card) This option is for the voters with incorrect details on their voter id cards or in the voter lists. You can correct a wrong photograph, incorrect spelling of your name or incorrect age/d.o.b/address on your voter id card by filling this form.
Form-8A(Transpose your card) If you have just shifted to another address which lies in the same constituency, you can fill this form in order to transpose your voter list entry and the voter id card.
Form-6A(NRI Voters) This is the online form for the registration of NRI voters in Andhra Pradesh.
Know your status(This is the option which helps you know the status of your voter id card application in AP). This is the option you need to select on ceoandhra.nic.in in order to know the stage at which your application is being processed and whether or not everything was correctly filled in your application form.
Once you click the option, 'Know your status' you would reach the status search engine of CEO Andhra Pradesh online. You can search the status of your application by either using application id or your house number. You would have to select the desired option. Once this selection is made, just enter the application id/house no. and click search. You would then see the search results with your name, relation's name, age, house no., ac no., part no. and status. Under the status column, you can click 'check status'. You would then be able to view the status of your application. In case the status shows that something went wrong with your application, you can contact the CEO Andhra Pradesh helpline number 1950(Toll-Free)
Search Your Name in Voter List Andhra Pradesh Online
On ceoandhra.nic.in, you can also check your name in the voter list 2019 of your constituency in Andhra Pradesh. There is the same options bar where you found the 'E-Registration' tab, you would be able to find an option called 'Search your name'. Just click this option and select or enter all the information asked on the landing page. The information you need to enter in order to search your name is: –
District Name.
AC(Assembly Constituency name). If you do not know this, there is an option on the same page which helps you know the same.
House no.
Name.
Photo identity card number.
Gender.
Once all of this is entered and the 'search' button is clicked, the user would be able to know whether or not his/her name exists in the voters list of the mentioned constituency in Andhra Pradesh, You would also be able to view all the voter details that (if)entered in the voter list. In this way, you would be able to check for any errors in these details if they are present. In case any of the voter details are found to be incorrect, you can very fill the Form No. 8 for correction of the card on ceoandhra.nic.in e-registration service.

Know Your Booth Level Officer(BLO) in Andhra Pradesh
Since the BLO of your area is the in-charge of verifying the applicants' identities and their documents hence, it is important for you to keep in touch with the booth level officer of your area in Andhra Pradesh once you have applied for voter id card registration either online or offline. You can access the contact details of BLOs in AP on ceoandhra.nic.in You can also access the location details of all the e-seva kendras in Andhra on this website. The e-seva centers seek to speed up the registration process for the voters. If you need any kind of assistance relating to voter id card or voter list in Andhra, you can visit the voter help centers set up by the Election Commission of Andhra Pradesh or your local ERO too. Here are the links you can use in order to access the above-mentioned officers/institutions.
Know your BLOs in Andhra Pradesh and their contact details(select your district and AC first):-
http://ceotserms1.telangana.gov.in/TS_ERODETAILS/BLO_Details.aspx
List of E-Seva centers in Andhra: –http://tgdept.meeseva.gov.in/TSDeptPortal/UserInterface/IndentRequest/MeeSevaCenters.aspx
Know your ERO AP(select your district on the landing page:-
http://ceotserms1.telangana.gov.in/TS_ERODETAILS/ERO_Details.aspx