Here you will find a list of documents required to apply for Voter ID card online. This post will ensure your application is not rejected due to Documents for Voter ID Card not being correct.
Elections are times when most of you responsible citizens visit the polling booths and make your opinion heard and count by choosing the ideal candidate. But, a responsible citizen is not merely judged by an intention to vote, instead, a responsible citizen is the one who is well endowed with all the documents and has completed all the formalities beforehand. An example of legal documents that form the life line of the voting process is the Voter ID Card, documents like the EPIC not only act as essential identity proofs in the long run, but also ensure your entry to the polling booth where the voting process would take place during the elections.
---
Recommended Read: Can you Vote using Aadhar Card
---
Required Documents for Voter ID Card Online?
Here is the list of documents you would require while you apply online for your voter id card:-
Copy of Proof of Residence: This is required to validate the address you provide while filling the Form No. 6. Valid of address proofs are as follows:

Electricity/Water Bill
Statement issued by Bank
MTNL / BSNL Telephone bills
Bank Passbooks
Passport
Driving License
Ration Card

Copy of Proof of Age & Identity: This is required to validate the Date of Birth as well as your Name and Identity you filled in on the Form No. 6. Valid Documents for ID & Age Proof are:

10th Standard passing certificate
Birth certificate issued by the civic agency of your state or any other appropriate document signifying the voter's age.
School Leaving Certificate Specifying Age
PAN Card
Driving License
Passport
Senior Citizen Card (if applicable)
Aadhar Card
Kissan Card

2 recent passport size photographs, which would appear on the Elector's Photo Identity Card.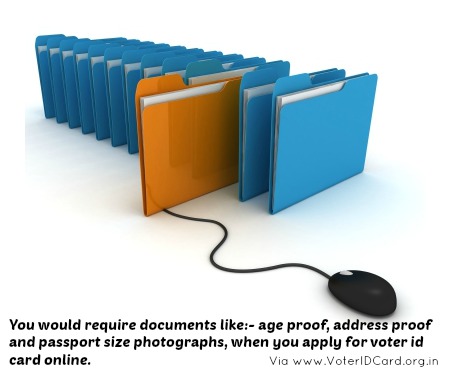 Once you have filled the required form to apply for your voter id card online and provided the above mentioned documents, you should provide at least a months time for the commission to assess your application. Once the application is accepted and assessed, the commission would send out its officer to verify your credentials and henceforth your Voter ID Card would be issued, without requiring you to exit the cobweb of work and other duties around you.
How to Upload Voter ID Card Related Documents Online?
When you apply for your Voter ID Card registration on the Election Commission of India website( by clicking 'Enrol Now, Become a Voter' icon), you would have the option to scan and upload the PDF Format of the above mentioned document directly on the page where you fill the online version Voter registration Form No. 6. Please note that the documents are properly scanned and the information is readable. Also note that the uploaded files should only be in the .PDF format because the servers would reject any other format that you upload.

What if I am Unable to Upload the Required Voter ID Card Documents?
If by any chance you are unable to upload the documents for Voter ID Card mentioned above, you should not worry. These documents for Voter ID Card shall be verified by the Booth Level Officer once he pays a verification visit to your residence address. That means while applying for voter id card online, uploading the identity documents is not compulsory. Any missing documents would be personally reviewed and checked by the BLO, after your application is successful.
After submitting the application, you must keep a close check on your voter id application status. This would help you remain updated with the stage at which your application has reached. You can check this status on the same website where you applied for your voter id card online. In most of the cases, the status could be checked on the CEO Website of your state.
Can I use Ration Card as Address Proof Document for Voter ID Card Online?
While applying for voter id card online, you can very well use the ration card as the proof of residence. But, please note that you also need another proof of address along with ration card. Only ration card is not sufficient. So along with the ration card, you can attach any one of the following address proof documents for voter ID card along with ration card: –
Bank or Kisan or Post Office pass book.
Passport or driving license.
Latest gas/electricity/water connection bill issued to your address in your name or your immediate relation's name(parents).
So while using a ration card as a document proof for your address while applying for voter id card online or offline, you also need one of more document to validate your address and that document could be any one of the address proof documents mentioned above.
Here is the step by step guide about filling the voter id card form no. 6 for new voter registration.

The Election Commission has a mindset of attracting as many citizens as it could to the polling booths. To facilitate this ambition of high voter turn out, the commission has eased the process of issuing identity documents, people can now easily apply for a Voter ID Card Online without having to physically visit the ERO office. There are a range of electoral formalities that could be completed online with great swiftness, some of these formalities are:-Registering your name onto the Voters' List, applying for a new voter id card, checking your name in the electoral roll or checking the status of your application. Almost every essential process that precedes the casting of vote, could be completed online, without taking a toll on your dead lines for work.

Hence, no matter how much busy or preoccupied you are, the whole electoral system works in a way that would not affect your time much. So, if you have not applied for an EPIC thinking that you may have to lose out on your work, you may now very well go and apply for Voter ID Card Online. The very first form that you are required to fill is the Form No. 6, this form, as we said, could filled online by logging on to your state's ERO website. A question may arise in your mind that goes like:- Although filling the Form No. 6 online to apply for a new voter id card seems feasible, how would the verification of my documents take place and what all of my documents shall I require to submit, in order to complete this application? Generally the following proof documents are required while applying for voter id card online/offline(More details are present at the end of this article):
Proof of residence.
Proof of age.
Proof of date of birth of the applicant.
We would answer these(above mentioned) possible questions in the same order. First of all, Form No. 6 not only lets you apply for the Voter ID Card Online but it also provides you with the facility of uploading your verification documents. So you can use a scanner to scan all the required documents after you self attest them. Although these documents would also require a physical verification by the electoral roll officer of your constituency, for this the officer would pay you a visit at the provided address in order to check credibility of the documents you submitted.
We hope now you can apply with the right set of Documents for Voter ID Card Online. Do note, the same documents will be applicable for offline Voter ID Card application as well.