The Aadhaar card was introduced by the Unique Identification Authority of India (UIDAI), which is a central government Indian agency. It is attached to the Planning Commission of India, now known as NITI Aayog. The objective is to collect the biometric and demographic data of all Indian residents, store them in a centralised database, and then issue a unique 12-digit identity number called Aadhaar card number to each Indian resident.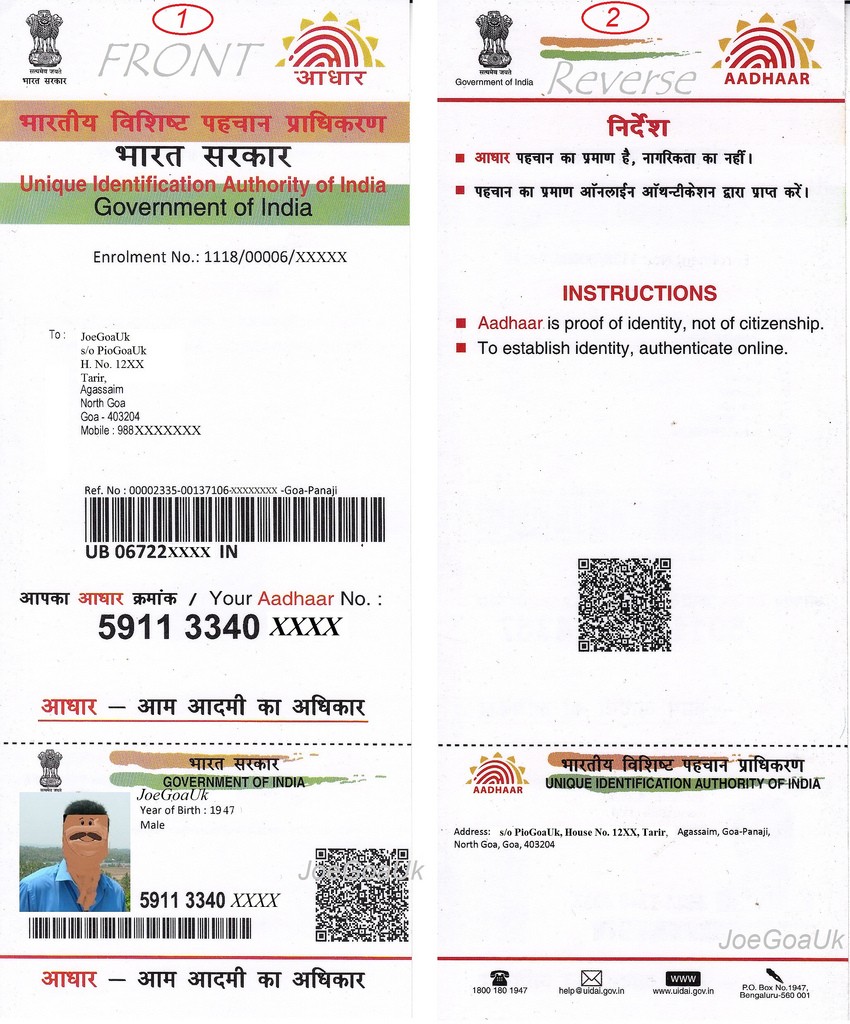 Can I Vote using Aadhaar Card?
Citizens will not be able to vote in the elections if they have an ONLY Aadhaar Card
One needs to have a voter ID card and the person's name has to be on the electoral rolls or Voter List of the state. Without the above requirements, citizens will not be able to vote in the elections even if they have a PAN card, a passport, a ration card or even an Aadhaar Card.
To know how to enroll for a Voter ID Card or to apply for a duplicate or to check status of voter ID card, click here.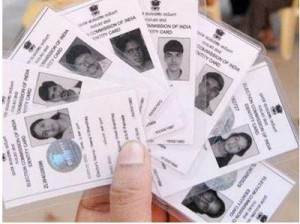 Enroll as a voter as fast as possible and get a voter ID card as it can be used as photo ID, proof of residence, applying for PAN Card, a driving license, mobile connections, admissions in educational institutions etc.
But the Aadhaar card can be linked to the voter ID card.
EPIC – Aadhaar Card Seeding
The process of Aadhaar card – Voter ID card linkage is also referred as EPIC – Aadhaar card Seeding. If you want to know more about EPIC Card/Voter ID card, click on this link.
Link Voter ID card With Aadhaar card

Through SMS
Send the SMS to the number 08790499899 in the given format:

SEEDEPIC  (type EPIC No. here)  (type Aadhaar Card No. here)

Then click on send.
Call Center
Call Centers have been established across all the states. Electorals and citizens just need to make a phone call to the call center executives and provide the details to get the required information.
Through Mobile
Download the Mobile App from
The website of Chief Electoral Officer of the state where the citizen resides.
Link the Aadhaar card with Voter ID card using Android or ioS Mobile App.
Link Voter ID card with Aadhaar card online
Voters can link their Voter ID card number with the Aadhaar Card number online through the official website, which can be accessed by clicking here.
---
Visual Guide to Link Aadhaar Card to Voter ID – Click Here
---
Portal Seeding / Self Seeding
The online portals have been set up by the respective State Governments so that the electorals can visit the website and get the process done themselves. One will just need to enter Voter ID card (Or EPIC) number, Aadhaar Card number and the registered mobile number.
Through NVSP Portal
The Indian states maintain their own separate portals for the linking process of Aadhaar card and voter ID card. This process has to be done at the National Voter's Service Portal (NSVP).
Voters can complete this easy process online themselves. Citizens of every state can make use of the steps mentioned below. The following information is required to link Aadhaar card and voter ID card online:
Voter ID card or EPIC number
UID or Aadhaar card number
Mobile number to receive an OTP (One Time Password)
Steps to link Aadhaar card with voter ID card
Visit the official Aadhaar Card linking page. Click here to visit the page.
You need to fill in the fields required– Name, Father/Husband Name, Date of Birth, State, District.
After entering all of the details correctly, click on the "Search" button.
If all the details entered by you are accurate, you will see all your details listed below after the search.
Now on this page, on the bottom left hand side, you will see a option that says  "Feed Aadhaar Number".
Clicking on this button will open a pop-up window on the page.
Enter these details now for linking – Your name in your Aadhaar Card, your EPIC or Voter ID card number, your Aadhaar card Number, the mobile number and your email ID.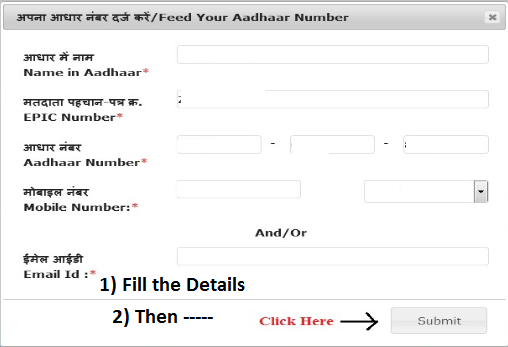 After entering all of these details, click on the "Submit" button.
Once all the details are correctly entered, you will see a notification that says "Your request for linking Aadhaar card number with voter ID card and the Electoral database has been successfully registered".
Thus, any of these methods can be used very easily for linking the voter ID card with the Aadhaar card.