A voter card is necessary and serves many purposes. A list of its advantages is given below:
It is a trustworthy form of identification.
It acknowledges that a voter is registered duly in the voter list.
It includes several identifying features to ensure the voter is who he/she claims to be.
Voter Card: Application for New, Duplicate, Check Status and more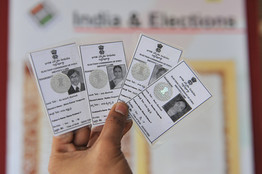 The first thing that you would need when you apply for new or duplicate Voter Card is the forms that you need to fill and submit for the same. We have listed down the various forms below.
---
Also if you would want to know about them in more details please read our Comprehensive guide to List of Documents for getting a Voter Card.
---
Form 6
This form is for the issue of a new Voter Card – for those who have not applied for a voter card before. The applicant must provide proof of residence, age, and verify the number of members in the family he or she is living in. Those who attain the age of 18 years need to apply for an electoral card through this form.
Download Form 6 in PDF format – Click Here
Form 8
This form is needed in case there is a typo error or want to upload your photo. So, basically, this form is meant for modifications and small changes in the name, address, etc in your Voter Card.
Form 8A
This form is for those who want a transposition of their name in the electoral roll. Here, except for the address the voter card is valid otherwise. To change the address in the same constituency, this form needs to be filled. This also updates the electoral roll.
Form 002
This form is used in case the voter card is lost or mutilated by accident. An FIR needs to be filled and a copy of the same with all the credentials required for form 6 need to be furnished with the form. A duplicate card is then provided.
Form 7
In case you want to go against the inclusion of a name in the electoral list, you can submit this form. This is often required for those who require canceling the voter card in case of deaths.
---
Get all the Form for Voter ID Card needs: New Application, Duplicate Voter Card, Correction in Voter Card, etc – Click Here to get all Form Online and Offline
---
Methods to get Voter Card:
You can get the voter card either online or offline. The online application takes around a month whereas offline applications may take up to four months. (Though it is observed that online or offline; at times it does take a pretty long time to get your Voter Car, so patience is advised).
The various methods to get a voter card:
Offline methods for new voter card
If you are sending your application by post, then complete Form-6 which can be downloaded from the official website along with the residence proof and age proof (if you are between 18 and 21) and send to the Voters' Registration and EPIC Centre of your Assembly Constituency.
If you are delivering your application personally, then complete Form-6 which can be downloaded from the official website along with the residence proof and age proof (if you are between 18 and 21) and deliver it personally to the Voters' Registration and EPIC Centre of your Assembly Constituency or you can go and deliver the form and proofs to the closest Designated Location. You can also give the documents to the Booth Level officer personally.
If you are between 18 and 21 years of age, a colored passport size photograph should be given with the application or handed over to Booth Level Officer who will come to the address specified to verify the information.
After completing your application voter card, status can be tracked either online or on phone. Read on to know how to check voter card status or click on this link.
New voter card online method



It is very easy to apply for a voter card online by following the instructions provided.
To apply for a voter card online, you have to visit the State election commission website or the national election commission website. There is an option of applying online on the respective websites.
The form for applying for the voter card is Form 6. The online application process requires the applicant to upload scanned copies of a passport-size photograph used as a document of proof.
You need to:
Log on to the website Election Commission of India website by clicking on this link or the state Election Commission website on which you have registered for your Voter card. The Election Commission has set up separate websites for each state.
Open the official website of your state Election Commission.
Click on the option which says Form 6.
Enter your name, email ID, mobile number and other details. A unique number for login and password will be allotted.
Log in with the unique login number and password you are provided.
Fill the form completely and accurately.
Attach a passport-size colour photograph.
Click the "Submit" button.
Once the form is submitted successfully, a unique application ID is generated for the voter. Please note it down for future reference.
However, documents needed for approval must be hard copies to be submitted at your voter office. The documents include address and identity proof. Once the verification is done, you have completed applying for a voter card.
Documents Required to be attached with the voter card application

Two documents need to be attached with the application in order to get a Voter Card. The various documents that are required along with the application form are:
a) Proof of residence
b) Proof of age, such as birth certificate, school leaving certificate, etc. However, this is only required if you are between 18 and 21 years of age.
c) Latest Passport-Size Photograph
You can submit any of the following for address and age proof.
Address proof (Any one of the following proofs)
Bank / Kisan / Post Office current Pass Book
Ration Card / Passport / Driving license / Income Tax Return Filed
Latest Water / Telephone / Electricity / Gas Connection Bill for that address, either in the name of the applicant or that of his / her immediate relation like parents
Age proof (Any one of the following proofs)
High School Certificate / SSLC Mark Sheet
Birth Certificate
Driving License
Passport/PAN Card
Check name in voter list
Now, one can check for their name on the voter list online in an easy way. The instructions are given below.
One can search for an individual in voter list with two types of details on the Election Commission websites of the states or the Central Election Commission website as given.
Procedure to check on the Voter list
Open the Election commission website of your state or the national website.
State Election Commission Websites-To go to the websites of the various State Election Commissions or the State CEO Websites, you can click here to find the complete list.
You can also search on the Central Election Commission portal by clicking here.
Clicking on the website link will take you to the home page of the respective CEO website of your state. You will then have to find the link that says 'Check your name in the voter card list' or an equivalent and click on it.
After doing that, you will be redirected to another website page in your browser. Here, you can find out if your individual name has been added to the voter list or not in two online different ways.

By your voter ID number or EPIC number, you can search and find for your name in the voter list.
By your Other details, you can search and find your name in voter list by entering all of your details correctly as mentioned in your Voter ID card or EPIC Card or your application of voter card. You will then have to enter your name, your Father's / Husband's Name, your age/date of birth and your gender correctly. Also, enter your state and your district, or locate your state and your district on the Map given.
The Voter list status of the individual will then be opened on the screen for the voter to see.
Getting a Duplicate Voter Card
If you lose your Voter ID Card or if it gets destroyed due to any unforeseen circumstances, you need to apply for a duplicate Voter Card, a replica of the original Voter Card. Here's what you need to do if you lose your Voter Card:
Firstly, lodge a complaint at the nearest police station about the loss of Voter Card, in order to avoid the misuse of the Voter Card by others.
Preserve the FIR safely, so that it can be used for further reference if required.
Visit the respective CEO website of your state.
Fill Form 002 for the application of duplicate Voter Card, which can be downloaded from The Election Commission website.
Attach the FIR for the lost Voter Card.
Also attach any of your documents of proof – Adhaar card, Ration card, PAN Card, Bank passbook, Passport or a driving license.
Then attach a residence proof like current bill, gas bill or telephone bill.
Put all the documents together and submit them to any of your nearest election commission office.
That's it. You are done. Do check the status of your Voter ID Card on your state CEO's website. Check the instructions given above or click on this link.
People who want to apply for duplicate Voter Card must download Form 002 from the official website of their state CEO website. You will be provided a duplicate election card only if the original one has been lost or it has been severely damaged. The application form for getting a duplicate voter id card is to be submitted with a penalty of INR 25 along with all required documents of proof attached. On Form 002, do not forget to attach your passport size photo (3.5X3.5 cm).
Application for duplicate Voter ID Card can also be done online. It will help you save time and effort to visit your CEO office. The process for duplicate voter ID Card application is similar to that of the normal procedure. Do make sure that you do not submit incomplete information.
Here is a state-wise list of all Chief Electoral Officers (CEO) in India
You can click on this link here to get your State or Union Territory CEO Link or copy paste the URLs from the below link into the browser.
From these websites, you can download the application forms as well submit the application for a duplicate Voter ID Card.
Andhra Pradesh–http://www.ceoandhra.nic.in/
Arunachal Pradesh–http://ceoarunachal.nic.in/
Assam–http://ceoassam.nic.in/
Bihar–http://ceobihar.nic.in/
Goa– http://ceogoa.nic.in/
Gujarat– http://ceogujarat.nic.in/
Haryana– http://ceoharyana.nic.in/
Himachal Pradesh– http://ceohimachal.nic.in/
Jammu and Kashmir– http://ceojk.nic.in/
Karnataka– http://ceokarnataka.kar.nic.in/
Kerala– http://www.ceo.kerala.gov.in/home.html
Madhya Pradesh- http://ceomadhyapradesh.nic.in/
Maharashtra–https://ceo.maharashtra.gov.in/
Manipur– http://ceomanipur.nic.in/
Meghalaya– http://ceomeghalaya.nic.in/
Mizoram– http://ceomizoram.nic.in/
Nagaland– http://ceonagaland.nic.in/
Odisha– http://ceoorissa.nic.in/
Punjab– http://ceopunjab.nic.in/
Rajasthan– http://ceorajasthan.nic.in/index.aspx
Sikkim– http://ceosikkim.nic.in/
Tamil Nadu– http://www.elections.tn.gov.in/
Tripura– http://ceotripura.nic.in/
Uttar Pradesh– http://ceouttarpradesh.nic.in/
West Bengal– http://ceowestbengal.nic.in/
Chhattisgarh– http://ceochhattisgarh.nic.in/
Jharkhand– http://ceojharkhand.nic.in/
Uttarakhand– http://ceouttaranchal.nic.in/
Andaman and Nicobar Island– http://as1.and.nic.in/eComAN/
Chandigarh– http://ceochandigarh.nic.in/
Dadra and Nagar Haveli– http://ceodnh.nic.in/
Daman and Diu– http://ceodaman.nic.in/default.asp
NCT of Delhi– http://ceodelhi.gov.in/
Lakshadweep–http://ceolakshadweep.gov.in/
Puducherry– http://ceopondicherry.nic.in/
By following all the given instructions, we can apply for a new voter card, check the status of voter card application and apply for a duplicate voter card.