Checking Voter ID Status is very important to know what has happened with your application and to also understand why is the application taking a long time to process and the reason for you not having received your voter ID still.
Once you attain 18 years of age, you are entitled to get your Voter ID. Many apply for the same either by registering online or submitting the documents and the form at the local Chief Election Officer.
However, while some voters get their voter card soon, there are others who don't even know their voter ID status and face problems even after submitting the form correctly and providing suitable documents along with it. For instance, in the past we have come across many instances of voters needing to wait endlessly to get the Voters' ID card while for some, there are errors in the card.
How to Check Voter ID Status?

To check the status of your votar ID card, you must visit the website of your State Election Commission Office. Once you access the link, you should:
Select any of the three options: Application ID, Applicant Name, or House Number.
Select any of the three options: Form 6, Form 8, or Form 8A.
Click the Search button.
The status of your Election Card card is displayed. You can also do Voter ID Card Status Check whether errors in your card have been fixed and new card has been updated. Select Form 8 to know the status of the same.
In case you want to transpose your card, you must select the Form 8A option to know the status.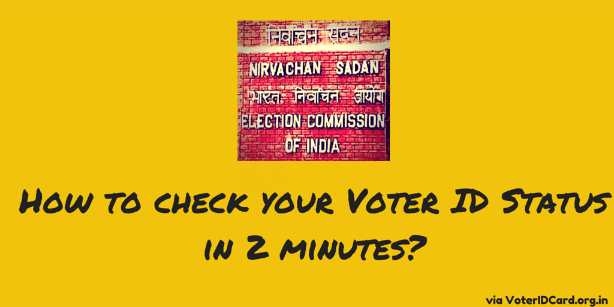 When is the Voter ID status Negative?
In many cases you may get the status, "Verification in progress." Although this status changes over a period of time, sometimes the status can remain as-it-is for months. In such cases, you must take further action to get your voter card.
As the state Chief Electoral Officer for each state takes care of the election cards, you to need to approach the state's election commission website to check the status of your ID card. If you find that the status is negative even after waiting for months you should visit the local Electoral Officer of your state. A written complaint is all that is necessary to help you get your voter's ID Card. However, in case you are still not able to get the card, you can file a Right To Information (RTI) to know where the hitch lies.

Today, about 100 percent of the voters have got their electoral card. If you are yet to get the same, you should get the card within the stipulated time or know the status as and when you want.
Recap – Quick steps to check your Voter ID status:
Visit your State CEO's website. You can find the URLs / links to websites of all the State CEO in India over here – https://eci.gov.in/
Once you are on your State CEO's website, look for an option for "Know the status of your application" or "Know your status". Click that and you will be taken to a page where you will be required to enter your "Application ID". Do note that different State CEO websites name this option differently – some mention it as "Know your status", some as "Check the status your application", and so on and so forth. So, the key is to look for an option that suggests 'check  the application status'. Also some State CEO websites put this option in the menu bar, some in the sidebar. So, closely look for this option. For instance Election Voter ID card Status AP or Voter ID Card applicants from Andhra Pradesh can check their Votar ID status at http://ceoandhra.nic.in/ceoap_new/ceo/index.html. Similarly, applicants from Delhi can check their Voter ID Card application status at http://ceodelhi.gov.in/
Feel free to let us know in the comments if you encounter any difficulties in checking the Voter ID status. We will be more than happy to help.
---
Also Read: New Voter Registration or Duplicate Voter Card, Simply Check Status in 3 Easy Steps – Click Here
---
Today, it is possible to check the status of your Votar ID card quickly and with just a click of a few buttons. In other words, you can check the status of your Voter ID by going online.
Here're some tips on how to check why you've not yet received your election card.
---
Not Received your Voter ID Card even after a long time? Click Here to know what to do!
---
When should you check Voter ID status? How much time does it take to get Election Card?
Applying for voter card is not that time consuming as you just need to go online, login, and fill in the required form. Generally, it takes about 9 months to get voter's ID card if you go through the traditional process of going to the booth level officer or local election commission office.
However, you can get your card within a month if you apply online. In fact, voters are expected to get the cards within no time as the entire system has now been digitized. You can refer our extensive guide on all your Voter ID queries including Voter ID Card Search over here.

That's it… now you know how to check your Voter ID Status.