The issue we are talking about is Non-Receipt of Election or Voter Card.
It has now become a common problem with new voters who apply for a new voter card and even follow all the right process from applying to final submission, but still face a problem when it comes to receiving their card in hand. Usually a new voter card takes about 2-3 months to reach your hand after the date of application submission. But if no verification team has come to your house, you need to contact the ERO, polling station, local Tahsildar, or Zonal Officer in particular areas from where you have applied. But if the verification has been already done and it exceeds this 2-3 months' time period, then there must be a problem as your application may either be stuck at some stage of this streamlined process or may be lost in the transit. So how do one check what happened with their application or Voter Card? The answer is provided below.
Voter Card Status: Check it online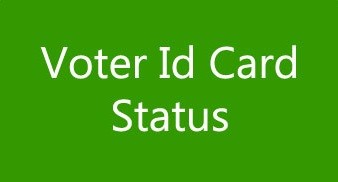 The Only way to know to know what and where the problem lies, is to check for your Voter Card status. Now the main question is, how one can do so? Here is the step by step procedure for you to follow to know the status of your Voter Card:
Visit your state CEO website,
Look for "know the status of your application" or similar phrase as shown in the image below for CEO Delhi (your State CEO Website will have similar kind of option too),
You will be redirected to another page after clicking on that link,
Now in the tab shown, check the bubble beside Form 6 (for new registration), fill in the application number that you have been provided after its submission, enter the captcha and hit the Search button.
You will be provided your Application Status after that so that you will act accordingly if needed.
For few CEO Websites like Punjab, you will also have the option to search for your name first by providing the details like district, constituency, etc. before getting your Status in case you forget your Application ID or don't have it now. One can also check their Voter Card Status by simply providing their Name or House Number instead of Application Id.
For someone who do not have access to Internet can also know their Application Status using SMS or Call feature provided by their respective State CEO Website.
---
Also Read: Various ways to Check your Voter ID Card Status
---
Three possibilities of your Status:
Cancelled
Under Process
Distribution in Progress.
If your status is showing Cancelled, then you have to contact your ERO or re-apply for the Voter Card. If your status shows either Under Process or Distribution in Progress then you must wait for some more time before you have your Voter Card in your hand.
But if even after few months, you don't find any progress in your status or haven't receive your Voter ID Card, then you have no option but to visit the ERO located near your residence. The ERO may seek a written complaint about the status of your card to take further action.
We hope now you have got the Status of your Application, you will get your Voter Card soon and will also find this post helpful. Please share this article so that all those who have same problem will find this solution. Stay Tuned for more updates and posts.