India is a democratic country and elections play a major role in the growth and development of India. A lot of mal ractices such as rigging and bogus voting take place during elections. To avoid such malpractices and promote fair elections the Election Commission of India came with the concept of Voter Id card.
A Voter ID Card acts as a proof of identity allowing a person to vote and elect a candidate of their choice. It is one of the essential identity proofs for the Indian citizens. A voter id card can be taken by the citizens who are 18 years old or above. The ECI has started the system of Voter ID Card to avoid malpractices such as rigging, cross-voting, and bogus-voting
This card is not only important for voting but also otherwise like supposedly you want to open a bank account, you will be asked by the bank people to provide an identity proof and you can give a copy of your voter id.
What Is The Use Of A Voter ID Card?
Voter ID card is not only essential to cast vote today, it is also useful to have the voter id card for: Registering your name in the voters' list if you change your residence in India
Include your name in the electoral roll if you've got married and changed your surname and place of residence.
Buy tickets online, such as railway tickets for AC and non-AC classes. It is also essential to have a photo identity card to buy Tatkal tickets.
Get passports or other identity cards. The election card acts as a proof of identity, age, and place of residence.
Getting Voter ID Card Online
The voter card is given to those who have filled in the voter ID application form correctly and completely. Earlier, the application forms for voter registration was available only at the state's election office or when the Chief Electoral Officers (CEO) used to setup electoral card kiosks at various places in the state.
Today however, a lot of things have changed for the better. One can simply go online, visit the CEO's website and download the required form for voter registration.
Here is a detailed list of Election Commission of India forms for anything related to Voter ID Card:
Form 6 – for new enrolment / applying for a new Voter ID Card
Form 8 – for modifying spelling errors and other mistakes in the voter card
Form 8A – for transposition / change of the voter card name
Form 002 – for getting a duplicate card
Form 7 – for objection to the inclusion of name
Once, you click the appropriate form, you need to fill it up and submit certain documents to certify your residential address, age, etc. If you are filing for a duplicate voter ID card, you must attach a copy of the FIR as well.
There are also options for NRIs to get a voter ID card in case they are still Indian citizens and are present abroad for some government job.
Voter ID Card India
Those who have applied for voter card as new voters can track the progress of their application on three ways; on the state election commission website, through mobile and through helpline number.
The website of election commission of every Indian state offers a separate section for finding their voter ID card status.
Besides going online, the voters are also being offered the ability to check status of their card using their mobiles. The voters have to simply send an SMS to registered official number of the state election commission, one has to send his application number through SMS. Application number is the number which is provided to the applying voter when they have successfully submitted their online form.
 Those voters who do not use a mobile phone can simply call on the toll free number as given on the election commission webpage of their state.
The new voters can use either their application ID to find their voter ID card status. On the page you will have to mention your application number and then choose the form. Since the voter is newly registered, he/she will have to select the Form 6 option and click on search.
Voters can also find the assembly or constituency in which they will be able to vote. Not only that, voters who are already registered can also find the location of their polling booth and check if their name is included in the voters list.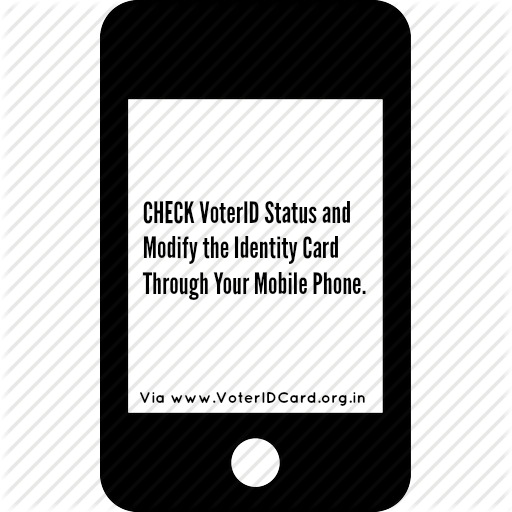 When is it Necessary to Check the Status of your  Voter Id Card?
If you applied for a Voter ID Card did not receive the or no verification team has come to your house, you need to contact the ERO, polling station, local Tahsildar, or Zonal Officer in particular area from where you have applied.
You should wait at least a month if you have applied for your voter card online. If however, you don't get any response within 2-to-3 months you should log in to the CEO website to know at which stage your application is stuck. A quick check on the web can help voters to know the status of their application.
How can offline users check their name in the Voter List?
It is extremely simple to check your voter id card status through SMS.Simply send an SMS using your phone and find out the status of your Voter ID application.
Type: EPIC <Space> Your VoterID Application Number
Send the text to 9211728082
In fact, you can use the same method to find out if your name has been enlisted in the voter list.
Checking Voter ID Status
Voter ID registration in India has been streamlined a lot so that applicants can get their cards within 2-to-3 months. In fact, you don't have to visit the office of the State Electoral Officer in person to know about the voter ID status.
You can now visit the ECI's website to check the voter ID card status online. Applicants can check the status of their electoral card by sending an SMS to the electoral officer or seeking help from a dedicated ECI helpline.
Check the status of Voter ID Card on Internet
Once the voter ID application form is submitted, you can also find out the status of your ID card. A few years back, one had to visit the election office to know the status of their voter card – whether it is cancelled, under process, or in transit. Remember, you will be given an application number once you have successfully submitted your application to the local office or registered your application form online. Here are the steps to know the status of your Voter ID Card.
Visit the state CEO's website. Many tabs will be visible in the online form.
Click the e-registration link from the tabs above. A series of sub-pages are displayed.
Click 'Know your Voter Card status' link from the sub pages given.
Choose Application ID radio button if you want to put this number in the text box that appears. You can also select the option to enter Applicant Name, or House number.
Choose the correct form from the list of forms in the next step.
Click the Submit button.
The voter card status will be correctly shown in front of you. This status is mentioned in the form of a new pop-up window. Make sure that the pop-up option is not blocked by your browser.
Once the voter ID card application form is verified, you will be able to see the voter card number and the E-Seva centre number is provided. These two numbers must be provided to the e-Seva center to get your updated or new voter ID card.
Is it Possible to Modify an Existing Voter Card using Phone?
Yes, it is possible to change minor errors in the voter card by simply messaging the correct option to the election office using your mobile. You don't have to fill in the forms entirely and submit the documents. This saves the hassle of doing the paperwork and submitting applications afresh.
Some tasks which you can do via mobile are:
Changing photos
Correcting typo errors
Correct names in the election card
Correct address
How is the Modification Done?
In case you want to send corrected name or address, you must SMS the following text –
CORR <space> 'Assembly segment number' <space> 'Corrected name or address'. Make sure this text reaches the 9211728082 number.
In case you want to inform about an error in a photograph, you must SMS the following text –
'PHOTO' <space> 'Assembly segment number' <space> 'Corrected name or address'. Make sure this text reaches the 9211728082 number.
What Happens after the SMS is Sent?
The CEO and ERO will work on the SMS content and update your Voter ID Card. The electoral roll will also be summarily updated soon after the change is reflected in the identity card. You are saved from the hassle of depositing all the proof of documents and submitting the Form 8.
When to Use Form 8?
In case you have completely changed your address or your surname, you need to apply through Form8. In case a woman changes her surname and residential address, Form 8 needs to be furnished along with the copy of marriage certificate, age proof document, and address proof document. The copy of the voterID of her husband must also be filed along with it.
Visiting ERO – the Last Option
Consider a situation where you have checked the status of your election card online and found that the status reads, "Distribution in progress." However, even after waiting for 3 months and you don't get your ID card.
You must then visit the ERO located near your residence. The ERO may seek a written complaint about the status of your card to take further action.
You can easily check status of your voter card or electoral roll online. If you are still not getting your updated voter card or voter list, a visit to the ERO's office is a must.