Maharashtra Assembly Elections 2014 are soon going to start. It is that time of the year for the people living in this state, when they must get voter id cards and ensure they are registered so as to ensure their voting right. The importance of voting in these elections is immense because your one vote is going to decide the fate of Maharashtra for the next 5 years. So here we guide you about everything from applying for a voter id card in Maharashtra to checking your application status and locating your polling booth. All in all here is a complete guide about voting in Maharashtra assembly elections 2014.
[All the important links are given at the end of this article].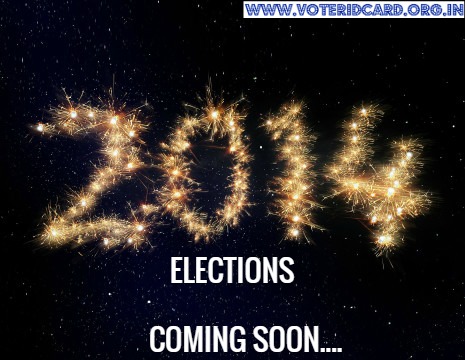 Get Voter ID Card Maharashtra Online
To receive your voter id card in Maharashtra, you need to be a registered voter and have your name in the latest voter list of your constituency. If you still not have your name included in the electoral roll then you are not eligible for a voter id card or a voter slip and hence you certainly would be unable to cast your vote in the assembly elections of 2014. But, it is never too late. You can still apply for a voter id card in Maharshtra. To get your name in the voters' list of your constituency, you must fill the election commission of India Form No. 6. Along with this form, you are required to present your various identity documents so as to prove your identity, age, address and D.O.B(date of birth). You can apply for voter registration in Maharashtra without leaving your home. Form No. 6 could very easily be filled online on the CEO website of Maharashtra. Just visit the official web address of the chief election officer which is ceo.maharashtra.gov.in The options ticker on the home page has an option called 'Online Voter Registration'. Clicking it would present you all the forms that can be filled online. Since our concern is to get you registered as a voter in Maharashtra Online hence, you must click the very first option on the page which is, 'Form 6- Inclusion of name of residents electors'.
After clicking on Form 6, you would see the ECI Website registration page where you have input your State(i.e Maharashtra), mobile number and e-mail address. Click 'proceed' once done. You would receive a code on your mobile number soon after clicking proceed, enter that code on the current page and then you would be able to access the online version of the form no. 6. You would have an option whether or not to upload the scanned proof documents but you are obligated to upload a passport size photograph of yours(or the applicant's) in .JPEG format not larger than 35 KB in size. Post completion of the form i.e once you have filled in all the details and uploaded the photo and/or the documents then you can click submit and receive a unique application id for future reference.
You can use the same online form no. 6 if you wish to get your name in the voter list of some other constituency if you have shifted to a new place. In this case you would have to provide details about your previous voter registration(EPIC No., part no., Address, etc.) in the part 4 of the form. You would also need to attach the both sided photocopy of your present voter id card in Maharshtra or any other state.
Check Your Name in the Maharashtra Voter List 2014
Before applying for new voter registration or before you go to cast your vote in the Maharashtra Assembly Elections 2014 you may as well check whether your name already exists in the voters' list of your constituency. To do so, you can visit your local ERO and ask for a copy of final voter list 2014 but that may be a tiring and time consuming cast. So, just like voter registration, you can also check your name in the Maharashtra voter list 2014 on your computer screen, online.
To do so, just visit CEO Maharashtra official website. On the homepage, there is a section called 'Citizens' Corner'. In this section all the latest updates and releases by the chief election office. Here you would find an option 'Search your name in Final Electoral Roll 2014'. Clicking it would redirect you to a page where you have to choose from the following two voter name search types: –
Click on the option of your desire and you would be asked to enter the required details. For example if you choose 'ID Card Wise' then you would be asked to enter your Maharashtra voter id card number. Once you enter it, the CEO website servers would automatically perform a name search and show you the voter details(if name is included) present in the voters' list 2014 of your constituency.
Another option you have to check your voter id details in Maharashtra voter list 2014 is by sending the following SMS: –
Type EPICID<Your Voter ID Card Number> and send it to 9869889966
Register Offline to Vote in Maharashtra Assembly Elections 2014
Although it is highly recommended that your apply online for your voter id card Maharashtra if you wish to vote in the assembly elections 2014 since they are quite near and offline application process takes a much longer time and labor on your part, but still, here is how you can apply for new voter registration offline.
To apply for inclusion of name to the voter list, as we told you earlier, you have to fill the election commission of India form no. 6. This form could also be filled even if you do not have an internet connection. Just visit your local ERO(electoral registration officer) and ask for a hard copy of this form. You can then fill in all the details on this form, attach the required identity proof documents for voter id card Maharashtra and paste 2 passport size photographs in which you are completely visible along with your facial features since this is the photograph that would be seen on your EPIC(electors photo identity card) when it is issued to you. This application must then be sent to your designated ERO either by post or in person.
Download Voter Registration Forms
If you want to save some time but still apply for voter id card Maharashtra offline then you can adopt the semi online method of applying to become a voter in the coming assembly elections. Under this method, you can download the ECI form no. 6 and then take out a print of the same instead of getting the paper form from the ERO office. After getting a print out, the rest of the procedure for application is exactly the same as mentioned in the previous section. You can download all such important voter registration forms from the CEO Maharashtra website. So no matter whether you want to apply for voter registration, correction of voter details or just want to transpose your entry into the electoral roll, you can simply download the corresponding forms from the website and then fill them manually before submission at the ERO Office.
On the CEO Maharashtra website, you would find an option on the left side of the homepage, that reads 'Download Forms'. Just click it and select the form you wish to download. Once downloaded, you can fill that form according to the mentioned guideline and then submit it at the ERO office.
IMPORTANT LINKS
Haryana Assembly Elections 2014 Guide: – https://voteridcard.org.in/2180/vote-haryana-assembly-elections-2014
Online Voter Registration in Maharashtra: – https://ceo.maharashtra.gov.in/Registration.aspx
Check Name in the Maharashtra Final Voter List 2014: – http://103.23.150.139/marathi/
Download Voter Forms: – https://ceo.maharashtra.gov.in/Downloads/Forms.aspx
Search the list of deleted names in voter lists: – https://ceo.maharashtra.gov.in/Search/SearchDeletedList.aspx