Voter's ID card is not only important in allowing you to cast your vote it also acts as a valid identity proof. This card is issued by the Chief Election Commission and distributed by booth level officers once the voter applies for the same.
A person not only residing in India but an Indian citizen who resides abroad can obtain this election card. In this article we highlight the process for you to obtain it.
Need Of Voter ID Card In India
Casting vote would have been a simple affair had there not been rigging, cross-voting, and bogus-voting. The Election Commission of India (ECI) was set up with Chief Election Commissioner at its helm. The latter was appointed by the President of India in a bid to ensure elections were free-and-fair.
Many voters had to return home without casting their votes as someone else had done so on their behalf. To check this menace, the governing bodies amended the R.P. Act where Elector's Photo Identity Cards (EPIC) where issued by the ECI. Each voter with his or her name listed in the electoral roll would be given a voter id card.
Importance Of Voter ID Card
Voter card is essential to cast vote today. It is also important to have the card to:
Register your name in the voter's list if you change your residence in India
Include your name in the electoral roll if you've got married and changed your surname and place of residence.
Buy tickets online, such as railway tickets for AC and non-AC classes. It is also essential to have the photo identity card to buy Tatkal tickets.
Get passports or other identity cards. The election card acts as a proof of identity, age, and place of residence.
Hence in a nut shell, voter ID is a special identity card that can help you, as a citizen of India, to avail services that are meant just for the Indians without any hassle.
It is not new that there are many non-residential Indians working in various countries across the world. Some are working for decades while few have just ventured out for study-cum-work option. In any case, there are many NRIs who-
Hold only one citizenship – Indian citizenship
Want to vote in India or possess an ID card to vote
Have a valid passport with an Indian address
Have a suitable authority to certify the place of residence in the foreign land
Have no criminal or offensive records
And, these Indians can apply for their ID card to vote. If they apply correctly, they will not only get their voter ID card but also get their name listed in the electoral roll in the same constituency where the Indian address has been mentioned in the passport.
Eligibility To Apply For A Voter ID Card By An NRI
All NRIs are eligible to have their name on their respective constituency's voter list if and only if they follow all the three conditions given below:
The person should be above 18 years old age.
He/she should be the citizen of India as well as have not accepted any foreign country's citizenship.
Lastly, the person had not been debarred by the EC (Election Commission of India) to register for voter id.
After an amendment done to People's Act of 1950 in the year 2010, all the NRIs get the privilege of having their name on their respective electoral list to their corresponding constituency to the address mentioned on their valid passport. This amendment helped all the Indians residing outside India in foreign countries to get their voter id card specially those who moved out of India due to education, employment or any other reason and have not accepted the citizenship of any other foreign country.
Documents Required For The Registration Of NRI Voter ID Card
Two Passport Size Photograph
Copy of the visa issued
Scanned copy of those pages of the Indian Passport which contains the Identity/ Address/ Age proof of the applicant and should also be attested by the competent officer of the Indian Mission of the country where the applicant currently resides.
Procedure For The Online Registration Of NRI Voter ID Card
All the NRIs have to fill Form 6A in order to get their voter ID cards. Obviously, it is not feasible for the NRIs to come to India and go to their respective ERO. So, in order to get their Voter ID card, they can register themselves by filling the registration form given on the ECI website with the above mentioned documents. Here is a detailed procedure on how to apply for an ID card:
Visit your state's CEO website.
Access Form 6A (in the subhead, Overseas Elector)
Fill in the form, such as Constituency, District, State, information about the applicant, applicant's family, visa details, residential address of the applicant living abroad, description of absence, etc
Upload the documents to certify the form details. these include soft copies of the Indian passport, address proof of the Indian residence (it must be mentioned in the passport as well), age proof, address of residence abroad (it must be certified by an authority), two passport size photographs.
You have to go to the 'Overseas Electors' category to fill the form or can also visit to the www.eci.nic.in to know about their state electoral website.
One has to also upload all the required documents along with Form 6A to get their Voter ID card.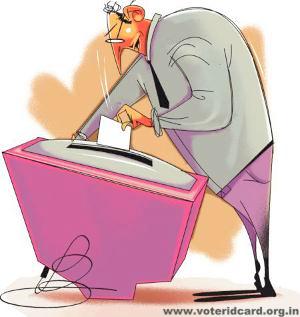 Restrictions:
There are still a few restrictions for NRIs to cast their vote in their respective constituencies. According to current rules and regulations of Election Commission, one has to be physically present at their respective constituency's election booth where their names are mentioned in the voter's list for that particular election booth.
How to Check ID Card Status By NRI
It is possible to also go online and check ID card status without bothering anybody. You need not come to India or contact the Indian Embassy to check the status of your ID card registration. Here is how it works:
Visit your state's CEO website once again.
Click 'Know your status' link. A series of options are available.
Place the appropriate options and key in your Application ID number.
The ID card status is displayed. It may take a couple of months or more to get your electoral card. Check how much will it take to get your ID card or where is your application stuck by going online. Once the electoral card is verified and sanctioned, you will get a dedicated number. You can use this number for getting the election identity card. The verification will also ensure that their name is listed in the electoral roll.
But Can NRI Vote without Landing in India?
The NRI must be available in India to cast the vote. In fact, he or she must be present in the constituency and visit the polling booth to cast the vote. There is no possibility of voters to cast their votes in postal ballot.
Nevertheless, ID card is a valuable entity for NRI as they can show the card to buy apartments, open bank account in India, and much more. It is also a prestigious card which says that you are a valuable citizen of India – even though you may be working or living abroad. For any issues and concerns, you can always refer this card. That's the reason why NRIs apply for the voter ID card and update their names in the voter list.
With everything going digital and the Indian Government embracing the online way of applications in all field from education to documentation, applying for voter ID card online is also simplified and has further increased the scope of voter registration. Even NRIs can apply for voter ID card online without having to visit the ERO in India. This comes with certain conditions though.