Nowadays, Voter ID card is used extensively in every official work related to government department as an important proof of identity. Every citizen of India who is 18 years old or above should apply for a Voter ID card. Voter ID card assists us in various factors. It will allow you all the rights necessary to get entitled to vote. Furthermore, it is also used as a proof of identity & contains essential information of an individual's age, name & address. However, after applying online for Voter ID Card, a process for verification of the documents will be done. This article talks about How to get your Voter ID Verification done without any issues and why is it essential.
Get your Voter Card Verification done by the Election Commission in simple steps to get your Electoral Card on time.
Voter ID Verification: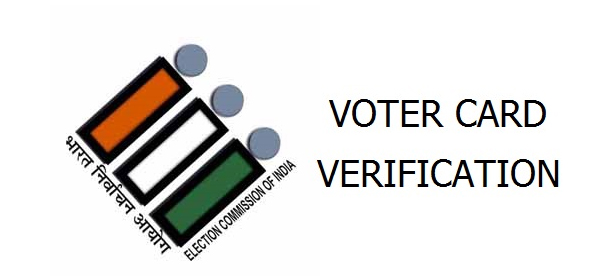 The Voter ID Verification is a process done after the applicant has completed and submitted Form 6 for registration in order to obtain new Voter ID Card.
Bogus Voting is a common practice in many election booths. This is done by people who use an individual's voting card repeatedly in an unethical manner.
There was a time when same Voter ID card was being used at different booths again and again without any restriction and control. This illegal activity was noticed after a few successful bogus votes which made Government alert. The particular incident led to enforcement of a strict protocol which had to be followed while verifying a Voter's ID card.
Online Voter ID Verification – Is it Possible?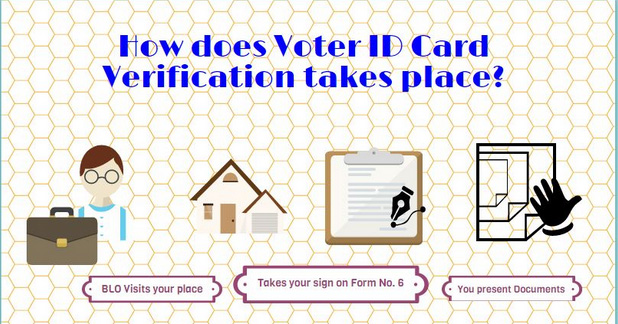 Actually NO. There is not such thing as Online Voter ID Verification or Offline Voter ID Verification. So mainly even if you apply for Voter ID Card Online or Offline the Voter ID Verification is always done Offline – meaning physically by the BLO.
So now that we are clear on the Online Voter ID Verification as well as Offline Voter ID Verification – [they both will be done the same way], let us understand the process.
The verification process for Voter ID Card will be done by the Booth Level Officer (BLO) in your vicinity.
After successful submission of  Form 6 – Online or Offline, the application will reach the Booth Level Officer and he/she will visit the residence address which was mentioned by you in Form 6 for Online Voter ID Card Verification.
Till the time verification process is done. The BLO will usually visit within 1 or 2 months to verify whether the details provided is genuine and that you actually stay in the same address as filled in the form.
Whenever the officials arrive, always present the Original document used for uploading while filling form 6 earlier during registration. 
After matching all the details and necessary documents required in the form 6 for verification, if the BLO finds information correct in all aspect then your Online Voter ID Card Verification is successful.
Your registration process is done after successfully completing all of the above steps. Your card will reach the given address within 3-7 weeks.
After successful submission of voter ID card application,for further assistance you may call on the helpline number 23918888 and 1950. Also, the applicant can check status of voter card verification online – Over Here.
Alternatively, status of your voter card application online can also be checked by entering the details of your application ID.
Status of addition of the applicant's name in the electoral roll in desired constituency can also be checked online From the official website of election commission –  See the process here.
The advantage of online application is also that your job is done within a month's period and you get your Electoral card within particular time frame  and its cost effective and time saving.
Voter ID Verification In Case of Absence of Applicant:
Irrespective of the availability of the applicant at the time of inquiry by the BLO, if local inquiry establishes that he/she is an ordinary resident of the given address, the BLO will recommend/verify the form for inclusion of name of the applicant in electoral rolls.
In case of any doubt, as to the applicant being an ordinary residence of the given address, the BLO may visit the address once again record evidence of the applicant if available or other elector of the neighborhood and submit his /her final report accordingly.
Voter ID Verification for Students Living in Hostel:
Sometimes, students living in hostel face difficulties in registration and verification of their information for new Voter ID Card.
So the Election Commission after due consideration has decided to issue clarifications in the matter so as to ensure that the names of eligible students pursuing studies in different parts of the country, away from their home, can be included in the Electoral Roll.
Eligible students living in hostel or mess can either be registered as ordinarily resident in the place where hostel or mess is located
OR
At the residence of their Parents.
However, he/she can vote only from the place they are registered as voters.
Importance of Voter ID Verification: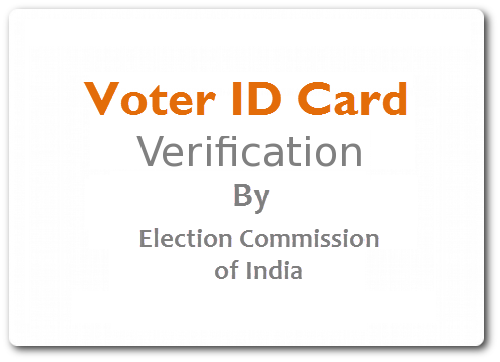 Verification of details is an important step taken by the Indian government in order to track and secure the applicant's details and also control Bogus voting and corruption.
The government is making its best efforts to make all processes related to electoral card, simple and convenient for the citizens.
The National Voters Services Portal (NVSP) has been started with a view to modify services to voters by creating processes online. Any voter or applicant can apply for a new Voter ID Card, apply for Duplicate card or make an application for correction of details or removing names from Voter Lists- online. Thus, there's no requirement of going to the constituency where you are previously registered, every time.
The process of finding your name on the Electoral Roll has become straightforward as online electoral rolls of all the constituencies are uploaded by the Election Commission.
Linking of your Aadhaar card to your electoral card makes it easier for the govt. to secure your details. Also, the method of linking of citizen ID card with the Aadhaar cards of the citizens can considerably decrease the amount of fake citizen identity cards.
All that the applicant is required to do is to apply for his or her Voter ID and the Verification is done. 
In case Voter ID Verification is not done or BLO has not come for verification then the Applicant may contact ERO/AERO of the concerned constituency.