Seems like it's the right time for the next generation to take over and lead the family political legacy. Lalu Prasad Yadav himself led his party single handedly continuously for 19 years, but now he thinks it is the time for their children to take over.
Providing the way for the next Gen., he gave some hints about his children's contesting this upcoming Bihar Assembly Election at his party's foundation day in Patna on 5th July. Upon asking the question whether 3 of his children would contest the polls, he immediately replied: "Will my children graze the buffaloes if they do not contest the elections?"
Bihar Election: It is the right time for new generation to take over, feels Lalu
---
Also Read: Why are Bihar Assembly Elections important this year?
---
Tej Pratap has already announced his candidature from Mahua Assembly Seat in Vaishali in the upcoming Bihar Election. His announcement though evoked protests from the supporters of an old claimant of the party, who is certain to contest election from there.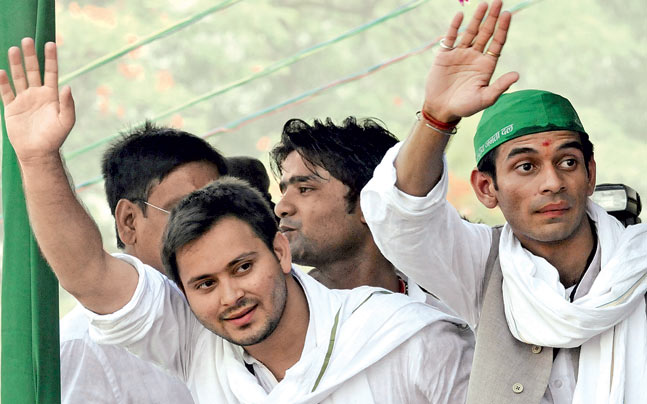 It has been said that Lalu's children would be given the seats of their choice in this poll. With Tej Pratap already declared his candidature from Mahua, RJD insiders said Tejashwi could contest from the Raghopur constituency. However, Misa, the eldest of all the 9 children of Lalu and Rabri – a gold medallist MBBS and a mother of two children, may contest this poll from either Maner or Danapur.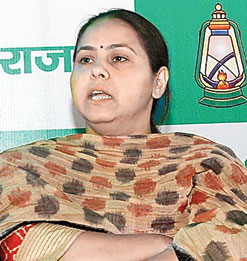 She is a sharp, persuasive, politically ambitious and possess the most mature and astute political brain among the siblings. Misa has already made her debut in politics. She contested from Patliputra constituency in Bihar Election of 2014 parliamentary election where she lost to BJP's Ram Kripal Yadav by 40,000 votes. After her defeat, she chose to stay under the radar. Patliputra is said to be a Yadav dominated constituency. She hasn't been seen or heard so far in the run-up to the assembly elections. Misa has not gave away any hint if she will contest this election or not, although speculations are made that she may give a surprise on poll eve, better prepared than before. Misa now has moved forward and looking to win an Assembly Seat.
Bihar Election: Seeking Professional Help
Tej Pratap and Tejaswi have hired 6 professional graduate to run their war room at the three-acre farm house. Anu, an MBA graduate from Sikkim Manipal University, is the only woman among these six professionals. In the last three months the six, led by IT professional Rakesh Kumar Singh, have already finished the first phase of their job-making an exhaustive database comprising every voter in Mahua and Raghopur. These are the seats from where Tej Pratap and Tejaswi is intended to contest respectively in the upcoming Bihar Election. "We have succeeded in connecting with the voters of the two constituencies," Singh says. "If any person from these 2 constituencies tries to communicate us for anything, say, a dysfunctional transformer, we first alert the official concerned and then connect Tej Pratap Sir with that person. The job is usually done in a day or two".
Tej Pratap is well confident of his team and said that they take all the necessary actions required from informing RJD leaders to go and solve any disputes that rose among neighbours to calling block-level officials for work such as issuing certificates or pensions.
Thus, it is obvious that whether these three successors of Lalu Prasad Yadav are ready or not, they are anxious to make their mark in this political battlefield by doing all the things they can to tilt the voters their side.
That's all we have for you in this article. Stay tuned for more updates on Bihar Election News.