This is the most accurate and simple guide to Voter ID Card Apply Online. You can get a New, Duplicate Voter ID or check status too.
A valid voter's list with each voter having a voter ID card is a must to ensure elections are free-and-fair and legally viable. The Union Government, state assemblies, and panchayats are elected after a span of few years by Indian citizens who have attained 18 years of age and are listed in the voter's list.
In a vast country like India, thousands of polling booths are set up to allow voters to cast their votes. Voting is a fundamental right of the Indians. Those who do not reside in India, such as the NRIs would not be eligible to vote. However, people working abroad for the government, can exercise their franchise.
Voter ID Card Apply Online – Guide to getting New / Duplicate Card and Checking Status: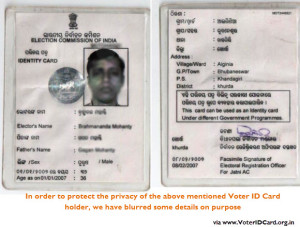 Here is how you can go for Voter ID Card Apply Online:
An election card is a unique identity card which has the individual's name and personal data, such as address, date of birth, and father's name. A photograph is also included in it. This card was issued by booth level officers under the guidance of state election commissioners when it was first introduced.
Today, new voters or those who want to change some parameters in the voter card can apply for the election ID card online. Various forms need to be downloaded from the net to get the task completed. For instance:
Form 6 is used to include the name in the voter list or electoral list.
Form 6A is used to include the name of an NRI
Form 8 is used to rectify information in the voter list
Form 8A is used to transpose the entry of the voter.
Visit this link for a detailed guide on "How to apply for Voter ID Card online". It generally takes a month to get an election card if voters register online. You can check the status of your Voter ID Card application over here.

You can also visit the local election registration office to get your voter card.A detailed process for offline/physical Voter Card registration is available over here: Apply for Voter Card. Once the registration is done online, you have to submit relevant documents for approval. Hard copies of the same must be submitted to the voters' facilitation center. These are copies of identity proof and address proof. If the papers are right and you have correctly filled in the form, the verification would be done in a jiffy and you would get your electoral card.
In order to make changes in your voter ID Card OR Rectify Errors in Voter Card, visit think link .
To Apply for a Duplicate Voter ID Card, visit this link Below: Duplicate Voter ID Card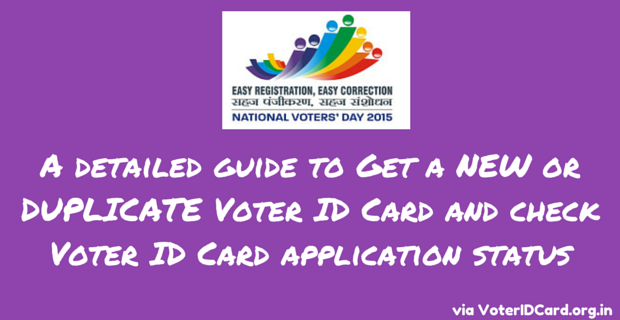 Importance of Voter Card:
Casting vote would have been a simple affair had there not been rigging, cross-voting, and bogus-voting. The Election Commission of India (ECI) was set up with Chief Election Commissioner at its helm. The latter was appointed by the President of India in a bid to ensure elections were free-and-fair.

Many voters had to return home without casting their votes as someone else had done so on their behalf. To check this menace, the governing bodies amended the R.P. Act where Elector's Photo Identity Cards (EPIC) where issued by the ECI. Each voter with his or her name listed in the electoral roll would be given a voter card.
Voter card is essential to cast vote today. It is also important to have the card to:
Register your name in the voter's list if you change your residence in India
Include your name in the electoral roll if you've got married and changed your surname and place of residence.
Buy tickets online, such as railway tickets for AC and non-AC classes. It is also essential to have the photo identity card to buy Tatkal tickets.
Get passports or other identity cards. The election card acts as a proof of identity, age, and place of residence.
In a nutshell, voter ID is a special identity card that can help you, as a citizen of India, to avail services that are meant just for the Indians without any hassle. And now you know every thing about the Voter ID Card Apply Online procedure to get a new card or get a duplicate one or to check the application status.