The Election Commission of Delhi is responsible for overseeing the entire conduct of elections in Delhi. Right from the voter registration to result declaration everything is run and managed by the commission.
The Delhi election commission also runs its very own website where voters can find all the information related to elections. The Delhi voters can not only register themselves on the site but can also find the status of their Voter ID Card application, check whether their name is in the Delhi voters list or not. In addition to that, the site also provides lots of useful resources and information related to elections to the voters from Delhi.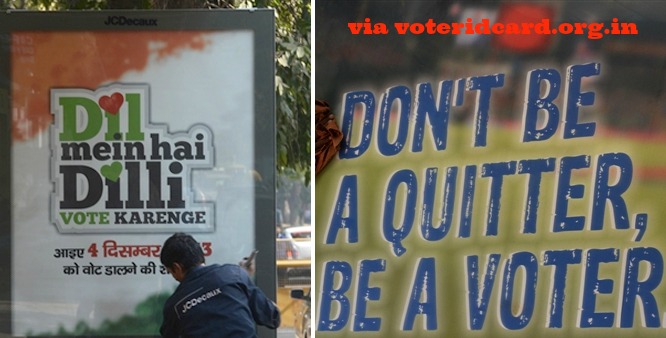 The commission also has its team of Electoral Registration Officers (ERO), Block Level Office (BLO) and other election officials to ensure a smooth conduct of election in every constituency. The commission also encourages Delhi residents to become a Block Level Officer (BLO) in Delhi and become a part of its activities by registering through its website.
How to apply for Voter ID Card in Delhi
If you are a resident of Delhi who is keen to vote in the upcoming elections then you must register yourself for voter ID card Delhi. There are two procedures for Delhi residents to register for voter ID card.
Online (through the website of Delhi Election Commission)
Offline process through VREC
In order to be eligible to vote from Delhi constituency, here are criteria you must fulfil:
It is compulsory for you to be a citizen of India.
You must ordinarily be a resident of Delhi. Students too are included in this.
Your age must be at least 18 years.
You should have no past history of being disqualified as a voter.
If you want to register through online process then you will have to go to the official website of election commission of Delhi. Before you begin to register you must have a valid account on the site. You will need to create an account on the site by filling up details like name, address, email, user name, password and other realted details.
Once you have registered, go to this link to log-in and start your registration. You will need to carefully fill the Form 6 to register yourself for Delhi Voter Card. Besides you will also need to upload a scanned copy of your passport size photo. You must also have soft copies of any one of the following as your documents of proof to upload during registration.
For Age proof you can have either:
PAN Card
Driving license
Valid Indian Passport
If you are a voter in the age group of 18-21 years then you will also have to attach either your birth certificate Or school leaving certificate along with form 6.
In case you are a student from some other state living in Delhi, you can still register for voting. All you have to do is attach your age proof document along with a requisite declaration with the application form. The declaration must be signed by either the director/dean/principal/ registrar of your college or by the warden of your college hostel.
For address proof you can have one of the following:
Telephone/light/water/gas connection bill
Passbook of your current bank or Kisan or post office account
Ration card/driving license/ passport
Once you have submitted the form successfully, the Block Level Officer (BLO) will come to your residence to verify the information and documents submitted during registration. On successful verification, you will receive your voter ID card in Delhi within 30 to 45 days.
One note of caution- if during your verification there is any inconsistency then your application will be rejected.
If you find the above process difficult then you can also register for Delhi voter ID card by just downloading the Form 6. You will have to fill it in your handwriting with correct details. You will need to have photocopy of the any one of the documents mentioned above and two passport size photographs.
You will need to go to the nearest Voters' Center (which was previously known as VREC) and submit the documents, photos along with completely filled form 6.
This voter registration process in Delhi is not only for Delhi residents but also for those Delhi people who are living abroad provided they have not given up their Indian citizenship. In order to register these NRI voters will have to fill in Form 6A and submit the relevant documents as stated by the election commission India.
How to know the status of  Voter ID Card Delhi
It can be a nervous and anxiety while waiting for the voter card once your registration is successful. To make it convenient for the Delhi voters, the state election commission Delhi offers two services to check the status of Delhi Voter ID Card.
The site has a separate section on which the applicant can check the status of his/her voter card. All you have to do is choose the form you filled in and enter your application ID (which you must have got when you filled that form).
Alternately, voters can also call up the helpline number that is provided by the commission and find out the status of voter ID card in Delhi. If you are a Delhi resident who wants to check the status of the voter card then visit this here.
How to get your name in the Voter List of Delhi
Just like every other state, it is compulsory for every Delhi voter to have his/her name in the voters list of Delhi to be eligible to vote. The voters list is the most important document for voters. If the name of the voter is missing or not included in the list, then he/she is not allowed to vote even if he/she has a voter ID card.
The process to get the name in Delhi voter list is same as the one explained earlier in the article. Usually on successful registration, the name of the voter is included in this list. The list for every assembly is prepared by the Electoral Registration Officer (ERO) of that particular assembly. This list is published every year and is updated regularly.
The Delhi Election Commission has also started an SMS service for registered voters to verify and confirm their names in the voters list. The voter will have to SMS the ten digit voter ID card number to 9211728082 to check the status of name in Delhi Voter List.
For those who do not have a mobile phone can call up the election commission of Delhi helpline numbers. These numbers are 1950 & 011-23918888.
If you already have your name in the voters list and want to update or change details about you then you will have to fill in respective forms that have been given by Election Commission India – Refer the following guide on How to make changes in your Delhi Voter ID Card.
The voters list is updated at regular interval of time. This way the voter can check whether their changes and updates have been made or not.
Know more about The Indian Election Commission
The Indian election commission is the main authority in India that conducts elections throughout India. It is an autonomous body which was formed in 1950. The commission drafts rules and regulations that will govern the elections.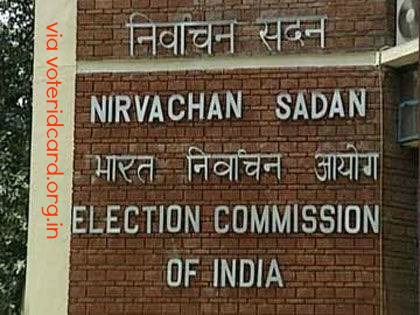 The commission is headed by three people; one chief election commissioner and two election commissioners. All the matters related to voters, candidates and political parties are handled by this commission.  The commission conducts activities online as well as offline. Its online activities are mainly centred around its website that offers a wide range of information, features and services. Voters can register themselves through the site. They can also find all the information related to their assembly such as finding the area ERO or BLO or even location of the polling booth of their constituency on the same website.
The offline activities include conducting ground campaigns, utilizing state owned media such as radio, television to spread awareness about voting rights.
The Election Commission of India also guides the states in conducting elections in their region – right from recruiting officials to overseeing if the implementation of rules are done by state election commission as per the guidelines of election commission.
The commission has quasi judicial power which means that no one can interfere with decision making process of it – neither the parliament nor the Supreme Court of India. The decisions taken by the commission are binding upon everyone including the president of India and any governor.
As a token of gratitude towards voters and spread awareness, every year the commission also celebrates Voters Day on 25th January. This is also incidentally the day when the commission on established.