Filling forms, visiting the ERO office, waiting in the long queues and spending the precious work time in order to get a Voter ID Card Delhi and checking its Status through similar ways might be a thing of past for many people who can conduct the same tasks at a click of a button at the comfort of their home or office.
People who have access to internet need not visit the ERO office a lot of times in order to get a Voter ID Card in Delhi and to register their name in the Voters' List because of the fact that these tasks have been more or less computerized and hence most of these could easily be done online.
How to Check Voter ID Card Delhi Status on Internet?
Not everyone is blessed with an internet connection, that may be hard to believe, but as a matter of fact many households, communities or groups have many other things to worry about other than an internet connection. In these cases people with no access to the internet have to make a couple of trips to the ERO office and engage in monotonous activities in order to conduct even a task as simple as checking the Voter ID Card Delhi Status, something which could be done just by visiting the following link:- http://ceodelhi.gov.in/OnlineErms/CheckApplicationStatus.aspx
Alas! this link is not accessible by your friends, colleagues or acquaintances who are not as blessed as you are to be on the grid.
Election Commission of Delhi and its move to Help Offline Voters check their names in Voter List Delhi
Registering your name onto the Voter List is not an obnoxious task until you have to visit and line up in front of the ERO office. That is the harsh reality for the people without internet but if these citizens have to visit it again just to check whether their name is included in the electoral roll or not, wouldn't it be unfair and somewhat cruel? Well again we must appreciate ECI(Election Commission of India) for its continuous endeavors to simplify the process for both the online and offline users of electoral services wherever it can.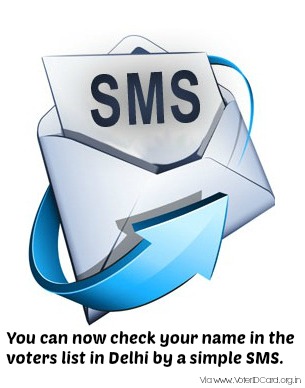 Although conduction of voter id card Delhi status check could be done through online means, the process of checking your name in the voter list does not require a visit to the ERO Office or even an internet connection.
How can offline users check their name in the Voter List if they have Voter ID Card of Delhi?
Some may argue that an internet connection has a great outreach and there might not be many people without it but nevertheless it is not surprising to hear that the mobile services have a much greater outreach than internet. Supported by this fact, people without an internet connection can check their name in the voter list just by sending a simple text message. The layout of the text message is as follows:-
Just SMS 'EPIC'<SPACE>'Voter ID Card No.' and send it to 9211728082.
By this way you can save a trip to the Election Office if you want to check your name in the Voter's List of your constituency.
The election commission although has to go a long way in order to make the Voter ID Card issuing process and related tasks easier for the people who have no internet connection, but this move, through which offline users can check their name in the Voter List through an SMS, would surely open a lot more avenues and enable many more electoral tasks to be conducted using mobile phones and hence make things easier for both online and offline citizens.
How to Get Voter ID Card Online in Delhi?
You cannot get your name enlisted in the Voter List Delhi until you register yourself as a voter. New voter registration in Delhi is an easy task. You just need to fill the Form No. 6 for inclusion of name to the voter list. You can access the online version of this form on the CEO Website of Delhi i.e.: – www.ceodelhi.nic.in
For more information about various voter related tasks in Delhi you can refer to following detailed and comprehensive articles on our website www.voteridcard.org.in, here are some important links: –