Voter ID card is an important identity document that every Indian must have. Other than voting, the card has lots of benefits for its owner. The voter card can be owned by any person (male or female) who is at least 18 years of age and of sound mind.
Thanks to initiative of election commission of India, getting a voter ID card online has become very easy. People can simply log on to the online portal of the election commission of their respective site and register online.
The best part of online registration is that it is not complicated and is over in just few clicks. Not only registration but the soon to be voters can also see the status of their voter ID card on the website.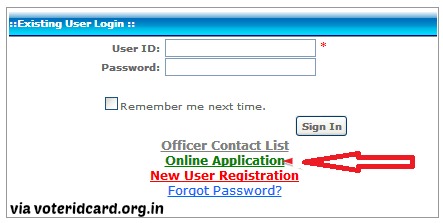 Another benefit of registering online for voter ID card is that even those Indians who are living abroad can easily register for their card, provided they have not surrendered their Indian citizenship.
Even those voters who cannot speak or write in English can do online voter card registration thanks to bilingual forms that have been made available for them on the online.
Voter ID Card Online Application Form
Having a voter ID card has much more benefits than just voting. It is a proof that its holder is a bonafide citizen of India. The card can also be used as an ID proof at various places and for various purposes.
The voter ID card online application form can be filled either on the website of your state election commission or Indian election commission. Luckily the process of registering for the card online is not at all boring and dull. Before you fill up the voter ID card online form on the website of your state elections commission, you first need to have a registered account on it. Only then will you be able to register yourself.
The application form that you need to fill online for registering as a voter is Form 6. Along with it you only need a scanned passport size photograph and documents which will be required as address and age proof.
The website of every state election commission offers the option of registering for voting by providing an application form for voter ID card. Say for example if you are a resident of Andhra Pradesh and want to register for voting, you can log-in to your account on the website of Election Commission Andhra Pradesh; fill up the voter ID card online application form AP and submit it with scanned copies of relevant documents. There is a separate section for voter application process.
The form has been created in an easy to understand format.
Voter List
For every assembly or constituency in which an election is to be conducted has a list of all the people who are eligible for voting. This list is called Voter List. It is very important that those voters who want to cast their vote in election must make sure that their name is included in this list.
You can enroll for the voters list either through the website of state election commission or by manually filling the form and submitting it to the concerned election authority.
Any person whose name is absent from the voters list will not be allowed to vote; even though they might be having a voter ID card. This list of voters of a particular election constituency is compiled by the Electoral Registration Officer (ERO) of that constituency.
The voters list offers much more benefits than just voting. It ensures that no one else votes in your name and thus prevents bogus voting. Being a part of this list means you can vote during the local, state as well as national elections.
A person cannot be registered in more than one voters list at any given point of time. It is a punishable act under Indian election laws. In a country like India, the voters list greatly helps the election commissions of various states to efficiently manage huge pool of voters.
One of the best things of voters list is that it is very easy for the voter to update or make changes with regards to himself.
Voter ID Card Online Status
The registration of voter ID card online is complete when you successfully submit the application form and the Block Level Officer (BLO) personally verifies your documents.
Once the registration process is complete it can take up to 5 to 6 weeks before you get your voter ID card. In the mean time you can keep a check on the status of your voter ID card. The state election authority websites have a dedicated section where the people who have applied for voter card can see their card status.

Most of the sites will have this feature under the "Know your voter card status" section. All you have to do is enter your application ID (which you got when you successfully submitted the application form) and choose the form (in this case Form 6).
Some sites might also ask you to enter your house number or the first three alphabet of your first name. Eventually they all serve the same purpose; to show your voter ID card online status.
Voter ID Registration
The procedure of voter ID registration is easy and can be done in two ways:
One way is that you can go to the official website of your state election commission and fill up form 6 online and submit it along with related photos and documents.
The other way to register voter ID online is to download form 6 and fill it yourself. You will need to personally go to the office of the Electoral Registration Officer (ERO) and submit the form along with passport size photos and soft copies of relevant documents.
In both the procedures verification is done and on successful verification the voter ID card is issued within 30 to 45 days.
Voter ID Card Online UP
Those people who are looking to register voter ID card online UP can simply access the website of the state election commission to do so. It is compulsory that you have a registered account on the UP's election site. For this you will need to have a valid email address and mobile number.
To make it easy for literate as well as non-literate people to register as voters, the forms for voter registration are available in two languages; Hindi and English. The applicant has to fill in the form 6, upload passport size photo and proof of age and address documents.
The successful submission of the form is followed by verification by Block Level Officer (BLO). Once the verification is done, you will get your card in maximum 45 days from the date of verification.
Until the time you receive your card, you can log onto the UP election commission website and keep a track of the status of your soon to be delivered voter ID card. The website has "Know Your Application Status" which allows the soon-to-be voters to check out what is the status of their card.
But that's not all. If you are a registered voter then you can also search your name is included in the voters list. You can download the electoral roll of your area directly from the website in the form on a PDF.
Last but not the least, you can also check whether your name is already registered by someone else. The site has a separate section which displays the list of all the duplicate names that appear in the voters list.
With elections just round the corner, voting is in the spotlight. Most of us are eagerly looking forward to cast our vote. But if you are one of those who still haven't got a voter card then it is high time you got your voter ID card online today.