All those who just turned 18 might be thrilled to vote. India is the world's largest democracy with the general public having the rights to elect a representative. Voting is a must for better India; our representative should be the voice of today's youth.
Elections are coming up and the election commission of India has declared this year as the voter enrolment year and election photo identity cards (EPIC). Voting is a fundamental right of the Indian citizens. NRIs are not allowed to vote.
---
Get CEO Rajasthan Contact Details and Helpdesk info – Click Here
---
Voter ID Card Rajasthan
Polling booths are set up allowing people to cast their vote. Casting vote is a simple affair but rigging, cross-voting, and bogus-voting has complicated it. We have earlier seen innumerable instances where voters had to return home without casting their votes as someone else had done so on their behalf. To avoid these frauds, Elector's Photo Identity Cards (EPIC) has been issued by the Election Commission of India. Each voter whose name is listed in the voters list will be given a voter card.
Voter ID card is not only important to cast vote but also needed to buy railway tickets online. It is also essential to have the photo identity card to buy Tatkal tickets. As well it acts as a proof of identity, age and place of residence to get passports or other identity cards.
Important Voter ID Card Forms
It is an unique identity card which has the individual's name and personal data such as father's name, address, date of birth and a photograph. Various forms need to be downloaded to get the task complete such as:
Form 6 is used to include the name in the voter list or electoral list.
Form 6A is used to include the name of an NRI
Form 8 is used to rectify information in the voter list
Form 8A is used to transpose the entry of the voter.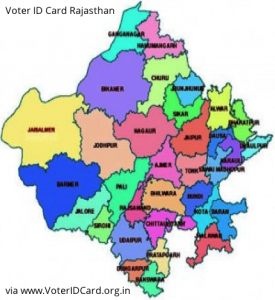 The election commission has been very busy registering new voters by organizing 'voter id card Rajasthan' camp in cities like Jaipur. Many applications were received for inclusion of name in the voters list and for the correction of electoral details of the current voters. Proving this camp to be a huge hit!
It has also been ensuring that no bogus votes are recorded by distributing the voter id cards Rajasthan and voter slips in full force, so that no voter is left out and hence no opinion goes uncounted.
The Election commission of India had announced 1st November 2013 as the date for the assembly elections for five states including Rajasthan.
How to Apply for Voter ID Card in Rajasthan?
Now you can apply for your voter id card Rajasthan online. To apply you need to visit its official website and follow the given steps to apply for voter ID card Rajasthan.
First visit the website http://ceorajasthan.nic.in and select the option of "Apply Online".
Then click "New User Registration" from the various options that are given.
Now select the option from pull down menu "Fill Your Application Form For Inclusion/Deletion/Modification And Tranposition In E-Roll" . In the ECI services page you will also get two more options also "Know your Officers" and "Use login page for complaint registration".
Then ion the next page,  you will get five options in which you need to select first one "Click Here To Apply Application For Inclusion Of Name In Electoral Roll (EPIC-FORM6)"
On the next page (which shall be Form 6), you have to enter your mobile number and you will then get a verification code in your phone. Enter the code in the given place to access the page of registration.
Now fill the application form and submit it. Also take a printout of the submitted form for future assistance.
While casting your vote, if you feel that none of the nominated candidates are worthy your votes, the election commission of India has a solution for this also. Voters would have the option of NOTA (none of the above) if they find the candidates undeserving.
With these elections you'll know the value of voter ID cards Rajasthan as it is now an important legal document and the purpose it is meant to serve. It is your way of participation, of coming out of your houses and bringing a change, not just cribbing about our politics and politicians but taking a drastic step towards changing it. Remember – Each vote counts.