Although Delhi is not a very large state, it is thoroughly populated. You may easily find your name struck off from the voters list as thousands access forms online or meet the Election Registration Officer (ERO) to get names included in the list, rectify errors in the Voter ID Card, or transpose their names as well.
In a recent survey, it was realized that about names of 15 lakh genuine voters were accidentally struck off from the electoral roll. For situations like this or inclusion of names into the voter list in Delhi, you can just go online and update the list of your assembly constituency. Check out how it is done in the following paragraphs.
Why Require a Voter List
In India, eligible voters vote in elections to choose their representatives in Lok Sabha, state assemblies, Panchayats, and municipal corporations. The voters must be 18 years of age, reside in India, and have their names listed in the voter's list. Once, they are listed, they need to apply for their voter's ID card to cast their votes during elections.
The Election Commission of India (ECI) organizes free-and-fair elections in the country under the supervision of its head the Chief Election Commissioner (CEC). Each state too, has its own State Election Commissioners (SEC), booth level officers (BLO) and EROs.
To know the voters in a constituency, electoral roll is a must. Although the ECI organizes door-to-door campaign to include and correct names in the voter list, the task takes place after a long time — every ten years. As a voter, you must not only have your name enlisted in the voter list but also have the Elector's Photo Identity Cards (EPIC) to cast votes.
Updating a Name in Voter List
Consider a situation where you have been just transferred to Delhi from your home constituency or you just got married and settled in Delhi. You must have your name included in the voters list of the assembly constituency where you reside. To update your name in an electoral roll in Delhi constituency, you need to use:
Form 6 to add in the name in the electoral list.
Form 8 to make changes to errors in the list.
Form 8A is used to transpose your name to the list in case you have changed your residence within the same assembly constituency.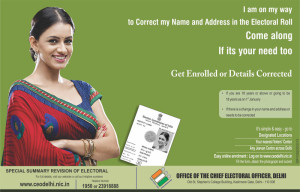 Here are the steps you need to perform to add your name to Delhi's Voters List:
Apply for voters list update to the nearest ERO or,
Log in to the Delhi's election commission website. You can either visit ceodelhi.nic.in or sec.delhigovt.nic.in
Get a unique login name and password by providing your name, email ID and mobile number.
Login for the second time by using the new login name and password.
Download form 6 – incase, you have just started living in Delhi for the first time and want your name to be included in the voter's list. New voters turning 18 years can also access this form.
Fill in the form completely, update your passport-size photo, and submit.
…Don't forget to send your proof of identity, age and residence proof to the nearest ERO office. The photocopies of your PAN card, electricity or phone bills, passport, or driving license are some of the important documents you can furnish.
You can update you name in the voter's list in Delhi online and expect to get the result within a month or so.