Check out the steps that you should follow to check your name in Voter List Rajasthan. The ECI CEO Rajasthan provides you with the facility to check your name in the voter list so that you can be sure that your name exist or else can register your name in the voter list as soon as possible.
Rajasthan Panchayat General Election Commission uploaded the updated voter list 2015 online. You can check your name just be visiting the official website of Rajasthan's CEO. But you can only do so if you have your name already registered in the voter's list before and if you don't, then you need to register yourself first.
---
Get CEO Rajasthan Contact Details and Helpdesk info – Click Here
---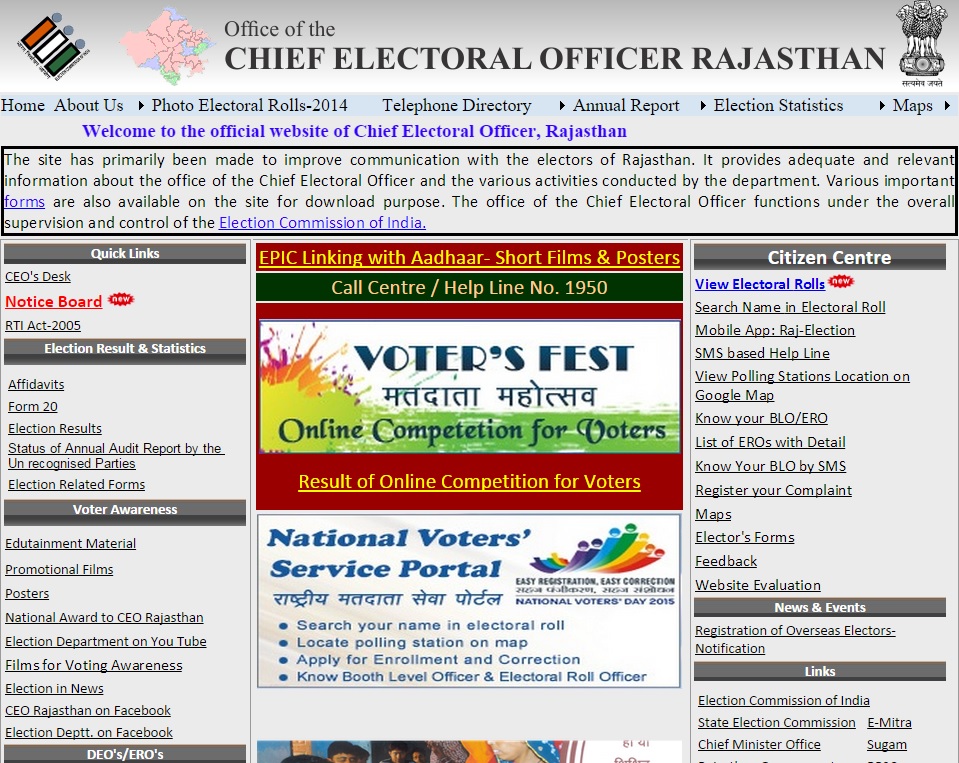 Voter List Rajasthan: New Registration
There are 2 ways in which a new voter can register their name in the voter list Rajasthan, i.e. Online and Offline.
Online method:
You need is to visit Official CEO Rajasthan website, click on national voters' Service Portal.
Now click on "Apply Online for registration of new user".
You will be redirected directly to the Online Form 6 page where you need to fill the details like your State, Assembly Constituency, Personal information, Residential Information, Information of your family member registered in the same constituency.
Upload your passport sized photograph and relevant supporting Documents, Fill the declaration and submit.
Once you are done, you will be provided with an acknowledgement receipt in PDF format. Download it and keep it safe and intact.
You can also apply through Offline method otherwise. In this case you need to download Form 6 or have a visit to your nearest BLO/ERO and ask for Form 6. Fill all the details that were asked in that form. Sign it or punch a thumb impression, paste your photo, attach relevant supporting documents such as Birth Date Proof, Address Proof along with the Form, submit it there and take your receipt.
#NOTE: As you are done with the registration process either through online or offline mode, the officer will come at your place usually your place of residence which you have provided while applying to verify all the information and your documents that you had attached with the application. All you need is to be there at that point of time when the officer visits you for the verification. Once he done with his work, he will provide you a date in which you need to come at the centre and to collect your Voter ID Card. Though it is a very long term process, you will get your card within next 60 days.
How to Search your Name in Voter List Rajasthan?



Now that you think, your name got registered in the Voter List Rajasthan, you can make sure by checking your name in your State Electoral Roll. Rajasthan Panchayat General Commission recently uploaded the updated Voter's List on their Official Website. First you need to visit Rajasthan CEO Website. On the right side of the screen, you can see "Search Name in Electoral Roll". Click it and you will be redirected to another page as shown below.
Now as you can see, you have 3 different options to check your or any of your friends or relatives Name.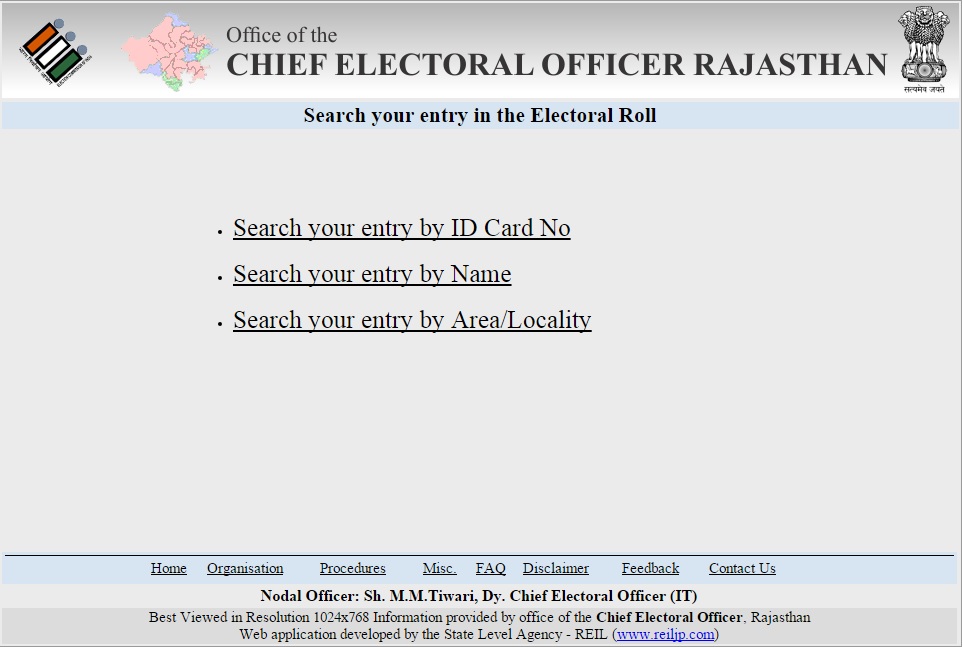 In first and second option, i.e. "Search your entry by ID Card No." and "Search your entry by Name" respectively, you can search for your Name just by providing either your EPIC number or by providing your name along with your District, Constituency which is mandatory and Parents name to refine your search.

The third option is "Search your entry by Area/Locality", in which you need to provide information such as your District and Area name. You will see lot of name of voters' registered from that particular area. Scroll down to find your name and note down all the details.

I hope you got what you are looking for in this Article and was able to search your name in Voter List Rajasthan. Thanks for reading this article and stay tuned for more.