The best thing about getting a voter ID card online is that it gives everybody, whether rich or poor a chance to register for voting. Getting the voter card through online portal makes it easy and convenient for a person living anywhere in India. The fact that this process is online has also attracted a lot of youth towards registering for a voter id card. India has one of the highest youth population in the world and the approach of applying for Voter ID Card online has helped them exercise their right to vote.
The method of registering online for the election card has benefited even those Indians who are living abroad – How NRIs can apply for Voter ID Card Online. Another advantage of going online for registering voter card is that the forms are available in regional languages of the respective states.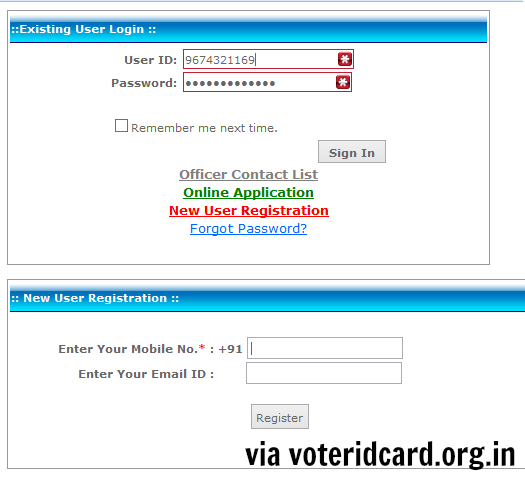 Process for New Voter ID Card Registration Online
The election commission of India has made it quite easy for Indians to register for Election card online. If you intend to get a voter card for yourself using the internet then you will have to go to the webpage of your State Election Commission. Most of State Election Commission websites have the option  titled "Register for Voter ID Card online" on their homepage. The person applying for the card needs to click on the link, and he will be taken to a new page where they can register themselves. Although the process to register for electoral card online is free but you must have a registered account on the site before you begin registration. Every election commission site has this condition. To register for a new voter ID card you will need to fill and submit Form 6. In addition to this, you will also need to keep handy a scanned copy of your passport size photograph and various documents which will serve as age proof, address proof and ID proof. If you already had an election card and lost it, here's a detailed guide on how to apply for a duplicate Voter ID Card online. During the online process for Voter ID Card registration, you will be asked to upload the above mentioned documents along with your photograph. On successful submission of the form, you will be given an application ID which you must keep for future reference.
How to get your name in Electoral List
The list prepared by the Electoral Registration Officer of any assembly or constituency is called an Electoral List. It is also called as Voter List. This list consists of names of all those people within a specific area who are atleast 18 years old and are eligible to vote. Electoral list is so vital that if your name is not present in it then you are not permitted to vote. This will happen even if you have a voter ID card. There are two ways to find out whether your name is in the electoral roll of your area. You can go to the website of your state election commission where you register your voter ID card online. The site will provide you with the option of finding your name in the list directly, you will need to just enter either your application ID or your name. Some sites might even ask you to enter your house number. The other way that state election commission may allow you to find your name in voters list is by mobile phone. Many a times toll free numbers are run by election commission of the state. The voters have to simply send an SMS containing their application ID or ten digit EPIC number on the given toll free number, you will receive a reply SMS from the number which will confirm whether your name is in your area's list of voters or not.
For instance, if you are a Goa resident who wants to know whether your name is included in the electoral list of Goa then just send an SMS to Goa state election commission mobile number.
Voter ID Card Online Application Form
New applicants are required to fill and submit Election Commission of India's Form 6 to apply for Voter ID Card. The form requires you to fill your details including personal information such as name, age, address, date of birth, family details like father and mother name. The voter ID card online form also requires you to upload a scanned copy of passport size photograph which fulfills the dimension criteria as set by the election commission India. You will have to upload scanned copies of documents as required.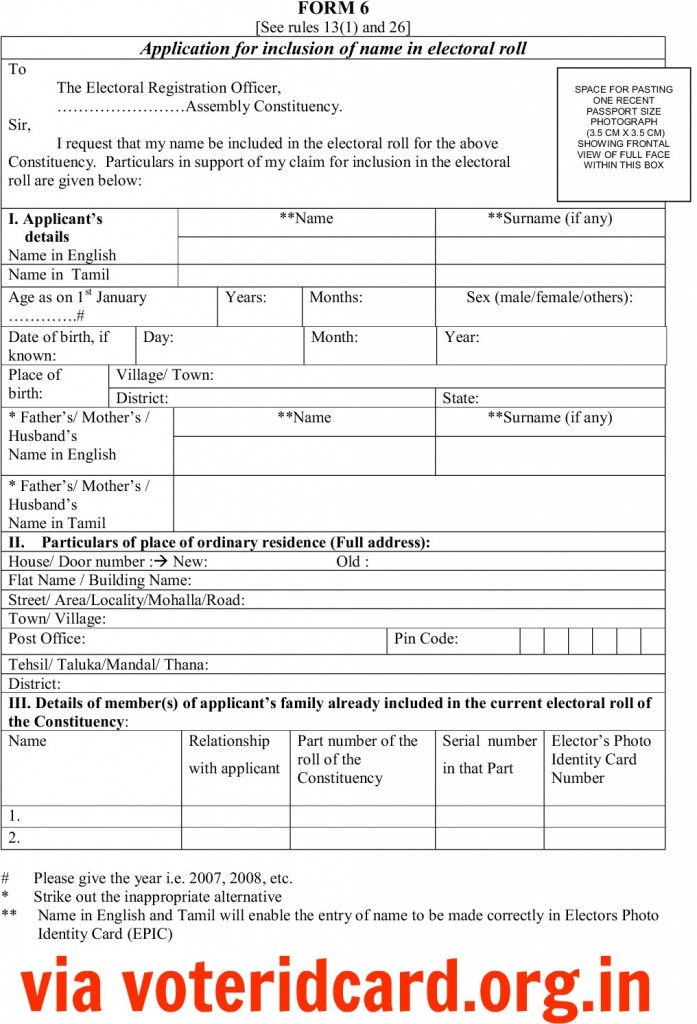 Most election commission sites provide the application form for voter ID card in English as well as regional language of that state. This makes it easy for those who are not literate in English language to register for voting. Another benefit of this application form is that it can be downloaded, filled in one's handwriting and personally submitted at the nearest election commission office.
Change Details In Voter ID Card Online
A change in address or name after marriage or a simple typo on the voter ID card can cause lot of mental agony for its owner. That is the reason why there are various forms available from Election Commission India for Indian voters to change details in voter ID card online. For transposing an entry on your voter ID card online such as a typo, you will need to fill form 8A. If you want to change details like change address or update details you will need to use form 8.