All Indian citizens, who are above 18 years of age and are resident of the place where the polls are being held, are eligible to vote. Hence all of them should apply for voter card. However, cross-voting or bogus voting often defeat the whole purpose of the election process. Many years back, Chief Election Commission (CEC) decided to introduce a kind of a photo-identity card for each of the voters so that the voter can vote rightfully in their own constituency.
How to Apply for Voter Card or Election ID Card?
It is easy to apply for election ID card online as most of the states' Election Commission office has a dedicated website to accept the ID card registration. In case you are applying online, you need to:
Access your state's election commission website
Specify your name, email ID and mobile number. You would get a unique login number and password.
Log on to the website once again with the unique login number and password.
Download form 6 online form
Provide the necessary details asked for in the form – completely and accurately.
Attach 2 of your passport-size color photograph.
Click the "Submit" button.
Don't forget that you have to submit documents which specify your proof of identity, age proof, and proof of residence. For instance, you can take photocopies of electricity bill, telephone bill, or bank statement for substantiating your proof of residence. For identity proof, you must submit xerox copy of PAN Card, driving license, or passport. For age-proof, you can substantiate the same through your mark-sheet, marriage certificate, or passport. These documents must be submitted to the local election commission office.
Applying for Voter Card through the Local Election Commission Office
If you are not sure about online registration of the election card, you can submit the same by taking form 6 available at any of the banks near your place or local election commission office. The rest of the procedure is similar to the one done online.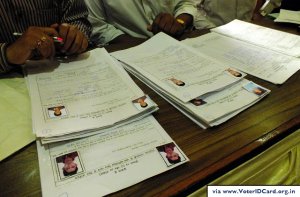 Also Keep in Mind that…
Although the Chief Electoral Officer for each state is responsible for web-based registration process, you may still have some problems regarding the application process if you don't know the right forms for the same. Here's a list of forms for various tasks you intend to do in regards to your Voter ID Card:
Form 6 – to include the name in the voter list or electoral list
Form 6A – to include the name of an NRI
Form 8 – to include the correct information in the voter list.
Form 8A – to transpose entry of the voter if needed.
Remember, students can also take part in the voting procedure (only if they are above 18 years of age) even if they are staying at a hostel. Along with Form 6, the student must have a declaration from the principal of the institute.
All in all, it may take just a month to get your election card if you register online but the duration can exceed to 9 months if you register through the local election office.
Why Get Voter Card?
Is it necessary to have a voter ID card in India? – Yes, as it gives you the permission to exercise your franchise. Today, nearly 100 per cent of the voters listed in the electoral roll or voter's list have voter card.
An ordinary resident is a person who normally resides in the area. Sometimes, you may also choose your normal work area or area where you study and reside as well. You can take up your voter card in that area. However, you cannot be registered under the Voters' List under two places/areas/constituencies.