Delhi has around 70 Assembly constituencies and hence if you move from your current residence, chances are you may have changed your assembly constituency. This will not affect any part of your daily life, however this will a big change with regards to your voting rights. As a holder of voter ID card Delhi, you won't be allowed to vote in your constituency where you are a registered voter as you no longer belong to that constituency. Hence you will have to update your election card in Delhi to your new constituency to be able to exercise your right to vote.
You cannot change your election card as once issued the election card remains valid for life and will not be changed unless it is lost or damaged. However, to be able to cast your vote in the new constituency you will have to register as a voter in that constituency and update the details that are linked to your voter ID card Delhi. The procedure for doing so is similar to applying for new voter ID card, with a few differences that we can find below. It must be noted that this procedure is applicable in all cases of assembly constituency change anywhere in India.
Firstly, once shifted to a new constituency, you need to wait for a period of 6 months before you can apply for the change in your voter ID card. Once you have crossed 6 months, you can apply for a new voter registration in your new assembly constituency. You can do so by following the procedure found here https://voteridcard.org.in/51/apply-for-voter-card. You can make the application either online or physically submit the form along with the documents to the local ERO, as you will find in the procedure mentioned if you follow the link. Also note that this procedure is not done through Form 7 as most would think.
However, as mentioned above there are slight differences in the procedure from when you apply for a new voter ID registration and when you are a registered voter in another constituency and are changing constituencies and applying for that. The change is this that you need to have your name removed from your previous assembly constituency's voter list since you cannot have your name registered in two voter lists. To do so you will have to mention it in the application. In the above procedure you will be filling form 6. In this form make sure to fill PART IV of the form where you need to mention that you belonged to another Assembly Constituency as a voter and that your name appears in that constituency's voter list. Also you will have to mention the voter ID card Delhi or any other State's electors photo identity or EPIC card number in the section provided for it.(see image)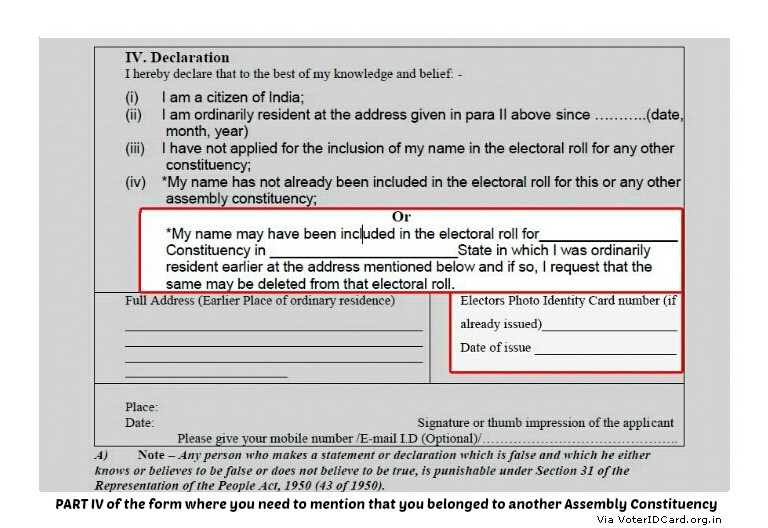 Once this is done, you can submit the form online or physically at the local ERO along with your relevant documents as mentioned in the procedure in the link.
Also note that if you have any other family member who are already registered in the new constituency that you are now applying for, then you even need to mention that in PART III of the form. Once all the procedure is done as per the link and the additional procedure listed above, a BLO or Booth Level Officer will make the verification for your residence and ID to cross check your documents and validate your application. Once this is done your name will be added to your new assembly constituency's voter list when the revised voter list is put out. Also your voter ID card will be valid still, only the details linked it will be updated in the records of ECI.