Voting is one of the constitutional rights in India. As citizens of India it is our duty to franchise our vote for every political election. Every Indian Citizen over the age of 18 who has not been disqualified to be a voter can vote during the elections. Voter Identification (ID) Card is a unique identity card provided by the Government of India to every citizen of India. The issuing authority for the Voter ID is the Election Commission of India.
The Election Commission provides the electoral rolls for citizens to check the status of their voter id for every election. The Check list status can also be downloaded in pdf. People find it difficult to trace out their names in the electoral roll for checking the status. The official website of the election commission for the different states have provided the facility in online for checking the status of the voter id holder. Some faults may occur in the voter ID and now the individuals can request for change in the voter ID. For checking the Voter ID Check list status, visit the official website www.eci.nic.in
Voter ID Check list status is available for the citizens to check whether the entered details are correct or not. In every election era the voters find it difficult to search their names in the electoral rolls facilitated by the election commission of India. The Voter ID Check list status will be available for download. Users can enter their names, street name, father's name, voter id serial no. etc for retrieving the data in the official website about the voter.
Election Commission of India And Voter ID Card
The voter Id is issued by the Election commission of India after verifying all the details of the person. The Election commission of India will be conducting the elections to all the states and districts all over India and looks into all the precautionary measures because many a time's people manipulate by casting more than one vote.
Purpose of Voter ID Card
Voter Id is the special identity given to a person who is a resident of India. The main agenda of Voter ID is to elect the Representative of people. Here the elected person will be known as the "people's representative"
Voter ID card has following information
1. Name
2. Father's Name
3. Sex
4. Date of Birth
5. Photograph of the Voter
As a responsible citizen of India every citizen over the age of 18 should have the voter's id. To become a voter one needs to fill in the application Form-6. After completion of the application and its acceptance by the authority ones name get enrolled as a Voter in the Electoral Roll. There are different methods to fill Form-6.
List Of Forms Available
1) Form 6 – New Enrollment
2) Form 7 – Objection to Inclusion of name
3) Form 8 – Corrections in Voter Id card
4) Form 8A – Transpose Your card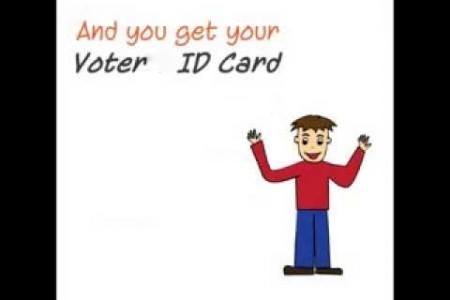 How To Get Voter ID Card
Everything is ok till now, but the main problem starts here. Some people are about more than 50 – 60 years but they don't have a voter ID Card and many people have applied in the voter id camps to issue an voter id but still they have not been issued a voter id card yet. Hence many of them are fed up with the issue and left the thought getting a voter id. According to the Indian regulations every person who is 18 years is eligible to vote and the Election commission should take the proper care in issuing the Voter id card to them.
Recently the election commission of India has also launched an online voter service.
For example in Andhra Pradesh the voter id issue became very simple and everyone who apply online is issued a voter id card within 3 months of submitting the application form. You need not manually verify your details; a person will come to your residence and verify your details, confirming the issue of a new voter ID card. You need to simply collect it from the nearest Eseva.
Online Application Of Voter ID Card
We highlight the various methods you can use to get your voter Id card:
Download Form -6 and send it by post.
Download Form-6 and deliver it personally.
Personally collect and deliver Form-6.
Following documents along with Form-6 should be submitted to obtain the voter ID card online or personally.
Residence proof (i.e. passport, driving license, bank passbook, any postal letter received in your name on your address etc.)
Age proof (birth certificate, school leaving certificate, although this is only required when you are between 18 and 21 years of age).
While completing the application form for voter id card online, scan copy of residence proof and age proof (if you are between 18 and 21 along with a colored passport size photograph should be upload or it can be handed over to Booth Level Officer (BLO) who will come to your residence to verify the information.
In case you are a student living in a hostel or private accommodation then Declaration in the proforma at Annexure One Form -6 also needs to be uploaded during the completion of application of voter id online.
If you are sending your application by post then a completed Form-6 which can be downloaded from the official website along with the residence proof and age proof (if you are between 18 and 21) should be sent to the VREC (Voters' Registration and EPIC Centre) of your Assembly Constituency.
If you are delivering your application personally then a completed Form-6 which can be downloaded from the official website along with the residence proof and age proof (if you are between 18 and 21) should be personally delivered to the VREC (Voters' Registration and EPIC Centre) of your Assembly Constituency or you can go to the closest Designated Location and deliver it there. You can also give the documents to the Booth Level officer (BLO) personally.
You can go to the VREC of your Assembly Constituency, or to the closest Designated Location or your BLO. You can pick up Form 6, attach the documents in proof of your residence and age (if you are between 18 and 21) and submit this to any of the following :
Your VREC
Closest Designated Location
Your BLO
By post to your VREC
After completing your application voter id card status can be tracked either online or on phone.
Check Your Voter ID Card Status Online 
You can track your application status online here
http://123.176.47.59/Status/Search.aspx
The best thing about getting a voter ID card online is that it gives everybody, whether rich or poor a chance to register for voting. Getting the voter card through online portal makes it easy and convenient for a person living anywhere in India. The fact that this process is online has also attracted a lot of youth towards registering for a voter id card. India has one of the highest youth populations in the world and the approach of applying for Voter ID Card online has helped them exercise their right to vote.
The method of registering online for the election card has benefited even those Indians who are living abroad – How NRIs can apply for Voter ID Card Online. Another advantage of going online for registering voter card is that the forms are available in regional languages of the respective states.
Change Details In Your Voter ID Card Online
A change in address or name after marriage or a simple typo on the voter ID card can cause lot of mental agony for its owner. That is the reason why there are various forms available from Election Commission India for Indian voters to change details in voter ID card online. For transposing an entry on your voter ID card online such as a typo, you will need to fill form 8A.