People's place of residents often changes owing to various reasons be it job, studies, new house or marriage. After marriage the residential address of either individuals or both could changes (maybe due to shifting to a new house, city taking a bigger house etc.), this means that one will have to change their address on all government documents, this includes Change of Address in Voter ID Card as well.
The process of change of address in Voter ID Card has been made increasingly simple by the Election Commission of India.
To Know How To Get Correction For Wrong Photo On Election Card – CLICK HERE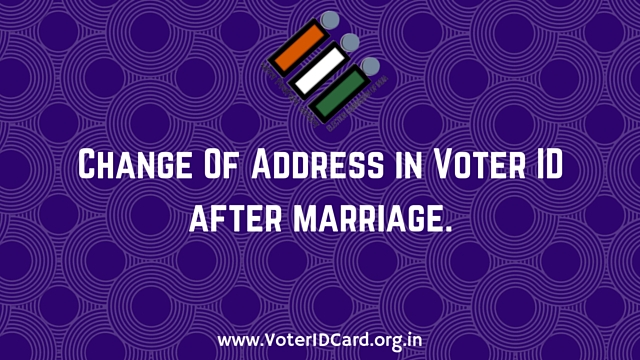 Change of Address in Voter ID after Marriage:
The process of change of address in voter can be done both offline and online. Below are the ways you can do both along with important links you will need.
Steps for Online Change of Address in Voter ID:
The Election Commission of India has also made a provision for the voters wherein they can apply for a Voter ID address change very conveniently by using the online services available, to fulfill the essential requirement for their application.
To access sit for the online change of Address in Voter ID Card – CLICK HERE.
There are four simple steps to change your address through the online process and you will need to keep a little information handy before you start filling in the online Form 8
1. Applicants Details:
One must be very careful while filling in this part because people are most likely to cause errors in spellings of names and date of birth here's everything you will be required to fill in:-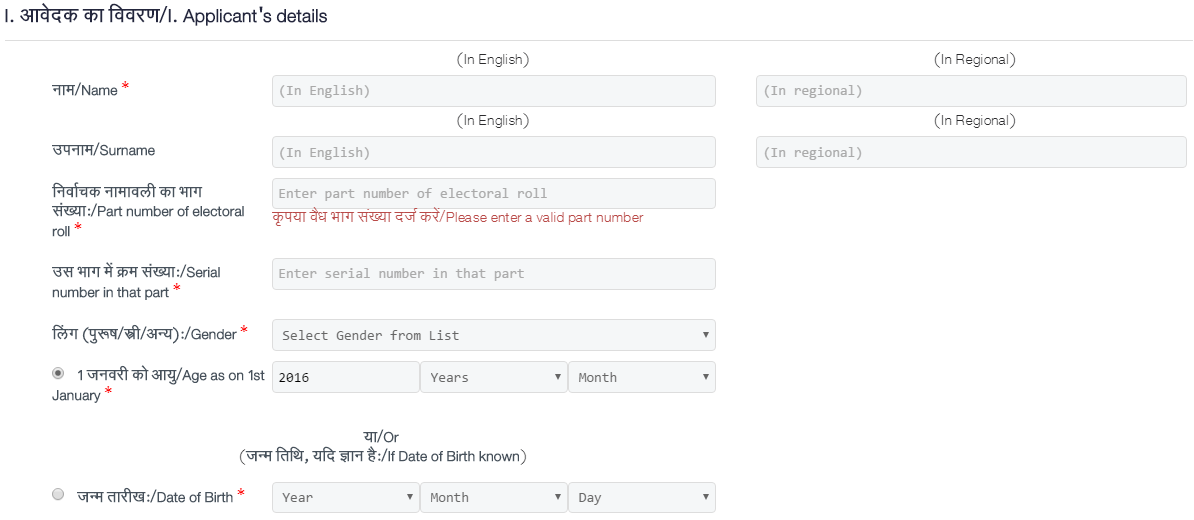 2. Particulars of place of Current Residence:
Enter the address of the place where you live at currently this address will be used to communicate with you further. You must also keep an Address proof handy which will be useful to you later in this process.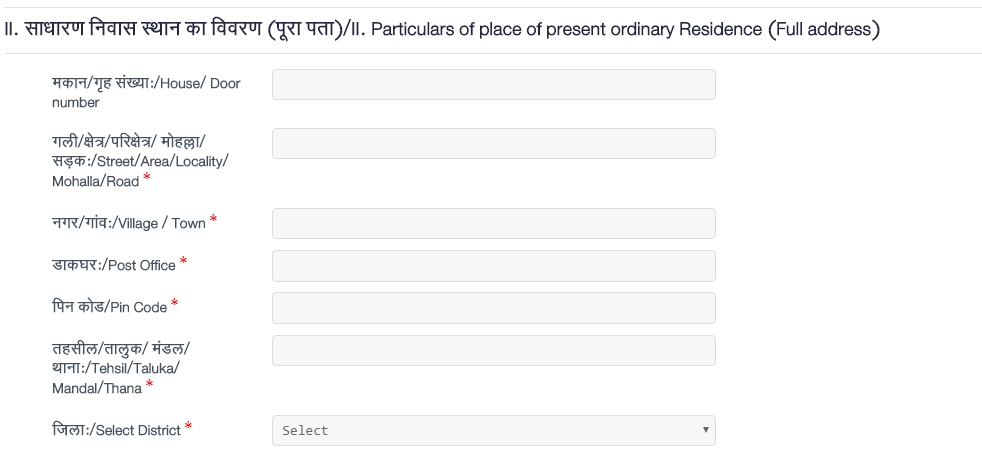 3. Details of Electors Photo Identity Card:
If you have previously issued a photo identity card from that particular constituency or any other you have to fill in information in this part.
Also, in this part, you have to upload scanned copies of your Photograph, identity proof and also an address proof you should preserve the original copies until verification is done

4. Details of Entries to be Corrected: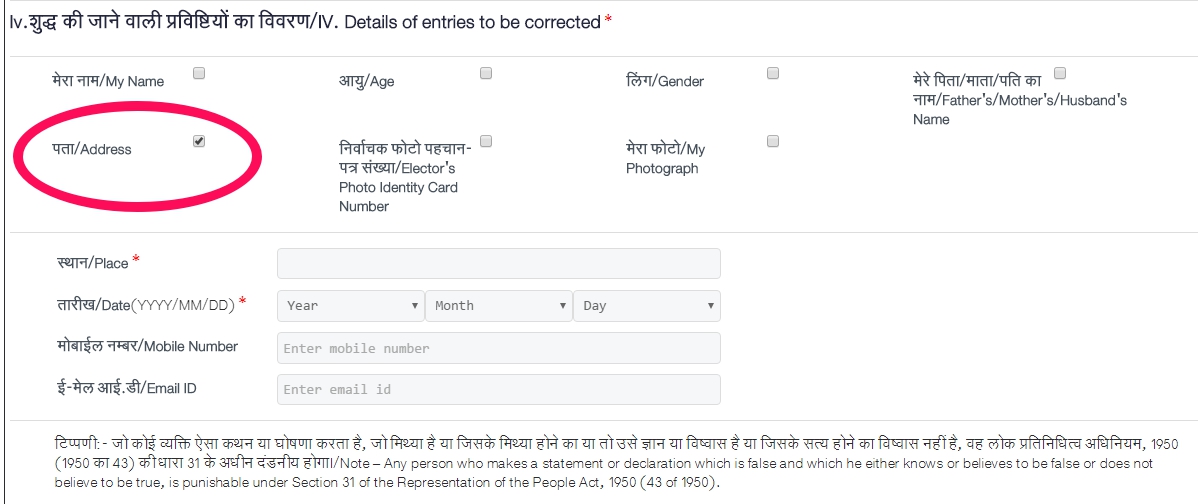 This is the most crucial part of the change of address in Voter ID after marriage. You have to check out the box next to the address , just like it is shown in the picture. After that, you have to fill in the place, date, mobile number and hit the Submit button.
After you have successfully submitted the form, a confirmation page will appear on the screen.

Steps for Offline Change of Address in Voter ID:

The Election Commission of India introduced FORM 8 in order that the process of correction of Voter Id can be smooth and be made effective enough to benefit the citizens.
The way you can fill your Form 8 and get Change of Address in Voter ID Card is simple:
Download Form 8 – CLICK HERE
Take a printout of Form 8
Fill in the Form – As described above in the Online process
Mark the Entries to be Corrected as Address
Attach the proof of Address
Submit to your nearest Election Registration Office (ERO)
That's it. That was a simple way to get your details corrected in Voter ID card. We recommend the online option as that is faster, easier and convenient.
By these simple methods, one can make a Change of Address in Voter ID Card after marriage without any hassle.