If you have your name in Voters' List 2015, you're good to go and are eligible to vote in any upcoming Election in your State, District or Constituency. On this blog spot, we ensure to churn out as many articles as possible, in order to keep you informed about the registration process for the voters' list 2015. Make sure you follow us regularly for news and updates relating to the same. In this article, we let you know how to correct your voter details entered in the voters' list 2015. Incorrect details in the Electoral Roll can lower your chances of exercising your right to vote. Therefore, if you have a misspelled name, wrong address/age or any factual error in your voter details, make sure that you take immediate steps to correct them.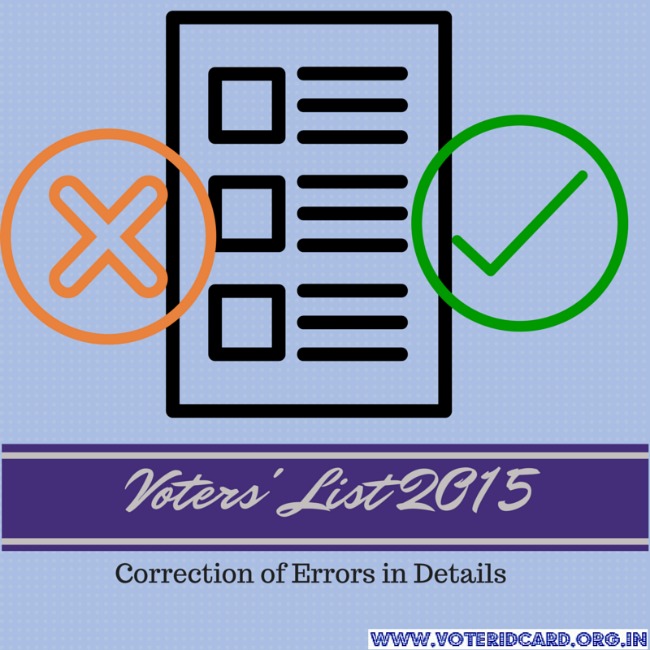 Correct Details in Voters' List 2015
In order to correct your details in the Voters' List 2015, you would need to fill the Form No. 8. The list of Voters' List 2015 details that can be corrected by filling this form are: –
Your Name
Age
Gender
Father's/Mother's/Husband's Name
EPIC No.
Address
Your Photograph
Hence, if there are errors in any of the above-mentioned details or even if you simply have a wrong photograph, you can fill the Form No. 8 to correct them. You would need to enter details of the corrections required along with other information which you filled while filling the Form No. 6 too. A few supporting proof documents would also be required when you fill the form offline. Uploading the documents would be optional while filling the Online form no. 8 for correction of details in voters' list 2015. But these documents must be presented in front of the visiting BLO who would be verifying your identity and correction claim.
How to Fill Form No. 8 for Correction of Voters' List 2015 Details
There are 3 easy ways to fill/obtain the voter detail correction Form No. 8. The quickest way is to fill the form online on the National Voters' Service Portal. The NVSP.in website is one of the finest examples of advancement in the online application process for the voters' list 2015. On this website, you can apply for correction of details in voters' list 2015 within a few seconds. The rectification, however, would not appear instantly. The changes would only reflect after proper verification by the BLO of your area. Nevertheless, the application for correction itself takes just a few seconds. Just visit www.NVSP.in/forms and select 'Form 8′ from the list of available online forms.
Another way to fill the voters' list 2015 details correction form is by applying offline. For that, you would either a hard copy of Form No. 8 from the ERO of your area or even a print out of the same would do. To take a print-out, you can first download the PDF version of the Form No. 8. The PDF versions of all Election Commission of India forms are available on the following link: – http://eci.nic.in/eci_main1/forms_Voters.aspx