The Election Commission of India has made its first move of the election season of 2014. The commission has officially announced the schedule and dates for the Lok Sabha 2014 Elections. Also knows as the General Elections, these aim to elect a Central Government in India. This also means that the fate of the nation is more or less dependent on these elections. Highest ever, the 16th Lok Sabha Elections are going to take place in 9 Phases. The First phase of LokSabha 2014 Elections will start from 7th April 2014 and 9th Phase will be on 12th may 2014. Election Results will be declared on May 16, 2014. The whole election process would end within 72 days which is 3 days lesser than the last general elections held in 2009. There are 543 Lok Sabha Constituencies in our nation.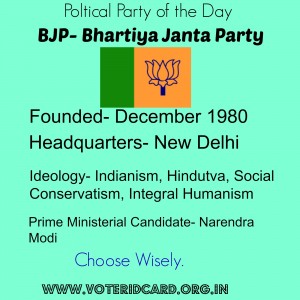 There is much hype about the Lok Sabha 2014 elections with BJP's country-wide campaign to promote Narendra Modi as their Prime ministerial Candidate, the Aam Aadmi Party's claims to bring about revolutionary change in the political landscape under Arvind Kejrival's leadership and the Congress trying to cash upon Rahul Gandhi and the development they claim  to have done during the course of their rule. Whatever maybe the opinion of the voters', there is wave of change in their minds and that is evident from the general sentiment. People now desire to live in an India where there is least corruption and want that things are not carried out by archaic methods of feudalism.In this article, we have visual profiles of 3 key Indian political parties for our drive named as "Choose your political party wisely".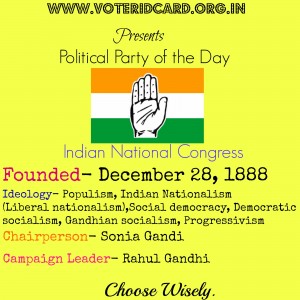 As has been evident in the state-elections held in several Indian states in the last couple of months, an increasing number of Indian voters have started to believe in the power of their votes and that is the key reason for high voter turnouts.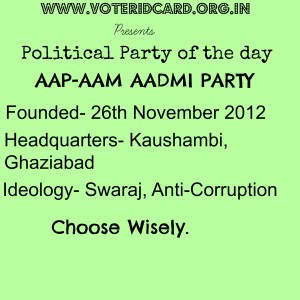 Detailed state-wise schedule of Lok Sabha Elections 2014
The Lok Sabha 2014 would mark the debut of Elections in the newly commissioned state of Telangana too. Moreover simultaneously, Assembly elections would too take place in Telangana, Andhra Pradesh, Sikkim and Odisha. The following are the state-wise dates announced for the Lok Sabha 2014 elections, by the Election Commission of India:-
Arunachal Pradesh:- 9th April
Andaman and Nicobar Islands:- 10th April
Assam:- 7th, 12th and 24th April
Bihar:- 10th, 17th, 24th, 30th April & 7th and 12th May
Chhatisgarh:- 10th, 17th and 24th April
Chandigarh:- 12th April
Dadra and Nagar Haveli:- 12th April
Daman and Diu:- 30th April
Goa:- 17th April
Gujarat:- 30th April
Haryana:- 10th April
Himachal Pradesh:- 7th May
Jharkhand:- 10th, 17th and 24th May
Jammu and Kashmir:- 10th, 17th, 24th, 30th April & 7th May
Kerala:- 10th April
Karanataka:- 17th April
Lakshwadweep:- 10th April
Maharashtra:- 10th, 17th and 24th April
Mizoram:- 9th April
Madhya Pradesh:- 10th, 17th and 24th April
Manipur:- 9th and 17th April
Meghalaya:- 9th April
Nagaland:- 9th April
Odisha:- 10th and 17th April
Punjab:- 30th April
Puducherry:- 24th April
Rajasthan:- 17th and 24th April
Sikkim:- 12th April
Tripura:- 7th and 12th April
Tamil Nadu:- 24th April
Uttarakhand:- 7th May
Uttar Pradesh:-
West Bengal:- 17th, 24th, 30th April & 7th and 12th May
So now that you know the exact dates on which the General Elections are being conducted in your state, you must get going and be ready with your Voter ID Card. Although, the Election Commission of India has announced that the voter slips would be distributed just before the elections commence, it won't do any harm to keep yourself equipped with an up-to-date Voter ID Card. Nevertheless, it is mandatory that you are a registered voter and have your name in the electoral roll of your constituency, if your intent is to cast a vote in the coming Lok Sabha Elections. The way we have been since last one year, this time too, we will help our readers and guide Indian voters with all the important processes related to voter registration in India, voter list and voter id card. We want that none of our readers face any obstacles when they head out on the election day to cast their precious votes and make their priceless opinion count.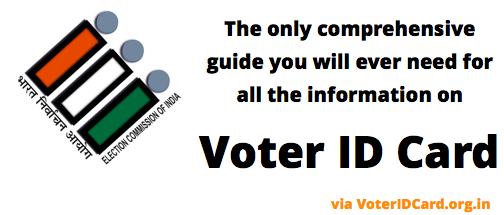 Apply for your Voter ID Card Online – It is never too late
With hardly a month remaining, the best alternative for all those who are still not registered voters would be to apply for their voter id card online. Not only would that save your time, it would also help you to get your name registered into the electoral roll just on time. For all those who are thinking of going for the offline application, we would suggest to think before making such a move. This is because the offline application assessment takes much more time than the online application and hence you may lose an opportunity to cast a vote. Therefore you must go for online application NOW! Online voter registration could be done through the state's Chief Electoral Officer's website or the Election Commission of India's Website:- www.eci.nic.in Here is a detailed article that would come in handy while you apply for your Voter ID Card Online :- https://voteridcard.org.in/18/register-voter-id-card-online
How to know the Status of your Voter ID Card Application for Lok Sabha Elections 2014?
Once you have applied for your voter id card online with such a less time remaining for the General Elections, you must constantly keep a track on the status of your Voter ID Card application. This would ensure that you are able to take immediate action if your application gets stuck at any stage. If your intent is to take part in the Largest Elections ever by casting your vote, being updated with your election card application status is the last thing you could afford to forget.  To check your application status, you must have your application number. You could also enter your personal details like Name,  Address, etc. You could check this status on the same website where you applied for Online Registration. You could use the following article for further reference and information of an authentic way to check the status of Voter Card :- https://voteridcard.org.in/22/check-voter-id-card-status
How to get the error in your Voter ID Details rectified?
Few things like, a wrongly spelt name, an error in the mentioned date of birth or wrongly mentioned address on your Voter ID Card or an error in your name in the electoral roll could narrow down your chances of being allowed an entry to the polling booth to vote. With such an important election, one would not find it desirable to lose a chance to vote just because of such petty mistakes. Therefore you must fill the Voter ID Form No. 8 as soon as possible, if you think that there is any discrepancy or mistake in your Voter ID Details. This form is specifically meant for rectification of erred voter details. You could easily fill this form online via on your state's CEO Website or on the ECI website mentioned earlier. Give this article a thorough read for rectifying the errors in your Voter ID Card or Voters List :- https://voteridcard.org.in/97/rectify-address-mistake-voter-id-card
Lost or Mistakenly Damaged your Voter ID Card?
Since your Voter ID Card is the metaphoric power in your hands to change things and head towards a better India therefore you must preserve it with great care. But still some accidents may cause you to lose or misplace or mutilate your voter id card. You need not panic in such a case as it is possible for you to get for yourself a new Voter ID Card. But you should not misuse this possibility to become an owner of two voter id cards as it is a serious criminal offense. You must not have more than one election cards in your ownership, if you do so, you would have to pay a hefty fine and face a jail sentence too. Whereas all those who have actually lost their election cards are free to apply for the fresh one. Voter ID Card Form 002 is the one that has to be filled for requesting the issuance of duplicate voter id card. You would get detailed information about how to apply for a duplicate Voter ID Card from the following article:- https://voteridcard.org.in/30/apply-duplicate-voter-id-card-election-card
How to get your name in the Voters List?
Please read this carefully – You will not be able to cast your vote until and unless you have your name included in the voters list of your constituency. Therefore you must at first ensure that you are eligible to vote by finding your name in the electoral roll. If it is not there, you must fill the Voter ID Card Form No. 6. You have an option to fill this form online too, which would in any case be the best option for those who want to vote in the forthcoming Lok Sabha 2014 elections. Therefore enroll now as a voter and do it online since offline application for inclusion of name would take a lot more time and you would have to give away the opportunity to make your opinion count.  Here is an article that would guide you to the process of getting your name into the voters list :- https://voteridcard.org.in/102/include-name-in-voter-list . Do note that Voter List if also called as Electoral Roll.
For Frequently Asked Questions and Queries on Voter ID Card, here a help guide:
Just click on the question and be guided to a solution.