Voter ID card is an important document and we all know it, and we also know that it is tedious and long drawn process to get one and so a lot of us never bother to get one as long as we can avoid it. Nobody wants to stand in the long lines and put up with bureaucracy. Well, these are things of the past as getting election cards is now much easier and faster and especially if you are in a city like Bangalore or any other city from Karnataka, you can get your voter ID card in a month.
Get Voter ID Card in Bangalore in a Month
If anyone were to ask today 'can you get your voter ID card in Bangalore in a month?' the answer is YES. But you need to apply for it online. According to the electoral office, anyone who is eligible can get their Electoral Photo Identity Card (EPIC)  in a month's time, as against the 9 months it used to take otherwise. Back in 2011, Karnataka was the first state to embrace the online procedure for application and correction of name and age, and for addition and deletion of names from voter list. Bangalore being the capital and the largest city of Karnataka has been one of the primary beneficiaries of the online procedure. Around 12 lakh plus voters in the city have benefited from this move at the time of writing this article. The process of getting your Voter ID card in Bangalore is very simple and you need to log on to http://ceokarnataka.kar.nic.in and follow the steps as available over here: How to Get Voter ID Card Online
Errors in Voter ID Card Details
However, the problem as it can be with all the systems is that mistakes can occur specially in names and addresses due to typing issues and in a city like Bangalore, it is the translation from English to Kannada or vice-a-versa which can give place for more errors. EPIC is required to be in two languages and the submissions are usually in any one language, and in case of online it is in English. This leads to the voter ID cards of  Bangalore to have mistakes in names and addresses. The other issues involved are the fact that a lot of people in Bangalore do not have proper address proof and with it being a big city, there are a large number of migrants as well. Battling these issues, the Karnataka Electoral Office claims to have eased the procedure of issuing election cards and those who apply online are getting their cards in one month approximately.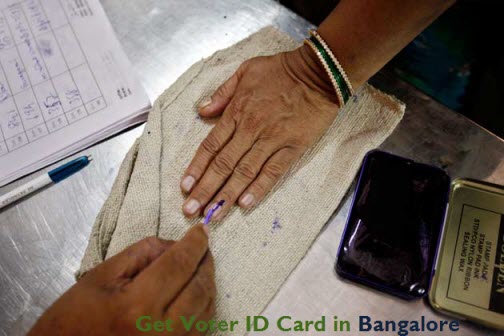 Apply for Voter ID Card in Bangalore Offline(Without Internet)
To further help those who cannot apply online or to ease the burden of form submissions and avoid huge queues at the ERO, the Form 6 are even available at some select colleges in Bangalore.
While the initiative was taken by Karnataka to go online, now most of the other states have adopted the online procedure for expediting the issuing of voter ID card. Companies like Microsoft and TCS are providing technical support to ensure a stable system for online voter ID card applications. With such steps, getting an election card is getting quicker and easier with every year.