The polling booths do not discriminate on the basis of financial status, class or gender. Neither does the Voting Card. Hence the whole electoral process provides for an inspiration model for the whole system of our nation. This is the reason for the success of our democracy. No matter whether the citizen is rich or not, he/she could still be possessing a Voter ID and a poor citizen also has a right to vote as much prominent as that of a rich citizen. This fact that any one could and each vote counts is the foundation stone of our democracy.
Voting Card is an Essential Document
Your Voter ID Card or the Voting Card is a quintessential identity document as well. It does get you a step closer to your very important voting right but its role is not limited to that. Although there is no denying that its primary function is to get you an entry into the polling booth. And that this function is the most important one. Voting is an inseparable part of a democracy and its democratic subjects also called the Voters. The voting process catalyzes the functioning of our democracy not only by ensuring the equal say of all the citizens but also by showcasing the election of an efficient governing body, in the form of the public mandate. This public mandate is nothing but the outcome of an election that gives a comfortable majority to a political party, that most of the people think is suitable for the nation. Therefore it is this outcome of voting that makes it so important and an essential part of an efficient nation. No wonder that the Election Commission of India spends so much time, labor and finances in order to ensure voter education and take steps to bring out large no. of voters to the polling booths. It constantly researches and develops campaigns, drives and also the methods that facilitate large-scale voter id card registration and thereby trying to make voting a totally inclusive affair.
Importance of Voter ID in Daily Life
Now let us come to the importance of a Voting Card in the daily life. Voting Card in your daily life doubles up as a widely accepted and legitimate Identity Document. Whenever you apply for other important citizen id documents like your Driving License, Aadhar Card, Ration Card, PAN Card, Passport etc., a voting card could come in handy as a valid proof of identity and residence that is required by the organizations which issue the above mentioned documents, the relationship between all these documents is reciprocal in nature. Apart from that, a voter id card could also be used to validate your identity whenever you want to open a bank account or invest in ventures that require you to prove your identity. For people who wish to travel abroad, applying for a Visa for the foreign nation could require a document like the voting card. This would enable the citizen to gain confidence of the Visa issuing embassy. All things said, a voter id card is a must have document for all the legitimate and law-abiding citizens. Nevertheless it must be a duty of the considerate citizens to ensure that they are registered voters and also that they possess a totally valid and error free voter id issued by the hon'ble Election Commission of India.
How to Become a Registered Voter and Obtain a Voting Card?
Although we have covered this topic a number of times in our previous articles but it always important to include it again and again, for the degree of priority that this task has. To become a registered voter, you have to fill the Voter ID Card form no. 6(Form No. 6A if you're an NRI)  and also the Voter ID Card Form 001A, which is the application for the issuance of Electors' Photo Identity Card or Voting Card. If you are already an existing voter and just need your voting card to be issued, you just have to fill the Voter ID Card FORM 001C. Therefore the Form No. 6 is for the first time voters and enables your inclusion of name to the voters' list of your constituency. To apply for a voting card, you must fill the FORM 001A along with the form 6. However if your name is already in the electoral roll of your constituency, you could apply for a voting card by filling the FORM 001C.
Download Links
Although all the above mentioned forms are readily available at your local ERO office, here the links from which you can also download these forms:-
Voting Card Form 6 for inclusion of name to the electoral roll:- Click Here
Voting Card Form 6A for NRI Voter Registration or inclusion of name:- Click Here
Voting Card Form 001A for requesting the issuance of Voter ID Card/EPIC for new voters:- Click Here
Voting Card Form 001c for requesting the issuance of Voter ID Card/EPIC for existing voters:- Click Here
List of Things to Ensure While Applying for your Voting Card
Once you have submitted the application for Voting Card, there are a couple of things that you must ensure in order to ensure minimum hassles in the voting process and also that your application is not stuck at any level.
If you have applied for your Voting card by filling the FORM 001A, that means you are a first time voter and hence you must also ensure filling the voter registration Form No. 6. Also be careful that both the forms are filled in line i.e the information provided in both the forms must be symmetric. Being a registered voter is a pre-requisite for availing a voting card. Moreover the Voting ID is of no use in the electoral process if you don't have your name in the electoral roll of your constituency. You would only be allowed to vote if your details in the electoral match with those on your Voting Card. Therefore precaution while filling both the forms is of utmost priority.
Click here for a useful guide about filling Voter ID Form 6.
NRI Voters could Click Here to know more about overseas voter registration through Form 6A
If you are already a registered voter and have your correct name and voter id details in the electoral roll then please keep in mind that to issue yourself a voting card you just need to fill the Voter ID FORM 001C with no other application form. You also need to attach the appropriate age, residence and identity proof documents with each of the above application forms for your Voting Card.
Also you must ensure proper scanning of these proof documents if you have applied Online for Voter Registration on www.eci.nic.in Also make sure that the format of these scanned proofs is .PDF only.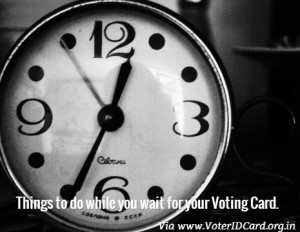 What After I Have Submitted my Application for the Voting Card?
Once you have submitted your Voter Registration and/or Voting Card Application, it would take some time for the authorities to assess your application. In this course of time here are some of the things you could do to ensure minimum obstacles in your Voter ID Registration process.
Check your name in the voter list
If you are already a registered voter, you may as well re-check that your voter details in the Voters' List  are present with no errors. In case of errors you must immediately contact your local ERO and fill the Form No. 8 for rectification of voter details. This is necessary because any discrepancy between the details in the electoral roll and your voting card would render your voting right useless as you would not be able to cast your vote. Hence the rectification of the Voter Details in case errors is a very important task.
Check your Application Status
If you are a first time voter and have filled the Voter Form No. 6 along with the application FORM 001A for Voting Card, you must note that your name in the electoral roll is a more important pre-requisite for you to cast your vote during the election. You may cast your vote if you have your name included in the Voters' List of your constituency, even without a voting card. Therefore before you receive your Voter ID please constantly keep a check on the status of your voter registration application. This would ensure that your application for inclusion of name to the electoral roll is not stuck at any level.
You can check the status of your Voter Registration Application on your state's CEO Website. Don't about your state's CEO website? Here is a link that will help you find the exact web address for your state's CEO website:- http://eci.nic.in/eci_main1/Links.aspx
On the above link, just select your state and click 'Go', you would then be redirected to a page with a link to the CEO website, where you can check the status of you application.
Therefore from the time of submission of the voting card application to the time of issuance of the voting card, the Voters must constantly keep themselves updated in the following ways. It usually takes a month for the inclusion of name to the electoral roll, in case of online application. Whereas it may take considerably more time when the application is submitted by the offline method. Hence, some patience, perseverance and co-operation is expected at the sensible voters' end.