For many citizens, the idea of staying abroad for work or education is a lucrative one. This is not because they do not have sentiments for their own nation, but because of the fact that sometimes there are better opportunities in other countries because of a comparatively higher rate of development in them. Therefore for these citizens staying abroad, most of the priorities be it social or economic still must lie in India itself.
Whereas economic priorities include providing for their families back home and help the economic development abroad have its positive influence on their own nation, the social priorities include things like:- Not losing their own identities as Indians, never losing the feeling of patriotism towards their home country India and at the same time staying active in the electoral processes of the democracy which mark it essential for any citizen in whichever part of the world they reside, take part in the voting and election of candidates who would govern their constituency and hence their nation more specifically. For this, it is essential that all the NRIs register for their Voter ID Card in India and hence have their name in the electoral roll of the constituency in which their native place lies.
Although it is impossible for the Non-Resident Indians to cast their vote directly from their country of residence, they could very well register themselves for Voter ID Card India from any part of the world, so that they can still cast their vote whenever there are elections and these citizens are on a trip to the nation.This would be ensured when these citizens register their name in the Voter List of their home constituency. In this way, the functioning of the democracy would be facilitated in a great way, because of the fact that even those who do not reside in the nation itself, would make their opinion count and hence a much better choice of an electoral candidate would emerge.
What makes a Non-Resident Indian(NRI) eligible for Voter ID Card registration in India?
Any NRI who has a single citizenship only of India i.e he/she is not a national of the foreign country in which he/she is currently residing and has completed 18 years of age on the 1st January of the same year is eligible for registration of their name in the electoral roll and hence to receive their Voter ID Card in India.
Which form to fill for inclusion of name of overseas voters?
For voter id card India registration, the Election Commission of India has stipulated the Voter Registration Form No. 6A to be filled. This Voter ID Card Registration form is available online for download from the following link(Copy and Paste the link in the address bar of your browser):- http://eci.nic.in/eci_main/forms/Form-6A.pdf
The details that are needed to fill this Voter ID Card Registration in India are different from those required for filling the Voter ID Card Form No. 6.
In Overseas Voter Registration Form No. 6A, you are required to fill in the details of your passport, visa and about your overseas as well as ordinary place of residence.
You also need to sign a declaration stating that you have not acquired the citizenship of the country you currently reside in. Apart from this, there are a few more statements that you have to accept and abide by, while signing the declaration. A sample of the declaration that you require to sign is presented herein, where all such statements are mentioned.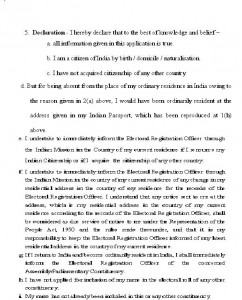 Documents required to fill Voter ID Card India Form No. 6A
A Passport Size photograph with a light colored background. The face of the applicant should be completely identifiable.
In case the application is being posted through mail(not e-mail), then the applicant must provide the duly attested photocopies of the appropriate pages of the passport. These pages should also include the page with the applicants photograph, all the particulars and the appropriate visa endorsement too. The applicant should make sure that these photocopies are duly self-attested as non self-attested photocopies shall be liable to rejection.
If the applicant submitting the application in person at the ERO office, then the same above mentioned photo-copies shall be presented along with the original passport and an application for verification of the same by the registration officer. The passport shall be returned to you as soon as the verification is done.
Therefore after the successful submission and acceptance of your application for Voter ID Card India registration, you shall be allowed to exercise you right to vote when you are in India at the time of elections. There is no provision for you to cast your vote online or through post therefore you must be present in person if you wish to cast your vote in India using your Voter ID Card.