Simple and Quick Guide to get your Duplicate Voter ID Card in India. The procedure explained below is a very simple and quick and will help you get your duplicate election card soon.

Voter ID Card is not only important in allowing you to cast your vote, it also acts as a valid identity proof. This card is issued by the Chief Election Commission and distributed by booth level officers once the voter applies for the same.
However, it may happen that you lose your Voter ID Card. Don't panic and worry if you're thinking, "I lost my voter ID card. What should I do now?" In such cases, you need to apply for a duplicate voter ID card.
How to Get Duplicate Voter ID Card?
Many people say I lost my voter card while travelling. Voters often lose their cards due to theft, simply misplaced or unintentionally damage them. However, in any case, they can apply for and get a duplicate voter card.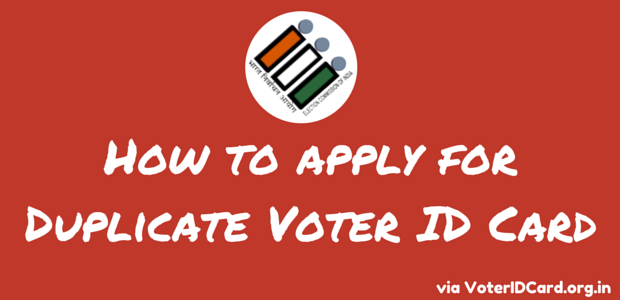 ---
Recommended Read: Apply for Duplicate Voter ID Card or Check the Status of your Application online – Click Here
---
Here are some tasks which you need to do if you are looking for a duplicate electoral card.
File an FIR with the police informing them the loss of the voter card.
Keep the copy of the FIR handy.
Get the 002 form (for the issuance of duplicate voter ID card) from your local Election Commission Office or from your state election commission's website.
Fill up the form. It should be complete in all aspects.
Attach the copy of the FIR.
Attach a document that certifies your identification proof. This could be a copy of your passport, driving license, pan card, or ration card.
Attach a document that certifies your place of residence or address. This could be a copy of your gas bill, electricity bill, telephone bill, and so on.
---
Get all the Form for Voter ID Card needs: New Application, Duplicate Voter Card, Correction in Voter Card etc – Click Here to get all Form Online and Offline
---


…Submit the form along with the documents to your local Chief Election Commission office. Refer this section to locate and get the details of your State CEO. You can also refer this page on official Election Commission of India for URLs / links to all the State CEO websites  You will be given a receipt for receipt of your required documents. After that, do check the status of the duplicate electoral card online from time to time to know when you would receive the duplicate ID card.
What to do when Duplicate Voter ID Card is not Issued
Duplicate Voter ID Card may not be issued in case you don't provide substantial documents, such as the copy of the FIR while submitting the form. NRIs who don't reside in India are also not entitled to get the voter card. However, an NRI who is a government employee and working at a foreign country on behalf of the government can get a Voter ID Card.
For any queries regarding the duplicate election card, you should seek advice from the local Chief Electoral Officer. Remember, each state is responsible for issuing the ID-card for voters of that particular state. You may need to pay a nominal amount in exchange for getting the duplicate card.
If you need to check the Voter ID status, you can also visit our detailed and updated guide over here.
Do note that it is not compulsory to carry your Voter ID to the polling booth in order to cast your vote – if your name is present in the Voter List of your constituency, you can just carry along any proof of identity (Driving License, PAN Card, Aadhaar Card, Passport, etc.) and cast your vote. Having said that, we seriously recommend you to apply for a duplicate Voter ID Card since a voter ID also acts as an important proof of identity as well proof of residence – almost all the Government, as well as private organisations, accept it as proof of document. You can get your duplicate voter card by either getting the respective forms from the nearest office or download the same from your State CEO's website. Keep reading for a detailed information about it.
Apply for Duplicate Voter ID Card online
Duplicate voter's ID card can be applied online as well. You need to visit the Election Commission website available for your state (mentioned above) and access the 002 form. Once you download it and fill it up, you need to submit the same along with the FIR copy, proof of identification and address to the local electoral registration office.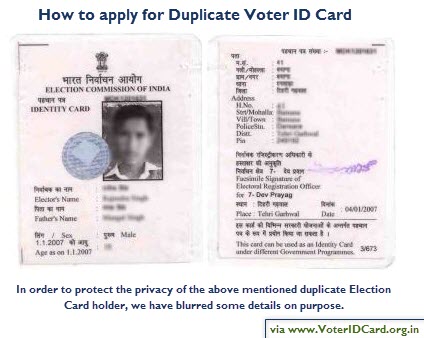 Do let us know in the comments below if you require any other information.
References:
Visit https: https://eci.gov.in/, scroll down to Link of Official Sites and select a State to go to all State CEO websites (this list is regularly updated by The Election Commission of India)