In India, elections are held at regular intervals to elect the government. Voters who are enlisted in the voters list and have their Voters ID card can cast their votes to elect their leader. In democratic India, Lok Sabha, state assemblies, and Panchayats elections are held at a span of certain years and voters vote for their representatives.
All 35 states and union territories are divided into constituencies. Each constituency has a list of voters that is judiciously maintained, known as electoral roll or voters list. Read on to know the age, criteria, and many more characteristics of a voters list. You would also know how to include your name into the voters list of your constituency if you don't have your name included in the same.
Conditions for Getting Listed in Voters List
Elections are organized and managed by Election Commission of India (ECI) where Chief Election Commissioner (CEC) passes orders to ensure the A-to-Z of elections are done without any hitch. The states have a State Election Commissioner (SEC) who follows the orders of the CEC along with Election Registration Officer (ERO) and Booth Level Officers (BLO).
Each year, the voters list is revised but it is only after every ten years that the SEC conducts door-to-door campaign to include new voters into the voter list. To get listed into the voters list, you must be:
At least 18 years of age. The minimum age of getting listed in an electoral roll is 18 years as per Article 326 of the Constitution, and Sec. 19 of R. P. Act, 1950. The date when you must complete 18 years of age is the January 1st of the year where the voters list was updated.
A citizen of India. In other words, those who reside as an ordinary resident in an Indian constituency can be eligible to register for the electoral roll as per Section 19 of the R. P. Act, 1950.
A government employee in case you are not residing in the country and living abroad. In such a case also, you must be posted on government's order abroad.
Live, work, or study in the area where the electoral roll is being updated. Even though your permanent address may be in that area you cannot be registered if you are staying at a hostel elsewhere.
Able to furnish a written declaration from the principal of the college or institute where you are studying that you are residing in a hostel in that area.
Remember, you cannot be enrolled in more than one constituency in India. As the election process is now online, you'd not be able to register if you have already got your name enlisted in a voter list elsewhere.
How to Update your name in Voters List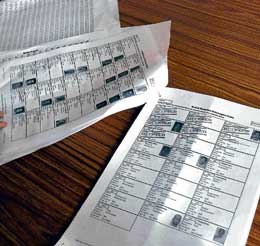 Many get transferred to a different constituency or move out from home once they get married. Summarily their names get struck out from the voters list. Often, haphazard revision of the list can inadvertently delete a valid voter's name from the list. Many new voters who have just turned 18 years also need to include their names in the voter's list.
For all such reasons, it is possible to update the same by filling relevant forms that have been designed by the CEC. For instance, you must use:
Form 6 – to include one's name in the voters list
Form 8 – to correct entries in the voter's list, such as change of address or spelling errors.
Form 8A – to transpose entry into the voter's list
…Either you can submit the form with other credentials online or submit the same to the nearest ERO of the Assembly Constituency.
Remember, it is only after you have your name entered into the voter's list, you can get an updated Voter's ID card and subsequently cast votes in India.