The voter ID card also called Electoral Photo ID Card (EPIC) is issued by the Election Commission of India . It serves as an identity proof while casting votes during elections. At times these cards have some errors or mistakes which means you will have to go through voter id correction procedure to get errors rectified on time. Get your voter card if you do not have one by visiting this link.
Election Commission of India is trying its best to improve their online services by introducing Android App based Services etc., (currently only available for Voter ID Card Tamil Nadu) so that every Individual who is of 18 years or above can become a part of the Electoral System of the country without fail. Nowadays, every service related to Voter ID Card has been made online – from Application to Correction. Therefore, reducing the need to visit the offices and standing in long queues to get things done. At times these cards have some errors or mistakes which means you will have to go through Voter ID Correction procedure to get errors rectified on time.
If in case, you voter card has some errors or mistakes and you wish to make some correction then, follow the given procedure for voter id correction.
Voter ID Correction – Apply for Voter ID Correction
You will have to fill form 8 online which can be found over here.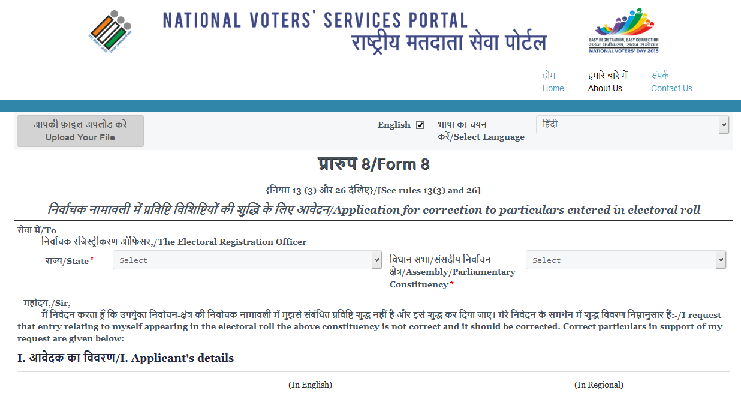 To Apply for voter ID Correction, either registered for, or already issued is very simple process as it can be done either Online or Offline as per your convenience.  You also have to ensure that all the documents which you'll be using are authentic and correct for the purpose. For example, for getting age corrected, please attach proof of age such as Board Examination Result. For change in address, please give proof of residence etc.

Voter ID Card Correction Offline:

Voter ID Correction too can be initiated by filling Form 8. As all the services start with filling relevant form, in offline process one need to visit the local Electoral Office, and should get a hard copy of Form 8.
Alternatively, you can also download it from the link shared below, fill in the necessary details manually and submit the hard copy of the form to the concerned Officer – Alongwith the required documents.
Click here to Download and Print the Form 8 for Voter ID Card Offline Correction Application
Below is the online process, filling the Form 8 is explained Step-by-step. You can refer the same for filling the form Offline too. 
But this process involves waiting for a longer time to get completed. Therefore, we recommend the online method as it is time-saving and effective and can be done sitting in our comfort zone.
Voter ID Card Correction Online:

If you decide to do the Voter ID Correction Online by filling the Form 8
You can click this link  and get access to the same.
You can fill all the required information online
In Part 4 or IV in the Online from or Part 5 or V in the offline form:

You need to Fill and Mark the Details to be Corrected – This is very important as any mistake here will result in your corrections not appearing properly, again.

Attach your recent photograph and the documents and submit
You don't have to download anything and it's  quick and effective.
You can refer to step by step procedure on How to Make Correction Online.
Online method maybe new to some people but it will save a lot of your precious time if you apply for Voter ID Correction through this method.  This method is highly recommended  as one can finish making corrections to the Voter ID Card easily by just sitting at home.
How to Check Voter ID Correction Status?
After application and submission of request (either online or offline) for voter id correction , an application number will be generated for future reference in order to check the voter id correction status.
Go to official website of your state CEO
Below is an example of the official website of CEO, Delhi.
To check the application status for Voter ID Correction click here.
A page will open, select Form 8 and enter the Application ID which had been provided to you earlier after Applying for voter id correction.
After entering the required information, you'll get Voter ID Correction Status easily.

For specific instructions on changing name in your voter card, click over here.
By following the instructions given, one can have their voter card correction done.  We hope this post was able to clear all your doubts with regards to  Voter ID Card Correction. Feel free to ask on our comments section.