Assembly polls are due in Tamil Nadu next year, which is making the state the centre of all political excitement. Hence the state election commission is leaving no stone unturned in improving the performance of the democratic process by making sure every eligible citizen gets his fundamental right to vote! This can be attained by the Online system for registering Voter ID Card TamilNadu. In addition to that , as a step ahead in the process, TamilNadu Election Commission has introduced a new method for getting  which uses Smartphone technology.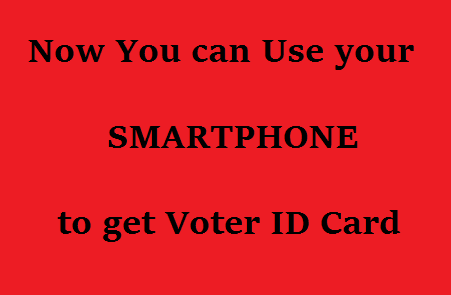 An App to get Voter ID Card TamilNadu?
TamilNadu Election commission have introduced a unique system, in fact the first of its kind in the whole country, a system that enables citizens for voter ID registration via a mobile app. This is termed EASY (Electoral Assistance System). Recently, the Tamil Nadu State Chief Electoral Officer Sandeep Saxena launched this scheme for easing the process of getting Voter ID Card Tamilnadu. Through this system, a voter can get his or her voter ID card, or can make changes to an existing one through mobile phone, or by a telephone, or even by an online portal service. He was also confident that through this scheme, duplication of voter details can be avoided and the process of voter ID card registration can be completed in 15 days. The earlier schemes sought to update the voter details district wise, but this is an integrated system where one can update the details anywhere with utmost accuracy.
Possession of a Voter ID card is a prerequisite for participating in electoral process. Gone are the days when getting a voter ID card is a humdrum. Increasingly, it is becoming an easy task, with the advent of Information Technology and the exploitation of internet. This also ensures transparency. One can get hold of one's Voter ID card TamilNadu or anywhere else without standing in a queue, by the click of a mouse. One can apply for a voter ID card either online or offline, but an Offline Voter ID card often takes more than 6 months to arrive. Online process is both easy and hassle free. The status of the application can be tracked and the officials can be made accountable.
How to register Online Voter ID Card TamilNadu?
Log on to the official website of the Election Commission of India
Click here to go to the website
Click on the tab "Enroll for a new card".
Fill in your mandatory details like e-mail ID, name and address, the state you belong to. Then you obtain your login ID and password.
After logging in, fill in form6 and enter all your details correctly.
For form6, Click here.
You should attach your scanned passport size photograph
After submitting the form, you will receive a confirmation mail to your email ID along with a link which will redirect you to your personal voter's ID page.
Now you can check the status of your application from that page. Once the official comes for verification to your home address, you process will be more hastened and you can be assured to receive your voter ID card in a matter of days.
For complete information on how to fill form6 to get Online voter ID Card, click here