The electors' photo identity card (EPIC) is must to allow a genuine voter whose name is included in the voter list to cast vote during elections. This card is issued under the orders of Election Commission of India (ECI) to check a series of malpractices that were widespread during elections prior to the introduction of the election cards  in India – Role of Election Commission of India for Free-and-Fair Elections.
The election card is distributed by the Booth Level Officers (BLOs) after the voter's credentials are verified. The card has the photograph of the voter, age and residence specification, relationship specifications, etc. The voter identity card not only allows a voter to vote but also help a voter to avail many services that are meant for an Indiancitizens – An Overview of Voters List and Its Importance in India
But, what happens when the electoral card gets damaged? To know whether you can get a fresh one, read on.
Getting a Fresh Voter Identity Card  
Electoral cards are essential not only for exercising one's voting rights but also opening bank accounts, gas connections, or mobile phone connections. If your present card is damaged – say, printed data is effaced or lost — you must take proper precautions to ensure your card is not misused and you can use you card in future as well.
Steps for Applying for a new Voter ID
However, the Chief Electoral Officer (CEO) available for each state will not give another voter card without seeking adequate explanation on the whereabouts of the original one. So, you should refer the following the steps to ensure you get a fresh identity card quickly and conveniently when the first one is damaged.
Visit your nearest police station and file an FIR specifying that voter card is damaged or lost. Take a copy of the FIR as it will be necessary to submit the document during your application for a fresh card.
Visit your state CEO website.
Specify your mobile number, name, and email ID. A unique username and password will be forwarded to you through a text message.
Login again to the site with the fresh username and password. Various forms will be displayed.
Click form 2 and fill in the required data.
Upload a scanned copy of your passport size photo.
Upload soft copy of your documents that certifies your age, identity, and place of residence.
Click the Submit button.
…You can also submit the attached copies to the local Election Registration Officer (ERO). As you are seeking a fresh copy of your voter card, you need to also pay a penalty to the election office.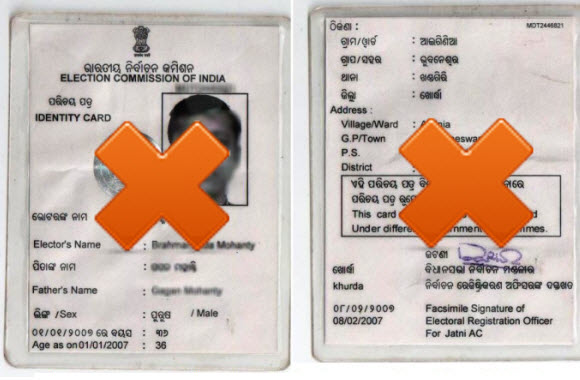 Tips for Submission of Form 2
Many voters fail to submit the form or do not complete all the steps to apply for a new voter ID card. Here are some tips to address these issues.
If you have not completely filled up the form, you will not get your voter ID card. After clicking the Submit button, you must get a message that it has been submitted properly. If not, your form has not been submitted.
Error can occur because:

Soft copy of your photo is more than 50 KB. If it's not in .jpeg format, the form will not be accepted.
Soft copies of the documents must be in PDF format and less than 1 MB.
All radio buttons in the Declaration section must be selected.
From time to time, don't forget to check the status of your application in the same website. It is possible that Booth Level Officers (BLOs) visit your residence to check the credentials you have submitted with the form. Once verified, a fresh copy of your photo ID card should arrive by post within a month.