Voter ID Cards are issued by the Election Commission of India. It is a direct passport to the polling booth for assembly and parliamentary Elections and hence affect the whole democracy by your choice of candidate. It is not only restricted for polling purpose but a Voter ID Card also acts as an identity proof, you can also use it to book tatkal tickets and get driving license.
We highlight to you the process of getting a Voter ID Card, the various forms that has to be submitted whereas in this article we will tell you the various ways to check the status of your Voter ID Card- online and offline.
Many a times various questions might have haunt you like- Can I check the status of my Voter ID Card through SMS? How do I check the status of my Voter ID Card in Pune?How much time would it take for the Election Commission of India to issue an Identity Card? So read ahead to get all the related to the status of a Voter ID Card.
How Long Does It Take To Issue Voter ID Cards?
Having realized the importance of voting and voter id card, it therefore becomes important for you to have an idea about the average time taken by the election authorities to issue Voter ID Cards from the day of registration or submission of application, so that the voters can plan their day of registration accordingly and do not miss the opportunity to cast their votes in the coming elections.
The average time taken for issuing voter ID cards depends on the method of registration chosen by the voter. There are a couple of ways in which a citizen could proceed with voter registration. The speediest and the easiest way for you to apply for an election card online. This is because the online application saves you a trip to the election office and therefore saving you the hassle of lining up in long queues for long hours. Moreover, assessment of online application is also convenient for the election authorities, no wonder that it is done at much higher speed than it is done for physical applications.
Hence there are 2 major ways to apply for Voter ID Cards:
Applying directly at the Election Office.
Applying online at the CEO Website of the voter's state.
As we mentioned the fastest way to apply is through the Online Application. If you apply online then you're likely to receive your Voter ID Card within 30 days from the day of your submission of the application form.
Whereas if you go and apply straightaway from the CEO Office, it would take much more time, sometimes as much as 8-9 months. Therefore, if the elections are approaching, like a couple of months away, it is highly advisable that the citizens go for online application so that the voter id cards are issued just in time for them to be able to cast their votes.
When Is It Necessary To Check The Status Of Voter Card?
Consider a situation where you have completed the registration of the voter card. If you have not received the courier with the ID card or no verification team has come to your house, you need to contact the ERO, polling station, local Tahsildar, or Zonal Officer in particular area from where you have applied
Some glitches can happen during the distributed voter cards by the BLOs. The BLOs may not have found you at your house during their visit for verification. Lastly, the card may get lost during transit.
You should wait at least a month if you have applied for your voter card update online. If however, you don't get any response within 2 to 3 months you should log in to the CEO website to know at which stage your application is stuck. A quick check on the web can help voters to know the status of their application.

How to Check the Status of Your Voter ID Card Online?
Your voter id card is not just important on the Election Day. An election ends but the job of a voter and his/her voter card does not end. One has to constantly follow news, opinions, event and data to make sure that the elected representative or the government is living up to the expectations. If not, the voter has to look for the alternatives that he/she could choose whenever an opportunity to vote appears again.
Therefore the whole democracy works in this dynamic way. Things keep on changing and there is always an opportunity to catch up and make up for the mistakes in choosing candidates that were made by the voters. The one thing remains constant is the voter id card in your hand.
To find out the status of your election card, you need to follow the steps:
 Log into your state CEO's website.
When submitting the form, you had received a unique user name, password. You must login with that login name to enter the site to check the status of your election card.
Click the link "EPIC Status" from the left navigation panel. The Know Your Application Status page is displayed.
 Specify the right form from the list.
 Specify the option you want to key in to conduct the search. It can be Application ID, house number, or your name.
 Specify the information in the text box based on the option you had specified before.
 Click the Submit button.
You can check the state wise URL by clicking on the name of the state below and visiting the corresponding Election Commission Official website
How Can Offline Users Check Their Name In The Voter List?
Some may argue that an internet connection has a great outreach and there might not be many people without it but nevertheless it is not surprising to hear that the mobile services have a much greater outreach than internet. Supported by this fact, people without an internet connection can check their name in the voter list just by sending a simple text message. The layout of the text message is as follows:-
Just SMS 'EPIC'<SPACE>'Voter ID Card No.' and send it to 9211728082.
By this way you can save a trip to the Election Office if you want to check your name in the Voter's List of your constituency.
The election commission although has to go a long way in order to make the Voter ID Card issuing process and related tasks easier for the people who have no internet connection, but this move, through which offline users can check their name in the Voter List through an SMS, would surely open a lot more avenues and enable many more electoral tasks to be conducted using mobile phones and hence make things easier for both online and offline citizens.
 What If the Status Is Not Getting Changed Online After Required Amount Of Time?
Consider a situation where you have checked the status of your election card online and found that the status reads, "Distribution in progress." However, even after waiting for 3 months, you don't get your ID card. What will you do now? You must then visit the ERO located near your residence. The ERO may seek a written complaint about the status of your card to take further action.
Many operations performed for elections are accomplished online today. To manage the voter lists of all assembly constituencies online is no small a task. Errors do crop in. However, majority of the people today are satisfied with the online interaction.
You can easily check status of your voter card or electoral roll online. If you are still not getting your updated voter card or voter list, a visit to the ERO's office is a must.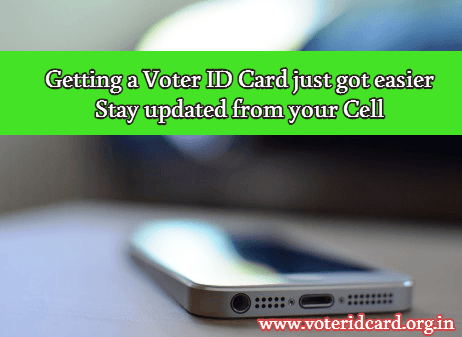 How Do I Track My Voter ID Card Status via SMS or Call?
There are 2 ways to track your Voter card via phone – SMS or Phone Call.
After successfully applying for the Voter ID card you will receive a unique Serial Number. Using this serial number you can easily track the Voter ID Card via SMS or Phone Call but remember you can't track it immediately after applying for the card. You have to wait for 4-5 weeks then only you will be able to track it. Here's the step by step to track your Voter ID Card:
Via  SMS
1) Go to Message in your Mobile
2) Type your Voter ID Card Unique Serial Number
3) Send it to 9433633333
Via Phone
1)       Call from BSNL or MTNL to 1506 and follow the instructions in Hindi or English language
OR
2) You can also call to 0124-2888-888
Note: Currently you can talk only in Hindi and English language. You can also contact to the customer care to know the status of your card.
After completing your application, voter ID card status can be tracked either online or on phone. Every State has its official site for voter ID card application and tracking. The location of VREC, Closest Designation Location and BLO and any other necessary information can be found on that site.
I Stay In Pune Where Do I Check the Status of My Voter ID Card?
It is the mostly commonly asked question; people from pune are many a times clueless about where to check the status of their Voter ID Card. Hence we bring to you a detailed guideline on how to check the status of your Voter ID Card if you're a resident of Pune.
You can visit this link to check the status of your Voter ID Card in Pune and follow the steps given under:
1. Choose, "Search in English"
2. Choose "name wise"
3. Click "Go".
In the new page,
1. Put District as "Pune"
2. Give your Assembly constituency name
3. Put value in "Elector name", (just the first name)
4. Leave all other fields blank
5. Click "Search"
Sometimes the Search takes a few minutes, so you might need to wait.
Sometimes the link is down, so you might need to try again later.
Collecting your Voter Card
If you have not received your Voter card, but you can see your name in the Voter List (Using the Online search mentioned above), then your voter card could be present in the ERO office of your constituency.
The address of all the Election commission Office's in Pune (Maharashtra) is given in the link below.
http://pune.gov.in/puneCollectorate/election/center.pdf
Voter ID Card Status Track for Resident of Uttar Pradesh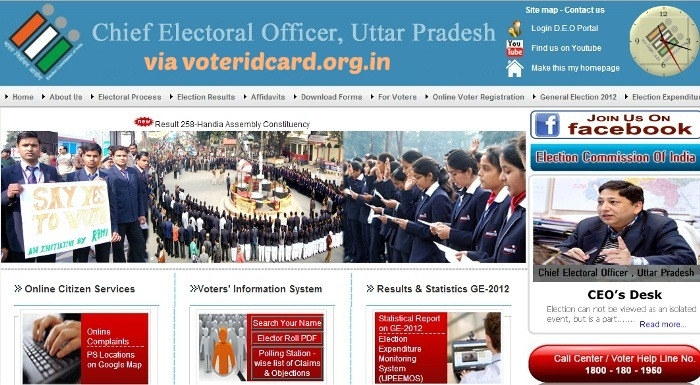 In case you live in Uttar Pradesh and want to check your voter ID card application status in this state then here is the method. Just visit the CEO Website of UP i.e www.ceouttarpradesh.nic.in On the home page you can easily find a column names 'Online Voter Services'. Under that column there is an icon that reads 'Know your Application Status'. Just click the icon and select the correct option for each of the following:-
District
Assembly Constituency
Part
Form Type
Date or Period of application
If you do not have the above mentioned information you can simply search for your application status in UP by entering the Applicant name or the application form number. You can also get detailed guide on Voter ID Card Uttar Pradesh here
You can also Visit the following State Election Commission Links to check the status of your Voter id Card:
The above information would surely help you get your election commission of India identity card and hence let you exercise your franchise to vote without any obstacles whenever the election day approaches. However you must ensure that you keep yourself updated with all the information and press releases by the ECI or your State's CEO so that you are in line with the latest advancements being made in the voter registration sphere. You must contact the concerned officials like the BLO, ERO or the Polling Officers in case of doubts or call the help line numbers provided by the CEO Website of your state. For example, the Voter Helpline number for Delhi is 1950 or 1800111400