Voter ID Card Correction Guide for Wrong Photograph on your Voter ID – Simple, step-by-step, can be done in 5 minutes
India being the biggest democracy in the world on the basis of its population has many applicants for voter ID card from across the country. We have a lot varied cultures and religions and this results in different languages and different names and a lot of data to process for the officers handling the election card procedure.
Voter ID Card Correction for Wrong Photograph on your Voter ID?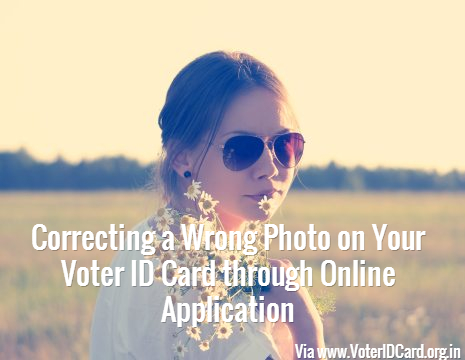 Voter ID Card Online Application Form No. 8 for Correcting Details:
Download Form 8 – Offline
Get Form 8 – Online
However, this same procedure can also be completed online thanks to the voter ID card online application procedure. As with any other form, FORM 8 can be downloaded from the ECI website of your state. You can get the same by visiting www.eci.nic.in, and going to the 'link to state SEO' option. Once you get the form, you can fill it up online or take a printout and fill in and submit it physically. The form filling procedure is the same as in the physical application. You can follow these steps:
• In PART I, fill in the correct Name, Age in years and months, Date of Birth, Father's/Mother's Husband's name.
• In PART II, fill in the particulars pertaining to your address and current place of residence. • In PART III, fill the existing voter ID card or EPIC's number that you currently hold and name of the constituency your EPIC is registered and issued in.
• In PART IV, the most important step; strike off the options that are not applicable to you, mainly the My Name, Age, Father's/Mother's/Husband's Name, Sex, Address, EPIC number. Add the words 'MY PHOTOGRAPH' and submit the form, and attach the corrected photograph in the space provided for it or attach along with the documents.
• Fill in all the necessary details in the acknowledgement and receipt section and submit the form.
• Attach the documents as mentioned above along with your online application and you are good to go. You can also mention your mobile number and email address as these can be used by the officers to contact you.
Why you need to do Voter ID Card Correction for Wrong Photograph on your Voter ID?
Voter ID card online application has eased this data processing to an extent wherein the fields for personal details are already fed in by the applicants and are already in digital format for printing and processing purposes thus reducing the human error caused by the officers doing the data entry from the physical applications and cutting down the need for voter id card correction.
However, these are still bound to be mixed up in terms of swapping of attached documents or details or errors at the time of translating to the regional language and sometimes in the photographs as well. These could be simply caused by some software bug or system issues. If you have received a voter ID card with a wrong photograph, and want to apply for voter id card correction then the procedure is that you need to fill in FORM 8 and submit to the local ERO for completing the procedure to issue you an updated election card. You will also need to submit the documents for your ID proof, residence proof as well as the correct and latest passport sized photograph to get it fixed in the updated Electoral Photo Identity Card or EPIC or voter ID card as it is popularly known. You can even post the entire bundle of papers that is your completed FORM 8 filled in detail including the number of your existing EPIC and documents with a photograph, addressed to the local ERO.
What After the Application for Voter ID Card Correction needs to be Submitted?
Once the submission is made the procedure of verification will begin and a Booth Level Officer will carry out the verification procedure and once all is done, you will get a new updated voter ID card. This is a simple procedure which can be done through the internet using Voter ID card online application to correct a wrong photograph in your election card. Also this same procedure can be followed for correction of any other detail that is wrong in the election card you have received.
What if I Want to Change Address on my Voter ID Within the Same Constituency?
In case you are confused between the Voter ID Form No. 8 and Form No. 8A then you must know that there is a good difference between these 2 Election Commission of India Forms. The function of the Form No. 8 has been made clear in the preceding sections i.e it is used to rectify mistakes on your voter id, like a wrong photograph. Whereas, Form No. 8A is the form used for Transposition of your voter id card. With the transposition, we mean changing of address on your election card when you have shifted your residence to a different address within the same constituency. This form can either be filled online your state's CEO Website or you can fill and submit it by hand after obtaining it from the Local ERO Office.
Also See: –