Voter ID Card, also called Electoral Photo ID Card (EPIC) is issued by the Election Commission of India. It serves as photo identity not only during Elections, but also as an authentic Photo Identity Card where ever required. Earlier, applying for Voter ID Card was a hectic process. With the advent of Internet and the efforts of Election Commission, now everything is Online. You can apply for Voter ID Online, check its status Online, and can do   Voter ID Card Correction Online if entered wrong details or mistakes in spellings etc. during the process of application. If you don't possess a Voter ID Card yet, apply it online today.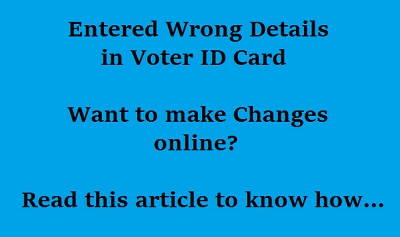 ---
To know how to apply for Voter ID Card online, click here
To know how to check the status of your application click here
---
Now, in this article, let us know how to do Voter ID Card Correction Online
How to do Voter ID Card Correction Online?
To do Voter ID Card Corrections online, you must fill voter id card correction form, i.e, form8 should be filled.
Click here for form8
Before you fill in the form 8, remember the following.
Only those whose name appears in the electoral list can fill the form8.
Application can be filled only on the specified days for the Online Voter ID Correction.
Only one application through Voter Id card Correction form can be submitted.
How to Fill Voter ID Card Correction Form
First of all, make sure you have the following documents ready with you.

Name and Date of birth certificate
Address Proof
Photo Identity Proof
Voter ID Card Issued by Election Commission of India (if already issued)

Also you should have the last three documents Scanned and ready to be uploaded during the process.
Enter your State and Assembly/Parliamentary Constituency you belong to.
Enter your Name and Surname in English. Then your both will appear in your regional language just beside the boxes you entered in.
Then enter the correct Part Number and Serial Number of Electoral roll.
Select your gender by clicking on the drop down list.
Now you can enter your exact age or simply enter your date of birth. But before you do, select the relevant button.
Now enter Father's/ Mother's /Husband's name and Surname in the Next box. Also enter the relation with the name of whom you entered in the above box. i.e., if you enter your husband's name in the above box, then type 'Husband' in the below box.
Now in Part II of form8, enter the full address of your current residence with Pincode, in the relevant  boxes.
In Part III of form8 enter the details of the Voter ID Card   (ID number, Date of Issue, State and   Constituency ) if already issued. If it is not yet issued, you can skip this step.
In Part IV, you should upload all the supporting documents viz, scanned copies of your recent photo, Address Proof, Photo Identity proof.
In Part V, you should mention which part of your Voter application you want to correct. You can select at least one and as many as required from the given details.
After finishing all the above steps, Enter place, date, Email Id and Mobile number and click on submit. Entering email Id and Mobile number are not mandatory fields but are highly recommended.
Thus by submitting form 8 you can make the necessary changes to your Voter Id Card. You can also do it by visiting the Electoral office, but Voter ID Card Correction Online is always better and easy process as you can do it sitting in your comfort zone.
For more comprehensive guide on Voter Id Card Correction Online, click here.