The separation of Telangana has been in news for a long time and combined with the Lok sabha elections, it has played a major role in the development and politics of our democratic country. In India, elections are conducted in accordance with the Constitution of India. In this article we are going to cover all aspects of Election Commission of Andhra Pradesh and Election News related to Lok Sabha Elections 2014 in Andhra Pradesh.
CEO Andhra and Election Commission Of AP
The Assembly of Andhra Pradesh creates laws regarding the conduct of local body elections while any changes by the state legislature to the conduct of state level elections need to be approved by the Parliament of India. The CEO Andhra monitors the work relating to the conduct of General Elections and Bye-Elections to the House of People from Andhra Pradesh, A.P. Legislative Assembly and A.P. Legislative Council. This includes preparation and updating the Electoral Rolls, Issue of Photo Identity Cards to Electors, rationalization/re-organization of Polling Stations, voters' education, and implementation of Model Code of Conduct, the Election Laws and the instructions issued by the Election Commission of India from time to time.
Andhra Pradesh CEO Voter List 2014
Every State issues a voter list before an upcoming election. The Andhra Pradesh voters list includes the name of all the voters who are above 18 years of age and can vote. It is important that a voter's name must feature in this vote list or else he/she will not be allowed to vote under any circumstance. This list is prepared by electoral Registration officer of every assembly. It consists of all the people who are eligible to vote in that particular assembly or constituency. Every year this list is revised and updated to include all the first time voters. This list also shows all the updates and changes made by the already registered voters in their card. To check your name in the Andhra Pradesh Voter list online visit here.
CEO Andhra Website
The chief electoral officer of Andhra has its own website which gives details about general elections, Mee Seva centers, laws and right to information. There is a lot of other information available on the website, you simply have to visit this link – CEOAndhra.nic.in
Voter ID Card in Andhra Pradesh – Although there is a brick-n-mortar office of the CEO AP to look into issues related to Andhra Voter List and Andhra Pradesh Voter Card e-registration, the Andhra Pradesh CEO maintains a website where the voters can easily login with their dedicated username and password to apply for their new voter ID card or make changes in the voter list
CEO Andhra e-registration – When you visit the AP CEO's website, you will find an e-registration link which leads the new users to login and register for a voter card. Once on the page, the new voter can register for the voter ID online by filling in Form 6 and providing some credentials to validate the information given in the form
The CEO delegates this job to the Block Level Officer, who verifies the form and the card. The voter can expect to get the voter ID card within two months.
How to know the Voter ID Card application status – The CEO oversees work to ensure voter cards are given to the applicants after verification and the status is updated in the website. By clicking on the 'Know your Status' you can find out if your application has been accepted and voter ID is on its way to you.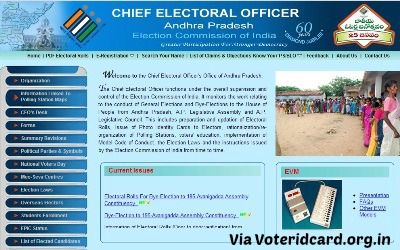 CEO Andhra E-Registration
There are four e-registration forms available in the website of CEO Andhra, details of those four registration forms are given below:
Form-6: New Enrollment.
Form-7: Objection to inclusion of name.
Form-8: Correction in the card.
Form-8A: Transpose your card.
Candidates who don't have a voter id card yet have to select the Form-6 for new application registration.
Select Form-7 for the any objections regarding the inclusion of name.
Select Form-8 in case if you have any corrections to be made on already issued voter ID card.
If you are staying in Andhra Pradesh and want to apply for a voter ID card to vote at an assembly constituency in the state, you can do so through the following steps:
Access the website of Andhra Pradesh CEO at http://www.ceoandhra.nic.in website. The Home Page of the website is displayed. It asks you to register with your credentials to get your username and password.
Once done, you will get a unique username name and password.
Login with this user name and password. You will be directed to an e-registration link. Click the E-registration link. You will come across various forms.
Access the correct form as per your need. For instance:

Use Form 6 if you are a new voter without a voter ID card at all.
Use Form 8 if your name is not in the voter list of your assembly constituency or data in your voter ID card is wrong.
Use Form 8A if you have changed your address in the same assembly constituency in Andhra Pradesh.

Once done, you need to click the Submit button. A registration number would be provided to you. Don't forget to submit hard copies of your age proof and address proof to the nearest ElectionRegistration Officer (ERO)'s office. In case, you are not a new user, Andhra Pradesh CEO's department will send across a voter ID card through post. If you are a new voter, the Booth Level Officers (BLO) will visit you to verify the credentials. Once verified, you can expect to get your voter card soon.

Andhra Election News
TDP and TRS stormed to power with a bang in Seemandhra and Telangana respectively, while Congress ended up as the biggest loser in Lok Sabha as well as Legislative Assembly polls held in undivided Andhra Pradesh.
The TDP-BJP alliance has won 106 of the 175 assembly seats in Seemandhra, winning 18 seats additional to the magic figure of 88, required to form the government in residuary Andhra Pradesh. YSR Congress emerged victorious in 67 assembly constituencies.
Congress, which ruled for over four decades in the 57 years of existence of Andhra Pradesh, drew a blank in the elections and the party would not even have representation in the Legislative Assembly of residuary Andhra Pradesh.
The victory of TDP-BJP combine is comprehensive as it won seats in both Coastal Andhra and Rayalaseema regions. In districts like West Godavari, TDP swept the polls by winning all the assembly seats.
Even BJP, which had only been a minor player in Coastal Andhra, managed to win two Lok Sabha seats (Visakhapatnam and Narasapuram) in Coastal Andhra. Across undivided Andhra Pradesh, TDP secured 29.1 per cent of vote share and its ally BJP 8.5 per cent. YSRCP obtained 28.9 per cent vote share, while TRS got 14 per cent. Congress got 11.6 per cent.
The Telugu Desam Party won 16 seats out of the 42 in Andhra Pradesh. TRS has registered victory in 11 seats and YSR Congress in nine seats.
We bring to you the list of winners in Andhra Pradesh:
Adilabad- Godam Nagesh (TRS)
Amalapuram- Dr. Pandula Ravindra Babu (TDP)
Anakapalli- Muttamsetti Srinivasa Rao (TDP)
Anantpur- JC Divakar Reddi (TDP)
Aruku- Kothapalli Geetha (YSR Congress)
Malyadri Sriram (TDP) Bapatla
Bhongir- Dr Boora Narsaiah Goud (TRS)
Chelvella- Konda Vishweshwar Reddy (TRS)
Chittoor- Naramalli Sivaprasad (TDP)
Eluru- Maganti Venkateswara Rao (TDP)
Guntur- Jayadev Galla (TDP)
Hindupur- Kristappa Nimmala (TDP)
Hyderabad- Asaduddin Owaisi (AIMIM)
Kadapa- YS Avinash Reddy (YSR Congress)
Kakinada- Chalamalasetty Sunil (YSR Congress)
Karimnagar- Vinod Kumar Boinapally (TRS)
Khammam- Ponguleti Srinivasa Reddy (YSR Congress)
Kurnool- Butta Renuka (YSR Congress)
Machilipatnam- Konakalla Narayana Rao (TDP)
Mahabubabad- Prof Azmeera Seetaram Naik (TRS)
Mahbubnagar- AP Jithender Reddy (TRS)
Malkajgiri- Ch Malla Reddy (TDP)
Medak- KC Rao (TRS)
Nagarkurnool- Yellaiah Nandi (Congress)
Nalgonda- Gutha Sukhender Reddy (Congress)
Nandyal- SPY Reddy (YSR Congress)
Narasaraopet- Sambasiva Rao Rayapati (TDP)
Narsapuram- Gokaraju Ganga Raju (BJP)
Nellore- Mekapati Rajamohan Reddy (YSR Congress)
Nizamabad- Kalvakuntla Kavitha (TRS)
Ongole- Magunta Sreenivasulu Reddy (TDP)
Peddapalle- Balka Suman (TRS)
Rajahmundry- Murali Mohan Maganti (TDP)
Rajampet- PV Midhun Reddy (YSR Congress)
Secundrabad- Bandaru Dattatreya (BJP)
Srikakulam- Rammohan Naidu Kinjarapu (TDP)
Tiruputi- Varaprasad Rao Velagapalli (YSR Congress)
Vijayawada- Kesineni Srinivas (TDP)
Visakhapatnam- Kambhampati Hari Babu (BJP)
Vizianagaram- Ashok Gajapathi Raju Pusapati (TDP)
Warangal- Kadiyam Srihari (TRS)
ZahirabadBLUR_B- BB Patil (TRS)
Several bigwigs have also made a grand comeback to the (new) Andhra Pradesh Legislative Assembly winning the just-concluded election, ending their long political hiatus.
TDP veterans Kimidi Kalavenkata Rao, Kodela Sivaprasada Rao, Ch Ayyannapatrudu and Bandaru Satyanarayana Murthy, who served as ministers under late N T Rama Rao and Chandrababu Naidu, won the 2014 elections from their respective districts.
This assembly election also proved lucky for TDP veteran Gorantla Butchaiah Chowdary, who was initially denied ticket because of the seat adjustment with BJP, but accommodated in Rajahmundry Rural constituency in the last minute. He clinched the seat now, after having lost the last two elections.
The region of Telangana will become a full-fledged state in June
Telangana will formally become a separate state on June 2 so for the last time the Election Commission held the Lok Sabha polls in undivided Andhra Pradesh. As many as 28.1 million people voted in 119 assembly and 17 Lok Sabha constituencies spread over 10 districts of Telangana. After the formation date, the elected legislators will be allotted to their respective states – Telangana and Andhra Pradesh. President Pranab Mukherjee has signed the ordinance to hand over seven mandals in Telangana to Seemandhra after the Cabinet's clearance of the Polavaram project ordinance.