The very essence of modern democracy is the collective congregation of citizens of a nation participating in voting to choose able leaders to run the country. In India, Lok Sabha, Assembly and Municipal elections are held on a periodic basis. It  gives eligible citizens, that are above 18 years of age, a chance to choose their representatives. Conducting elections can be a daunting task given the size and number of people. To alleviate problems, the Government of India came up with Voter ID cards. However, merely having a voter ID card doesn't allow one to vote. To do so, one needs to be absolutely sure that he/she is registered as a voter in the Voter List of their constituency.
Here are the details to check the same in UP Voter List before the elections.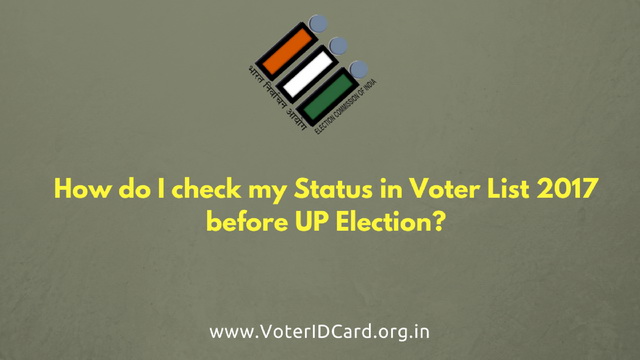 Voter ID Card Status in Voter List 2017

Voter ID Card serves as an Identity to an individual eligible to cast their vote. Elections in Uttar Pradesh are just round the corner and are being help to elect the members of State Assembly as well as Lok Sabha.
For citizens of Uttar Pradesh applying for a Voter ID card online is a hassle-free process all thanks to the National Voter's Services Portal. Once you have applied for the Voter ID card, its status and then the ensuring that you are an eligible voter. To do that you need to check your name in the Voter List 2017 prepared by the EC for UP.
Firstly, here's how you can check the Voter ID Status online by the following simple steps:
'Reference ID' that was provided at the time of Voter ID Registration is required to be entered in the box as shown above.
Click 'Track Status'. Your Voter ID card's status will be displayed.
Tracking Status in Voter List 2017:
If you want to check whether your name has been included in the electoral rolls, you will need to follow the following steps:
 

Visit the official website:

http://164.100.180.82/claims/
In case you have registered offline you are required to select "Offline" or else select "Online"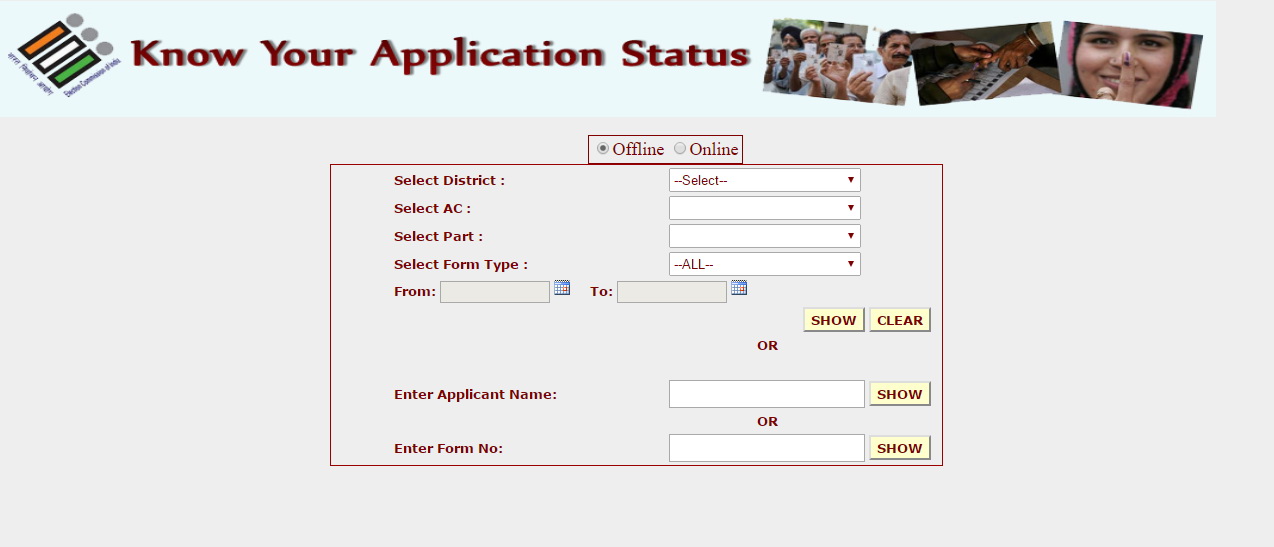 Search for the name in Voter List can be accomplished via any of the three methods:

By Area:  Select the assembly constituency, district, form type, part and date.

Select the District and other Details
AC is your Assembly Constituency OR the area where you will be going to vote.

By Name: Enter your name.
By ID: Enter your form number.
To generate your results, click on "Show" 
That's It. You will now see your name (if included) in the Voter List.
For more details on checking the name in Voter List, click here.
Tracking Voter ID status in Voter List 2017 via SMS

For tracking the Voter ID status, the following SMS  is required to be sent to 9212357123.

UPEPIC Voter ID number
Or else you can call 1950 which is ECI Helpline number and it is toll free as well as available on all working days from 10:00 am and 5 pm.
We hope we were able to help you ensure that you can exercise your right to vote in the upcoming UP election for 2017 by searching your name in the Voter List 2017.