In a large democratic country like India, elections are an integral part of the political system. Before elections, voters must have a valid voter card and their name must be listed in the electoral roll. It is very easy to check the status of your Voter ID Card or find out if your name is correctly entered in the electoral roll.
Although earlier, the voter I-card did not have a photo added to it, today, a voter ID card is a photo identity proof as well. In fact, these cards can be used as an address proof, name proof, and identity proof apart from providing evidence that the card holder has the right to vote.
To Whom is Voter Card Given?
A voter card is given to all citizens of India who have attained 18 years of age. Those who are working abroad on behalf of the Indian government are also eligible to apply for a voter card.
An applicant can apply for this card by filling a form. If you don't have a Voter I Card, you must apply by submitting Form 6. In other words, this form is required if the applicant wants to apply for a new voter card. Voter ID registration in India can be done online as well. You need not visit the nearest electoral office to get your card.
New applicants need to visit the Election Commission of India (ECI) website and access the respective form to get a voter identity card. Documents need to be submitted personally to the ECI office. Once the application is submitted, an application number is provided to the applicant.
Voter ID Registration in India and changes
The electorate must have a voter card to cast their votes. You may have applied earlier for an Election Card when the Booth Officer would have come to your locality. However, there are many people who already have a Voter ID Card and want to make changes in it . For instance, there may be a change of address or error in the name.
So, do you know how to change address, name or surname in a Voter ID Card? It is quite simple. You should visit the ECI website and click the appropriate link to access a form that will modify your existing card. For instance:
Form 6 – The form is used to get a new voter card altogether
Form 8 – the form is used to modify an address or typo error in the name, etc
Form 8A – the form is used for transposition of the name in the voter list. It usually happens if you change your residential address – but live at another place in the same constituency.
The registration of the voter ID is required especially if you have changed your address or changed your surname – in case of married women.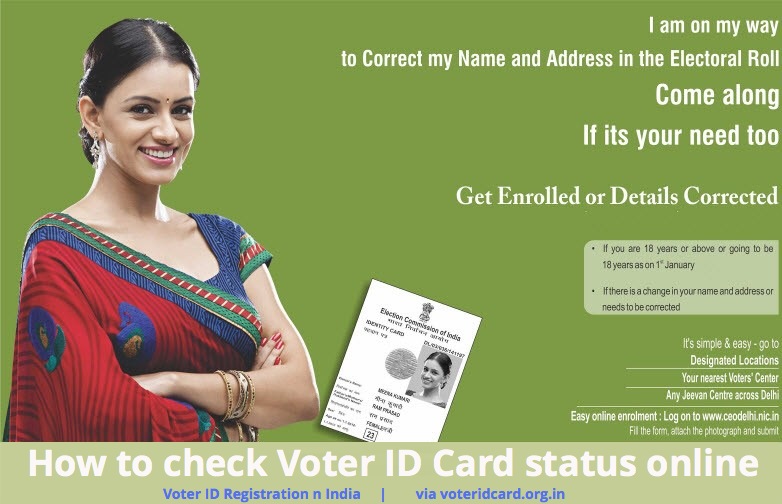 Checking Voter ID Status
Voter ID registration in India has been streamlined a lot so that applicants can get their cards within 2-to-3 months. In fact, you don't have to visit the office of the State Electoral Officer in person to know about the voter ID status.
You can now visit the ECI's website to check the voter ID card status online. Applicants can check the status of their electoral card by sending an SMS to the electoral officer or seeking help from a dedicated ECI helpline.
Here is how to check voter ID card status online:
Visit the website of the Chief Electoral Officer (CEO) of your state.
Click the "Check Application Status" link. Various forms will be displayed.
Click the appropriate radio button to spot the right form you had filled up. It can be Form 6, Form 8, or Form 8A.
Click the appropriate radio button against the information you want to place. You can opt for any one of the options, such as Application ID, Application Name, or House Number.
Key-in the correct Application Number you received when you had submitted the form.
Click the Search button. The voter ID status is displayed.
So, don't worry if you have not got your electoral card as yet. You can simply go online and check the voter ID status to find out where you application is stuck.