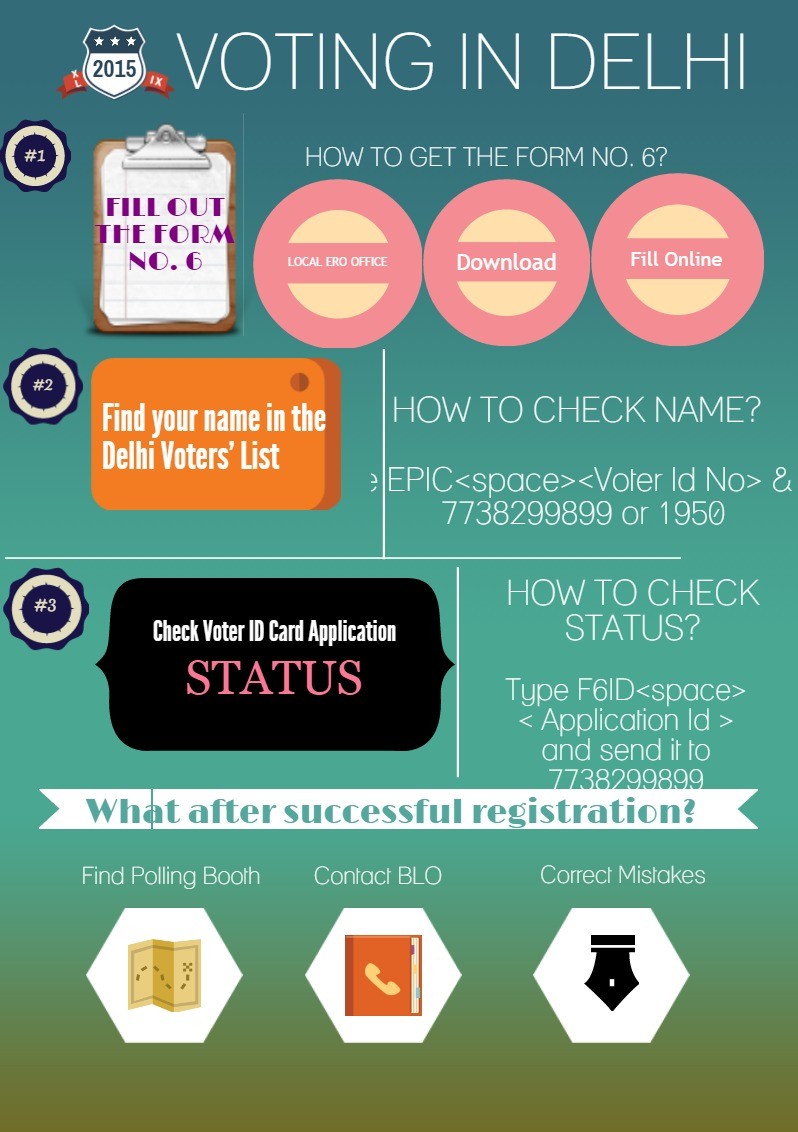 Delhi Assembly Elections 2015 have been announced. They would take place on 7th February 2015 and in a single phase. The counting of votes would be completed by the 10th of February. So above is an interactive visual guide to voter id card registration and voting in the Delhi assembly elections 2015. We guide you about everything from voter application to the checking of name in the Delhi voters' list 2015 to the checking of voter id card application status. We also enlighten you about the simple text message bodies that you can type and send to CEO Delhi number, 7738299899  in order to check status or your EPIC details directly on your mobile phone.
The motive of this guide is to lead all the eligible Delhi voters to their polling booths and leave them with no excuses for not voting in the coming assembly elections. Voting is a fundamental right of the citizens of India and hence, it should not be missed for silly reasons. Remember that the infographic guide presented above, has live links that would lead you to important section, articles and websites relating to voting and voter registration for Delhi assembly elections 2015.
The interactive guide also connects to the youth voters due to its minimalist approach in providing all the important information about voting and voter registration for Delhi elections 2015. Therefore, we advise all the teachers or parents reading this article, to share this visual guide with all the young adults who have recently turned 18 and hence have lesser knowledge of the voter id card registration process in Delhi.
We at www.VoterIDCard.org.in have always been on our toes to provide as much important information to our voters, as it is possible. Convenience of the voters is our motto. So if you find any problems with our articles, any feedback you would like to provide or any other query you would like us to solve, you can feel free to drop an email at [email protected] or simply leave a message on our facebook page: – https://www.facebook.com/voteridcardindia