Any well educated or a well brought up Indian individual would know, how important it is to electorally participate in the society. One of the most fundamental ways in which a person could contribute to the well being of the society, is by electoral participation. By casting your vote, you keep up your opinion about how the governance for your nation should be. The voter identity card issued by the Election Commission of India is your companion in doing so. You can get it by applying online or offline and filling the form no. 6 for inclusion of name to the voters' list.
What if you're unable to get your voter identity card? What could possibly go wrong while applying for voter registration? This is going to be focus of our today's article. We would help you evaluate the situations where an applicant may be denied a voter id. Also, we would help you understand the measures that you should take, in order to apply properly for your identity card.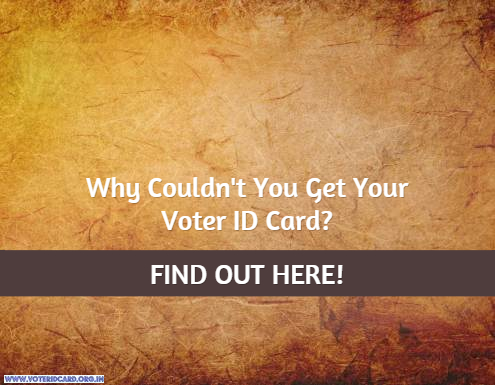 We shall start with the most basic point due to which an applicant may be denied a voter identity card and that is the eligibility criteria for voter registration in India.
Eligibility Criteria for a Voter Identity Card
You may not be entitled to a voter identity card in India in case you fail to fulfill the following eligibility criteria laid down by the Election Commission of India: –
You must be an Indian Citizen.
If you are not a Citizen of India, you are not eligible for a voter id card. Even if you belong to adjacent nations like Bangladesh or Nepal, you cannot be a registered voter in India and hence have no reason to apply for voter registration and get your voter identity card here. In such a case, you must only apply for a voter id issued by the election commission of your native nation.
You must be 18 years old as on the 1st January of the year(qualifying date).
For example, if you apply for voter registration in the electoral rolls being revised for the year 2015, then you must be at least 18 years old as on 1st January 2015. In case you turned 18 only on the 2nd January 2015 or any date after 1st January, you could not apply for a voter identity card up and until 1st January 2016.
The applicant must not be disqualified to be a voter. For e.g. not of unsound mind.
If the applicant is declared to be of unsound mind, he/she would not be taken eligible for a voter identity card(as mentioned by the Election Commission).
Apart from these, there may be additional eligibility criterion laid down by the different States' CEOs.
Such guidelines could easily be checked from the official CEO website of the state of which you're an ordinary citizen looking for voter registration and the voter identity card.
Hence, it could be easily seen that any applicant failing to fulfill the above mentioned criteria, would be unable to obtain a voter identity card. But there are still unique cases where an applicant might not get a voter id even if he/she fulfills the eligibility criteria. Let us look the causes of such scenarios and the measures that could be taken to avoid them.
Other Reasons for not Getting a Voter Identity Card
In some cases, your inability to get a voter identity card may depend on errors conceived on your end or sometimes due to errors made by the registration officials. In both the cases, there enough scope for correction and the applicant may not lose hope. Here are a few reason due to which you can face trouble in obtaining a voter identity card: –
You did not attach the document with the offline paper form no. 6
It is mandatory to attach the identity, age, address and D.O.B proof documents of the voter while applying offline through the form no. 6 for inclusion of name to the voters' list. You're application may be rejected if you fail to do so. In this case(if necessary) you can re-apply and do not forget to attach the require documents with the new application. Please note that it is not mandatory to upload these documents while applying online for your voter identity card.
You did not fill the correct details in the form no. 6
In case the details you entered while filling the form no. 6 vary drastically from the details presents in your documents, the BLO in-charge of your voter identity card verification would not mark you as verified. This too would render your application rejected. Therefore, you must make sure that you provide accurate details like address, full name, age, d.o.b etc.
Sometimes, even after successful registration, you may receive your voter id card with certain typo errors. This could easily be corrected by filling the form no. 8 for correction of voter details. Make sure that this form is also filled accurately and correct details are entered. Also make sure that you give complete description of the errors present in your details on the voter identity card.