Feb 7th 2015 is going to decide the fate of Delhi. Be it the Aam Aadmi Party, The Indian National Congress or for that matter Bharatiya Janta Party everyone in Delhi is trying their level best to woo the voters and get the crown but who is Delhi going to select; Ab ki baar..Delhi mein kis ki sarkaar?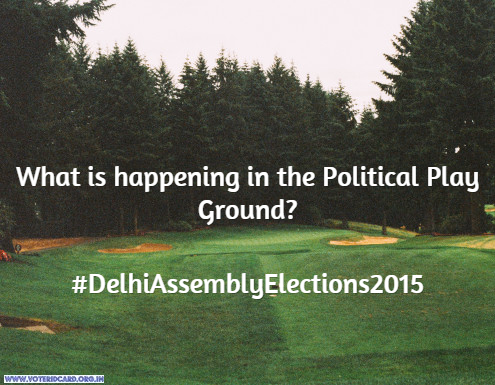 Political Parties in Delhi Assembly Elections 2015
For any voter who is about to be a part of the assembly elections, it is very important for them to know the people who are fighting the elections and promising them the Midas touch which they will give to Delhi once they come to power.
Aam Aadmi Party(AAP) is an Indian political party, formally launched on 26 November 2012.This came into existence following the differences between Anna Hazare and Arvind Kejriwal where the former believed that India against corruption movement should not be politicised the latter believed in politicising it and thus came into existence the AAP which is lead by Arvind Kejriwal. The election symbol for the party is a BROOM.
The Indian National Congress(INC) , also commonly called the Congress is one of the two major contemporary political parties in India, the other being the Bharatiya Janta Party. It is one of the largest and oldest democratically-operating political parties in the world. The Organisation was founded during the British Colonial times in 1885.The Party is lead by Mrs Sonia Gandhi. The election symbol for the party is a HAND
The Bharatiya Janta Party ) is one of the two major parties in the Indian political system, The BJP's origins lie in the Bharatiya Jana Sangh, formed in 1951 by Syama Prasad Mookerjee. After the State of Emergency in 1977, the Jana Sangh merged with several other parties to form the Janta Party. The part is being lead by Mr Amit Shah and the symbol for their party is a lotus.
Appearance of Aam Aadmi Party(AAP)
Everything was going absolutely fine with the Congress and the BJP until the magical broom appeared in the assembly elections of 2013 and swept away the dream of ruling Delhi from both the political parties.
The Delhi Legislative Assembly election was held on 4 December 2013, with the result announced on 8 December.
This magical broom was lead by Mr Arvind Kejriwal who had left no stone unturned to convince the people of Delhi to give him a chance as the CM of the state so that we could prove 'India without corruption' is possible.
AAP appeared in the assembly election of 2013 and shocked the entire country with some extraordinary results. Though BJP had emerged as the single largest party but the debut performance of AAP is worth mentioning.AAP candidates had defeated some great political hunks and had found their own levels. Moreover these hunks were defeated in their own fort which they had been ruling for quite a long time.
After the BJP refused to form a government in the hung assembly, the Aam Aadmi Party's (AAP) Arvind Kejriwal became chief minister with "not conditional" support from the Indian National Congress (INC).

Results at a glance:

 Summary of results of the Delhi Legislative Assembly election, 2013
Political Party
Seats
Contested
Won
Net Change
in seats
 % of
Seats
Votes
Vote %
Change in
vote %
Bharatiya Janata Party
66
31
8
44.3
33.07
3
Aam Aadmi Party
69
28
New
40.0
29.49
New
Indian National Congress
70
8
35
11.43
24.55
15
Janata Dal (United)
27
1
1
1.43
0.87
New
Shiromani Akali Dal
4
1
1
1.43
1
N/A
Independents
225
1
0
1.43
10
N/A
Total
70
Voters
76,99,800
Turnout
66 %
JHADOO KA JADOO (THE AAP Govt. in Delhi):
After AAP came into power, people of Delhi had huge expectations from them. What had made AAP so popular that it had been able to uproot the age old politicians of Delhi remains a million dollar question within the heart of every Indian.
AAP had actually been able to connect with the local people of Delhi. It had worked on the grass root level with the people: involving them in every decision they take had made people realise their importance in the democracy. What they preached was what they practised. Their leaders were common people like all of us and hailing from a middle-class backgrounds who had pledges to clean Indian with their broom. Their political background was absolutely clean and people wanted to give them a chance because they were sick of the same conventional type of politicians. AAP's way of campaigning was absolutely new: connecting with the people of Delhi through technology had actually made AAP gain what they had.
Arvind Kejriwal had turned out to be the People's CM.  He was there FOR the people BY the people and OF the people. People could see themselves in him. He fought for the people of Delhi like a local delhiheight would do: worth mentioning is the night he spent on the streets for the people of Delhi.
49 Days of Arvind Kejriwal after Delhi Assembly Elections 2013
49 days of Arvind's Govt proved to the people of Delhi that their demands were not unachievable. He bought many reforms within the state in those 49 days and proved it to the rest of the parties that they had wasted a lot time and energy in just implementing the reforms on paper and doing nothing practically. His work bought about a shame for the rest of the parties.
AAP Government implemented the "Vishakha Guidelines" within 49 days of coming to power, the first political party to do so.
AAP's Minister for Women's Welfare, Rakhi Birla, conducted a surprise late night time checks by visiting Bus stands, Auto stands, Police stations. This made the law enforcement team stay alert and on their toes.
AAP Government kept its promise of making 20k liters/month free within 48 hours of taking over for consumers with meters. This created big incentive for people to adopt meters to get the benefit of the scheme. The subsidy was balanced by reduction in corruption in DJB.
The Delhi Jal Board (DJB) was re-structured and strict action taken against the corrupt officers based on sting operation by HT. The message was well received that the government will not accept corruption and efficiency and productivity unimproved.
DJB officials seized 22 bore wells in south Delhi breaking the water mafia that had taken over. This brought major relief to people.
AAP Govt. decided to review the "non-functional water-harvesting systems in schools to raise ground water level.
AAP Govt. bought about many other reforms which helped them gain the trust of the people of Delhi.
After 49 days, Kejriwal resigned as a chief minister following the failure of the introduction of Delhi's Jan Lokpal Bill in the assembly on 14 February 2014. President's rule was then imposed and the assembly was kept in suspended animation.
Kejriwal resignation raised many questions on his stability as a CM. But a majority of the people still thought of him a hero: first of this kind who left the power of being a CM for the people.
The New Beginning for Delhi
7th of Feb. 2015 will seal the fate of the contesting candidates in Delhi but for the voters of Delhi here are some do's and don't to help them bring in power the most efficient CM for Delhi.
In order to cast your vote in Delhi assembly elections, it is very important to know the people who are contesting in Delhi and as a responsible citizen of the country make sure before you vote for any one of them you do your prior researches about them and their political background on the web which will help you make the best decision.
So, who are these contesting people in Delhi?
http://ceodelhi.gov.in/WriteReadData/Form7A-ContestingCandidates.pdf
Check this link out so that you get to you about the contesting candidates in Delhi. Please note to keep an eye on the candidates who will file their nomination papers and hence remember to include them on this list.
Now after you have selected, who you are going to vote for, the work does not end here……after all you are voting in the world's largest democracy!
Make sure you compare the work done by the outgoing CM'S with the one you want to choose so that you select the best.
No.
Name
Portrait
Term of office
(tenure length)
Party
1
Chaudhary Brahm Prakash
–
17 March 1952 – 12 February 1955
(2 years, 332 days)
Indian National Congress
2
Gurumukh Nihal Singh
–
12 February 1955 – 1 November 1956
(1 year, 263 days)
Office abolished, 1956–93
3
Madan Lal Khurana
–
2 December 1993 – 26 February 1996
(2 years, 86 days)
Bharatiya Janata Party
4
Sahib Singh Verma
–
26 February 1996 – 12 October 1998
(2 years, 228 days)
5
Sushma Swaraj
12 October 1998 – 3 December 1998
(0 years, 52 days)
6
Sheila Dikshit
3 December 1998 – 28 December 2013
(15 years, 25 days)
Indian National Congress
7
Arvind Kejriwal
28 December 2013 – 15 February 2014
(0 years, 49 days)
Aam Aadmi Party
–
Vacant
(President's rule)
17 February 2014 – present
(0 years, 341 days)
N/A
In order to cast your vote in Delhi, you must fulfil the following criteria according to CEO (Delhi).
Any person who is:
1) a citizen of India
2) 18 years of age or above on the qualifying date which is presently 1.1.2012
Or
born on 1.1.1994 or earlier.
3) Ordinarily resident in Delhi. This includes a student in a University, Institute etc.
4) not disqualified to be voter e.g. not of unsound mind etc.
 Now that you fulfil this criterion and want to vote, you need to have a voters ID card issued in your name.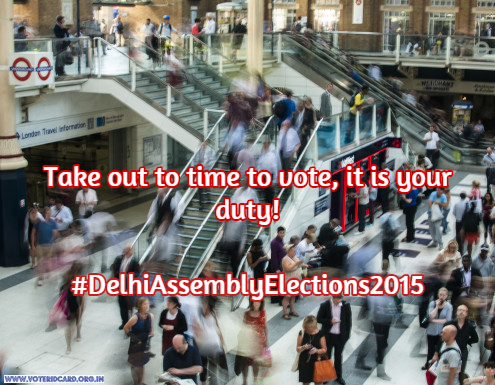 How do you get Voter ID Card?
https://voteridcard.org.in/113/get-voter-id-card-in-delhi
Check this link and know the details. Applying for the voters ID card is not enough you must make sure that your name is enrolled in the voters list.
In case you already have a voter card, but your name or address are wrongly mentioned you need to contact the following people for corrections;
Chief Electoral Officer- At the State Level
District Election Officer- At the District Level
Returning Officer- At the Constituency Level
Assistant Returning Officer- At Taluka /Tehsil Level
Electoral Registration Officer- At the Constituency Level
Presiding Officer- At Polling Station
Zonal Officer – For a group of Polling stations.
Before you cast your cast your vote, it is important that you receive your voters slip. Voters slip is issued before every election to every enrolled candidate. you can either get that by officers coming door to door or you can collect that from your electoral registration office.
Finally you are ready to cast your vote, it is important to know how to do that

This machine is called as the electronic voting machine or the EVM. It has got a controlling unit along with it .Here is the procedure of casting the vote:
Check the polling station assigned to you on your voters ID or voters slip.
Enter the assigned polling station o the polling day and check the polling booth allotted on your slip/ID.
Now there are three polling officers in the station.
The first one identifies you on the electoral rolls.
The second one marks your left forefinger with ink and you register yourself as a voter
The third one takes you voter slip and charges the control unit so that you can cast the vote.
 You will then have to proceed to the voting compartment and cast your vote.
Press the blue button on the EVM only when the officer tells you, that is only when the unit is charged, you will see a green light on the EVM if the unit is charged .votes casted without a charged unit will not be counted.
Press the blue button against the symbol for which you want to cast the vote. A beep indicates that your vote has been casted.
Possible Voter Problems in Delhi Assembly Elections 2015
No name in the electoral roll
Wrong entries in the ID
No voters slip
The problems stated above came be solved by contacting the above mentioned officers weeks before the election day.
To get the detailed information about Delhi CEO:
The Chief Electoral Officer of Delhi is Chadrabhushan Kumar.
Sh. Chadrabhushan Kumar
Address : Old St. Stephen College Building, Kashmere Gate, Delhi-110006
Office Phone : 23977130
e-mail : [email protected]; [email protected]
http://www.ceodelhi.nic.in/Content/home.aspx
Visit their website for official guidance.
Now that you have casted your vote, sit back and relax and wait for the result day. Weeks before the result you will notice something called the exit polls. What are exit polls?

Exit polls are the prediction done by the press on the basis of the surveys conducted. An election exit poll is a poll of voters taken immediately after they have exited the polling stations. Unlike an opinion poll, which asks whom the voter plans to vote for or some similar formulation, an exit poll asks whom the voter actually voted for. A similar poll conducted before actual voters have voted is called an entrance poll.
What are opinion polls predicting?
Survey
Date
AAP
BJP
INC
Others
ABP News
10 November 2014
28
36
5
1
News X– C Voter
12 November 2014
26
37
6
2
ABP News–Nielsen
12 December 2014
17
45
7
1
India Today–CICERO Wave 1
18 December 2014
21-25
34-40
3–5
0–2
Economic Times–TNS
22 December 2014
22-25
43–47
0–3
N/A
TV24 News India
25 December 2014
39
23
5
3
India Today–CICERO Wave 2
12 January 2015
25-30
34-40
3–5
0–2
India TV-C Voter
12 January 2015
29
35
5
1
ABP News–Nielsen
15 January 2015
28
34
8
0
News Nation
19 January 2015
31-35
29-33
4-6
0-2
Zee News
19 January 2015
29
37
4
0
Opinion polls predict that we might see a lotus blooming in Yamuna .Opinion polls are predicting that AAP could not sweep away the Modi dream this time. It is all Modi ka jadoo which has blanketed Delhi. Elections in Delhi are one of the most important elections in India because Delhi being the capital holds the special place in the Indian sub continent. Well, as we see congress is nowhere to be seen, it is going to be a tough battle between the BJP and the AAP.
As a Delhi voter, following are some of the dates you should be looking forward to:
Delhi Assembly Election Dates / Schedule 2015
| | |
| --- | --- |
| Event | Dates |
| Issue of Notification | Jan 14, 2015 |
| Last date of making Nominations | Jan 21, 2015 |
| Scrutiny of Nominations | Jan 22, 2015 |
| Last date for withdrawal of Candidatures | Jan 24, 2015 |
| Date of Poll | Feb 07, 2015 |
| Counting of Votes | Feb 10, 2015 |
| Date of Completion | Feb 12, 2015 |
Promises Made for Delhi Assembly Elections 2015
Campaigning has always been an important issue in countries like India where the contesting candidates leave no stone unturned to impress the people and get the crown. Three major parties in Delhi are not only focusing on the same basic issue of Bijli, Pani and Sadak but this time adding a few more to the list.
Narendra Modi will launch the BJP's poll campaign by holding a rally at Ramleela Grounds on January 10. The campaign trail would witness active participation of key BJP leaders like Union Ministers Arun Jaitley, Sushma Swaraj and Jagat Prakash Nadda and party president Amit Shah.
The chief ministerial candidate for BJP is: Dr Kiran Bedi
Meanwhile, to intensifying the poll campaign, Aam Aadmi Party (AAP) leader Arvind Kejriwal, former Delhi Chief Minister, will hold 60 rallies in different constituencies of Delhi in January. Key leaders like Kumar Vishwas, Gul Panag, Ashutosh and Vishal Dadlani will also campaign for the party. In a bid to woo the electorate again, AAP has already started making promises like special status and funds for rural areas of Delhi, solutions for the teacher community, and focus on women's safety by promising Wi-Fi connected CCTVs across the national capital.
The chief ministerial candidate for AAP is: Mr Arvind Kejriwal
Reeling under its worst show in the Lok Sabha Elections in 2014 and a string of defeats in the Assembly Elections in 2014, the Congress party is trying to regain lost ground. The last election had brought an end to the 15-year long rule of the party led by Chief Minister Sheila Dikshit. The Congress managed to win just eight seats!
However, there are reports that that former Delhi CM will not be contesting this time and will remain a "key campaigner" for the party. The Congress immensely needs a charismatic leader to take the party ahead but finds no one. Hence, the number of winning candidates may reduce for the party.
The chief ministerial candidate for Congress is:  Mr Ajay Maken
STAR OF THE CAPITAL
Be it BJP, AAP, INC all of them are facing some of the key difficulties in Delhi. while AAP proved to be the hero the previous election it has not managed to grab the pulse this time. The only advantage AAP has over the other two is its clean political background with common people with them, they have got innovative ideas to improve Delhi and above all they are strictly against corruption.
They connect with people like a local Delhi-ite would do. They have a proof to every wrong doing done by the other two parties. The only key difficulty they are facing is the amount of uncertainty they created in the hearts of the Delhi voters by withdrawing as the CM the previous elections. They might state this as there honest policy of people before coming into power, but this might back fire on them as people found them as very unstable.
Also losing members of the parties to the arch rivals like BJP can prove to be a move against the party. Outgoing members terming the party as the '2-man show' and labelling the party 'just like a farm' can affect the voters ideology towards the party.
The party has to work really hard to regain the trust of the people and to prove that they are the best.
At the same time situation is not different for BJP. Though people think of it as an extremely stable party but their key issues like cabinet members having been charged with serious issues like rape etc are to be taken in consideration. Well, this has been a 'Saffron Year' where BJP excelled in majority of the elections across the country and are hoping to do the same in the Delhi elections. One of the key difficulties BJP is facing is the lack of the prominent face in Delhi as Harsh Vardhan has gone into the centre.
Though BJP has a problem of state leadership after Dr Harshwardhan moved to the Centre, but Modi and Amit Shah are making sure not to let this issue become a hurdle between the party and its power. The spectacular performance of the BJP in recent polls and even opinion poll results shows that the party may form a government in Delhi too.
Importing candidates from their arch rivals like AAP can backfire on them for people can easily see the unrest within the party. Many people have stated that disclosing Dr Kiran Bedi's name as a CM candidate is only done to blanket all the wrong deeds done in the past.
BJP's political background is not clean; this is the most exploited point by its arch rivals.
Congress is lost in its own shadows. It is nowhere to be seen in the political scenario. When Mr Ajay Maken (CM candidate for Congress) was asked about their connection with the youth;
Q: AAP and BJP are very active on social media. What stops the Congress from getting bit by the bug?
A: We have started using social media, but yes we are behind them. Social media is a medium mainly for the youth and is being used by youngsters. The BJP and the AAP have created fake glitz and glamour by projecting themselves as crusaders when they were in the Opposition. That's when the youngsters fell for them. But now people are seeing their true colours, we will expose their U turns through this medium and tell people the difference between good governance and hype.
While we see the three political parties breaking and joining others for their political interest the only advantage AAP had over three of them was their unity and as they usually stated that when a broom has all the strings tied in one tread only then it can sweep away the filth but unfortunately this string is seen getting weaker and weaker day by day, by members leaving the party to join other for their vested political interest.
So ab ki baar banegi kis ki sarkaar? all eyes glued to 'THE DAY' which is 10th February 2015 when the results of Delhi Assembly Elections 2015 are announced.