Delhi has been brimming with all the commotion of election activities since quite a few months, and now all this going to be concluded with the election commencing tomorrow that is on 4th December 2013. Amidst all the campaigning and accusations our voters must be having questions and dilemmas of their own. One of the most common mistakes made by the voters on the last minute before the election is forgetting their Voter ID Cards at home.
Now since the E-Day is tomorrow and if you have, at the last minute, realized that you have lost your voter id cards or left them at a place that is inaccessible in the near future especially when you have to cast your vote tomorrow for Delhi Assembly Elections 2013, you need not worry.
Voter slip distribution has ensured that the voters get to cast their vote and participate in this essential democratic activity no matter what the circumstances are.  Also these voter slips would ensure that evils like bogus voting take place at the point of minima. Hence these voter slips apart from acting as quick and speedy alternatives for the voter id cards, also act as rigidness checkers.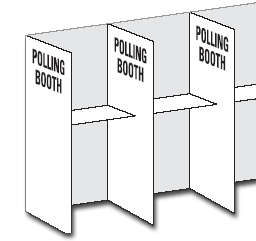 What to do if You Have not Received Your Voter Slip

There is an easy solution suggested by the election commission for this too. The voter slip copies would be available with the polling officers outside the polling booths in Delhi for assembly election 2013. So that on the failure of producing their voter id cards, the voters could easily substitute these voter slips as their valid identity document. Now since the charge of this voter slip distribution is on the polling officers themselves, it would surely keep a check on the prohibited campaigning by the different party workers that takes place 48 hours prior to the Assembly Elections 2013.
Hence, now the Commission and the democracy would accept no excuses from the voters for a low voter turnout and instead hope for a near 100 percent voter turnout. To ensure that, the Election Commission has given its 100 percent. From sending personal text messages to automated phone calls to announcements on metro stations, the ECI has taken every step possible to make sure that as many people turn up to vote and select the apt candidate, deciding the future of this wonderful capital state.
Therefore, you should not be worried if you lost your voter id card or forgot to take it to the polling booth, you shall not return without casting a vote and make your opinion count. And all this is because the Election Commission has been planning in a very organized manner and therefore it is not obligatory for you to carry a voter id card, although you should not be ignorant and leave your voter id cards at home on purpose because carrying your voter id cards would make things easier and speedier for the officials who are working day and night to ensure no legitimate voter is denied a right to vote that is fundamental to the whole idea of democracy and independence.