In a move which can relieve millions of daily passengers, Indian Railways on 17th July, 2015 has decided to waive away the requirement of providing a photocopy of Valid ID Proof for Tatkal Ticket Reservation from either reservation counter or from Internet, w.e.f. 1st September, 2015. So if you thought of carrying Voter ID Card or any other Identity Proof for Tatkal ticket booking, then congratulations, the Indian Railways have gifted you the biggest relief of all time.
(Wikipedia: Indian Railways)
Purpose of Voter ID Card and similar ID proof requirement before:
Earlier in 2013, Railways made it mandatory for all passengers to produce identity proof at the ticket counter before buying Tatkal tickets. The move is the latest in the series of measures ensured by the Railway Board to prevent touts from buying and selling tickets in fake names.
A Senior Railway Officer said, they had been receiving a lot of complaints from the booking-counters regarding some agents who act as a middleman and as a result of which most of the passengers who had waited in the long queues for hours doesn't get confirmed tickets. By introducing System of ID Proof they are hopeful of preventing the touts from operating.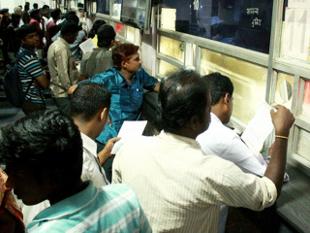 ID Proof like Voter ID Card or PAN CArd Not Required for Tatkal:

Now one do not require any Identification Proof for Tatkal Ticket Booking from September 1 as per the modified rules. According to the modified rules, there is no need of Identification Proof while booking the tickets, but the same passenger need to provide his ID proof to the TTE during his journey, failing which the passenger will be considered as travelling without the ticket and penalised accordingly.
As per the current provision, a passenger has to bring with him the self-attested photocopy of his/her Identification Card while booking tatkal ticket from any computerised reservation counter or need to provide the ID Card Number while booking Tatkal ticket Online. This newly announced modification will also help passengers to get relief from carrying the same ID Proof at the time of journey which was used for booking at the counter or online. Earlier there was a penalty for not providing the same ID proof which consists of ID number, thus led to harassment to the passengers.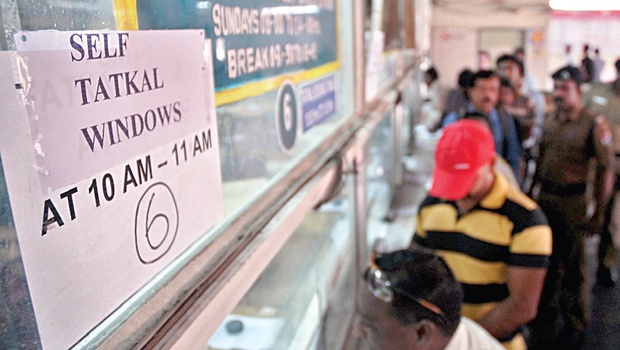 ---
Don't have your own Voter ID Card? Click below to apply for one.

---
Accepted Valid ID Cards
Following are the Valid and Acceptable Identity Proof which you can carry during the journey: Voter ID Card, Indian Passport, PAN Card, Driving License issued by RTO, any other ID card having a valid serial number issued either by state or central government.
Other Identity Proofs are: Student ID card with photo issued from recognised institution, Bank Passbook with photograph, Credit Cards, Aadhar Card, etc.