A Voter ID card is considered an important identity document for several purposes in India. It can serve as a photo identity in several situations such as when applying for a loan, at a domestic airport, to open a bank account, and so on.
Voter ID card is not a plastic card or smart card; it is a black and white bank size card. It contains the photo, date of birth, and address of the card holder. It also contains the serial number, a hologram sticker and stamped signature of the issuing authority.
Use Of Voter ID Card
While you go to the Election Booth to vote you have to identify yourself to avoid any malpractices and promote fair elections. At such times your Voter ID Card issued by the Election Commission of India comes to your rescue. You need to show your voter Id card as it contains your name, your father's name and address it can act as a strong proof of identification To sum it up Voter ID card is not only essential to cast vote today but it has also become necessary to have an election card for the following purpose:
• Register your name in the voters list if you change your residence in India
• Include your name in the electoral roll if you've got married and changed your surname and place of residence.
• Buy tickets online, such as railway tickets for AC and non-AC classes. It is also essential to have a photo identity card to buy Tatkal tickets.
• Get passports or other identity cards. The election card acts as a proof of identity, age, and place of residence.
Hence, voter ID is a special identity card that can help you as a citizen of India, to avail services without any hassle.
Why Should You Vote?
There are a number of reasons for one to vote, but you need none to make a good change, to contribute to development and to do sustainable growth. Although we bring to you few reasons that why you "should" vote:
1. Voting is a must because it's your most sacred right in a democratic country
2. Your right is the at the heart of our democracy
3. Your chance to decide your future & that of your fellow citizens
4. Gives you the ultimate power to shape the destiny of your country
5. Every vote counts
Various Methods To Get Voter ID Card
The Election Commission of India has derived a number of ways in order to make the voting procedure simpler. You can get your Voter ID  Card either online within a month or stretch it till four months and get it offline. We tell you the various methods to get your voter id card:
Thanks to great technology, you can get your Voter ID Card in a month without any hassle. Simply login, fill the forms and submit. Or else if you're not blessed with technology enlightenment then offline is you way of applying even though we would emphasize that online will be easier.
To do it offline you will have to download form 6, duly fill it and then:
a) Send it by post.
b) Deliver it personally.
c) Personally collect and deliver Form-6.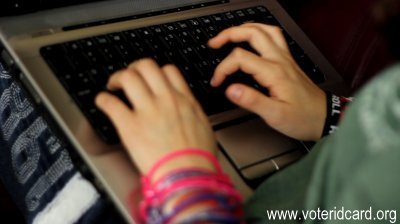 How Can I Get A Voter ID Card?
It does not take much effort to apply for a voter id card online. Technical bugs are regularly removed and the process is managed by top IT firms.
In order to apply for voter card online, you will need to visit the webpage of your state election commission. Every election commission website has option of registering online.
Like suppose if you want to register for Voter ID Card Delhi you will have to go to: http://www.ceodelhi.gov.in/OnlineErms/login.aspx
Sign up as "New user". Fill the form -6. Upload passport size photo, scanned copy of address proof and age proof and submit.
In case you are unable to upload the documents then the Booth Level Officer (BLO) who will come to your residence to verify the information will collect both the documents from you.
Various forms are available in order to get a Voter ID Card. like the form to apply for a new voter card is form 6. The NRIs will have to fill form 6A. The online application process also requires the applicant to upload scanned copies of passport size photograph and those documents which will be used as documents of proof. Once the form is successfully submitted, a unique application ID/number is generated for the voter.
Here is a detailed guideline for people from all states to follow and apply:
• Log on to the official site of your state's Chief Electoral Officer.
• Click on option which says Form 6 (also referred to as 'Application for including name in assembly constituency voters list)
• Enter your name, email ID and mobile number. A unique login number and password will be allotted to you.
• Log on with the unique login number and password you have been provided.
• Click on Form 6 online.
• Fill the form completely and accurately.
• Attach a passport-size color photograph.
• Click the "Submit" button.
Your online application for Voter ID Card is done. However, documents needed for approval must be hard copies that must be submitted at your voters' facilitation center. The documents include copies of address and identity proof. Once the verification is done, your task for applying voter card is over.
Forms For Applying For Voter ID Card
The various forms to apply for Voter ID Card are:
Form 6
This form is for issuance of a new Voter ID Card – in other words a fresher or those who have not applied for a voter card earlier. The applicant must provide proof of residence, age, and certify the number of members in the family he or she is living. Those who attain the age of 18 years need to apply for an electoral card through this form.
Form 8
This form is needed in case you have a typo error or want to upload your photo. So, basically this form is meant for modifications and subtle changes in the name, address, in your Voter ID Card, etc.
Form 8A
This form is used by those who want a transposition of their name in the electoral roll. Here, except for the address the voter card is valid otherwise. So, to change the address in the same constituency, this form needs to be accessed. The electoral roll is also updated with the change in the voter card.
Form 002
This form is used in case you have lost your voter card or it has got mutilated by accident. An FIR needs to be filed in and a copy of the same along with all the credentials required for form 6 is furnished with the form. A duplicate card is provided to you.
Form 7
In case you want to object the inclusion of a name in the electoral list, you can submit this form. This is often required for those whose parents die and require cancelling the voter card.
Documents Required To Be Attached
You need to attach two documents in order to get your Voter ID Card. Here we describe to you all the documents and the procedure in detail. The various documents that you are required to attach along with your online form are:
a) Proof of your residence
b) Proof of your age, such as birth certificate, school leaving certificate etc. However this is only required if you are between 18 and 21 years of age.
c) Latest Passport Sized Photograph
You can submit the following in case of address proof and age proof
Address proof (You can choose any one of the following)
• Bank / Kisan / Post Office current Pass Book
• Ration Card / Passport / Driving license / Income Tax Return filed
• Latest Water / Telephone / Electricity / Gas Connection Bill for that address, either in the name of the applicant or that of his / her immediate relation like parents
Age proof (You can choose any one of the following)
• High School Certificate / SSLC Mark Sheet
• Birth Certificate
• Driving License
• Passport/PAN Card
Checking Status And Complaint
You can easily check the status of your Voter ID Card Online by visiting the website of your state's election commission officer and clicking on house number, application number, or applicant name, and then choosing the correct form number and search for it.
You can also track the status by calling 1506 and following the instructions further or sending an SMS to 9433633333 with your unique serial number that you would get once you finish filling the form.