Just like all other states in India, in Assam too, elections are held for state legislative assemblies, legislative councils of Assam, and Lok Sabha. These elections are conducted by Election Commission of India (ECI). The ECI has Chief Election Commissioner (CEC) who issues orders for the smooth functioning of election tasks, such as preparation of the voters list, registration and distribution of Voter ID card, and many more.
Each state has its own State Election Commissioners (SEC) who organizes elections of municipalities, Zilla Parishads, Panchayats, as well as General Elections. One of the main tasks of SEC is to update electoral roll of each assembly constituency. This roll has the names of valid voters who are eligible to vote in India
Why Verify Voters List in Assam for your name?
In each constituency, voter list is prepared where Indian citizens who are staying in India and have attained adulthood are enlisted. Entry in this list would allow you to get a voter ID card and subsequently, avail many services that are meant just for the Indians.
If you have the electoral card and your name is enlisted in the voters list, you are eligible to vote in any elections. Various polling booths are set up to ensure voters cast their votes. However, you may be in for a bitter surprise when you visit the polling booth – your name may be missing in the voter list.
To ensure you exercise your franchise, your right, you must verify the electoral roll. It is easy to check your name in the voters list online. With just few steps, you can easily find out if the information in the voter list is correct.
When Should You Verify Voter List
You can check your name in the voter list anytime you want. However, if you have got a new voter's card or changed your residential place, you should verify you name in the voter list. It is also advisable to check the electoral roll just before the election date.
For any error in the list or if you find your name is missing, you should contact Election Registration Officer (ERO) of your constituency.
Steps to Check Voters List in Assam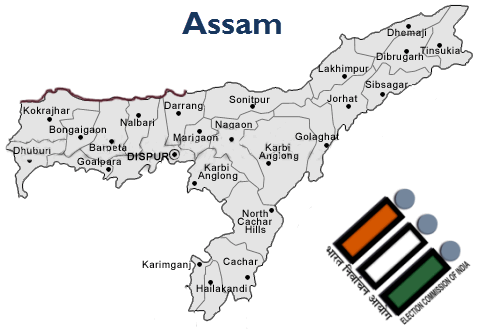 Here are few steps which would allow you to verify the data registered in the voters list:
Visit the Assam's election commission website. You can select "Assam" from the drop-down menu in the main site and click the "Go" option.
Click CEO Assam, if you want to go directly to the Assam site.
Click "Search for Final Electoral Roll" link in the site. A page seeking various data is displayed. You need to specify your name, relation name, area where voters list needs to be verified in the basis search option.
Click Advanced Search button if you want to make the search more specific. The options, such as "House number" and "sex" are displayed.
Specify the details as mentioned in the Advanced Search option.
Click the Search button. A list of voters is displayed.
Click on your name – if you can spot it. Your voter ID card number, ward number, and constituency details are displayed. You can now verify the information in the voters list of Assam.
…Note that you can specify your name in Assamese language or in English.
All in all, online facilities have made verification of voters list easy and quick. Even when you are not in Assam, you can still check whether the voter list shows the right person with correct credentials.