In a democratic country like India, the ultimate power rests with the people and can be exercised through Franchise i.e., right to vote. Earlier any citizen of India who attained the age of 21 was eligible to vote in elections (provided he/she was a registered voter). Later it was changed to 18 years through the 61st amendment Act of Indian Constitution. Now any citizen of India who attains the age of 18 has the right to vote and is called  Universal Adult Suffrage. The prerequisite for a citizen of India to vote in an election is, Enrollment of his/ her name in the Electoral roll and possessing a Voter Id card. This article explains the easiest process for Online Voter ID Registration. So if you soon turn out 18, get ready to apply Voter ID Card and exercise your right to Vote!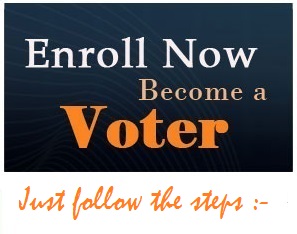 Process for Online Voter ID Registration
Earlier, it was a time consuming and hectic process to get a voter ID card, wherein the applicant need to walk-in to the nearest Electoral Registration Office (ERO) and fill the relevant forms and submit the form supported with required documents of Identity and Address proof. With the advent of the Internet and the strategies of Election Commission of India (ECI), applying Voter ID Card has become a cake walk. All that we need is to ensure that our name exists in the electoral roll and go for Online Voter ID Registration.
Step-by-step process for Online Voter Id Registration
New voters, whose name does not exist in the electoral rolls, are advised to fill the form-6 online.
Click here to fill the form-6 online.
This is the first and foremost step for Online Voter ID Registration. Before filling in the form 6 ensure that you have the following details

State to which you belong
Your Assembly or Parliamentary Constituency
Your personal details like Complete Name, Date of Birth, District to which you belong, father's name or mother's name or spouse's name.
Complete address with nearest post office name and Pin code.
Mobile number and e-mail Id – these are not mandatory but highly useful for communication in case of any issue.

Apart from the above details, the applicant is supposed to upload recent Passport size Photograph (which will appear on the Voter Id Card), a valid Identity card and proof of address issued by any government authority.
After filling in the application and uploading the relevant documents, the applicant should check in the declaration boxes and finally click on Submit.
This concludes the application part of the easiest process for Online Voter Id Registration.
Verification after Online Voter ID Registration
After you successfully complete Online Voter ID Registration your application is subject to verification. The 'Booth Level Officer' will visit the address you provided in the application (form-6) for verification of the authenticity of the photo and the documents you uploaded. You are required to support the documents with their original versions failing which may lead to cancellation of the registration. So make sure to upload only those documents for which you have the originals safe. If everything goes well, your Voter ID Card will reach you by post with in a month or two. Thus by Online Voter ID Registration you can save a lot of time and can get your Voter ID card right to your door step.
Get Details on Voter ID Verification – Click Here